Power play
Stevo says that Warrington have got to front up in the forwards when they take on Hull on Saturday.
Last Updated: 21/09/12 4:59pm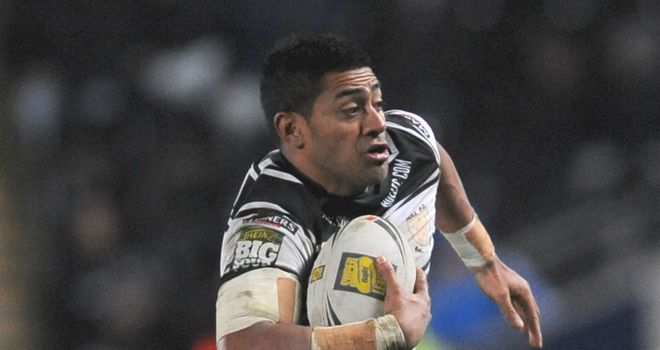 Warrington were unbelievable bad against St Helens - they had no power in the forwards and no coordination between the players.
I think that will change for this game though. Hull know that this is going to be a tough game after their relatively easy game against Huddersfield - the Giants looked very lacklustre and only one player tried his best and that was Eorl Crabtree. His performance earned him a very nice bottle of red wine courtesy of moi! I did give the man of the match award to Hull's Willie Manu but Crabtree deserved some recognition for his performance.
Warrington's precision passing was a fiasco last week and they have to sort that out. Warrington could have scored another 18 points or so if those passes had stuck. The big question is do you blame Ryan Atkins for not finding his winger or do you blame Chris Riley for overrunning and being in the wrong position? Either way the result was no tries. I think they would have sorted that out though and come back with a vengeance.
Hull will be looking to the likes of Willie Manu again. This kid is very, very good. Danny Houghton also had a top game last week and has a great season. The kicking game is going to be important too - we saw how influential Houghton's forty-twenty was last week against Huddersfield.
Warrington have a big problem without Ben Westwood and Garreth Carvell. We saw last week that there was no power up in the forwards and someone has to step up and take that mantle over. Ben Harrison is a young kid but this must be the time that he takes it on his shoulders and leads the way. We all know what Adrian Morley can do but he can only do it in short stints, what you need is someone who is going to make the opposition think all the time and not let up with that pressure.
Michael Monaghan was quiet for Warrington too last week and I think he is still suffering from his injury and is struggling. He is an important player for Warrington and they will be hoping that he can raise his game.
People have been saying to me that they did not see much from the two Wolves halfbacks. Well the reason Richie Myler and Lee Briers were so quiet was because they were playing behind a beaten pack - St Helens just swarmed all over them and defended like demons.
Hull will try and do exactly the same thing but I don't think that there defence is as good as Saints is. However the likes of Andy Lynch will be looking to get stuck in from the start and I think this game could get a bit tasty.
Warrington realise that they had no fire and they will come out this game breathing plenty of it. Lynch has been leading by example and will meet fire with fire.
Joe Westerman is back to his best for Hull and is playing some lovely rugby football. If his forwards can get the btter of the Wolves pack then he could have a field day.
STAR MAN: Manu is the key for Hull; he is at the top of his game and Warrington are going to have to control him - if they let him take an inch then he will take a mile and Wolves will be in trouble.
STEVO SAYS: Warrington will be looking to make some amends after last week's fiasco. Hull will keep it in the forwards and Warrington have to front up. If they can do that then Warrington will progress, if they don't then there will be some questions asked.