Home advantage?
Stevo is expecting Catalans to be much better than last week when they host Leeds on Friday night.
Last Updated: 21/09/12 12:31pm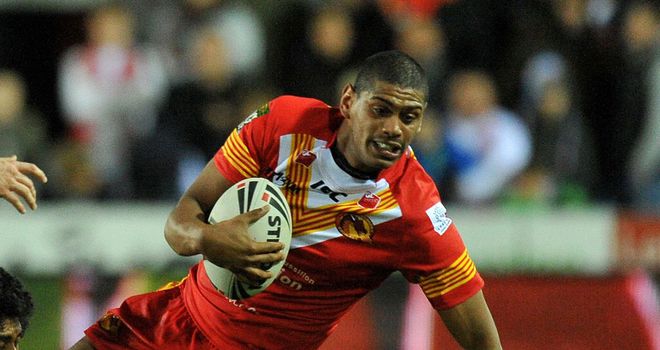 After a somewhat disappointing first week of the play-offs I think we can look forward to two games where there will be a hell of a tussle.
Wakefield showed a lot of spirit against Leeds and showed up a few weaknesses in the Rhinos defence which has no doubt been picked up by Catalans.
Their young exciting backline really do have the goods with ball in hand but they are not all that red hot when it comes to defending.
Wakefield certainly exposed Leeds down that right hand side where Kallum Watkins was defending. They cannot keep on relying on the likes of Rob Burrow to come across and cover all the time.
I do feel that it is a bit of a problem for them. When you are in defence and under pressure you need to work and move as a unit. It is just their positioning that is all wrong and I have no doubt Brian McDermott would have been working hard on that this week.
The return of Danny McGuire is a definite positive for Leeds and his combination with Rob Burrows could decide this game. He may not have the same speed or be 100% but he can still wreak havoc.
McGuire has had to change his game - that explosive speed has gone and his ability to step is also not as good as it was but he just reads a game exceptionally well.
It is not a fluke that he broke the record and scored 200 tries in Super League. The majority of those tries have not come through his individual skill but because he puts himself in the right place at the right time. He can finish off moves like no other.
Catalans were atrocious against Wigan and will be looking for a much better performance in front of their home fans. Catalans have only lost a couple of times at home this year so this is going to be a tough test for Leeds, however I can't see there being much between these two sides.
Leeds will have a certain amount of fear as they have been down there and got a bit of a hammering before but let's not forget that they won the Grand Final from fifth last year and there is no reason why they cannot do that again.
Catalans probably think they cannot play as bad as they did against Wigan and they are probably right! They looked lost and things just went from bad to worse for them. They could not get anywhere near Wigan's half to apply any sort of pressure.
Perhaps psychologically Catalans thought they would not only have another bite of the cherry, but another bite at home which will certainly help.
STAR MAN: Catalans will be looking to Scott Dureau to really take control of this game. I think a lot will depend if Leon Pryce is fit - Dureau was looking for somebody to take the weight off his shoulders last week and really missed Pryce.
STEVO SAYS: It should be a fascinating game and very close. I am really looking forward to this and expect both sides to bring their A-games. Catalans are very hard to beat at home but will the pressure of this fixture be too much for them? We will have to wait and see!