Too tight to call!
Stevo cannot wait for the play-offs to start and is wondering where the shock result will come from.
Last Updated: 14/09/12 4:22pm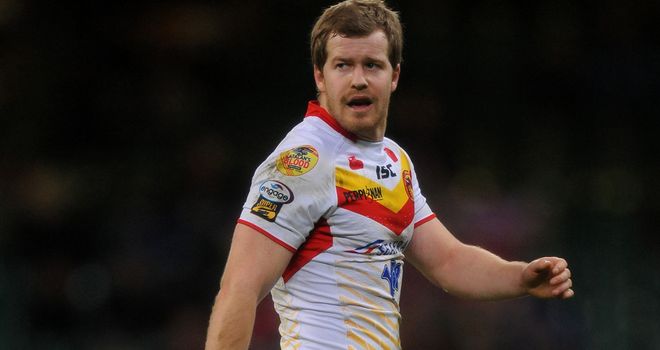 It is the business end of the season and this is when the nerves really start to crank up. Are we going to have a shock? I think we may, but which of the four games this weekend will it come from?
I cannot look at any of the games and say there will be a certain winner, which is fanatstic for fans of our wonderful game. It should be a classic weekend as the best of what Super League has to offer will be on show.
Wigan v Catalans, 7.30pm, Fri Sky Sports 2 HD
Wigan are going to miss hooker Michael McIlorum big time, it is a huge blow. He has been playing so well all season and I don't know what got in to him. His three-week ban may have a huge impact on Wigan's Grand Final chances. A lot is going to rest on Thomas Leuluai who is short of match fitness. They will have to switch him into the hooking role - I know they have Matty Smith but Smith has not been playing with them long enough to have adapted to their style of play yet. Having said that home advantage is going to be a key factor too. Catalans will hopefully bring 1,000 fans but even if they were all opera singers they will still be drowned out by the singing of the Wigan fans.
Catalans have another huge problem and that is mentally they just don't seem to handle travelling and playing away. They can do it - we saw them fight back against St Helens and pip them at the post - but they really need to dig deep here.
If Catalans get off to a really good start and build their confidence then they will put Wigan under immense pressure. Catalans have the players to produce the goods - Scott Dureau has been outstanding this year. He was awarded the Albert Goldthorpe Medal for being player of the year and he is capable of doing something very special. If Wigan get behind they struggle - If Catalans get a couple of early tries that may make Wigan panic.
STEVO SAYS: I think with home advantage Wigan will just have enough to get past a very tough Catalan side.
Warrington v St Helens, Sat, 5.30pm, Sky Sports 1 HD
What a clash this is going to be! Warrington's Michael Monaghan is back to his best and his clash against James Roby is going to be epic. Everywhere I look I see class players on each side who can nullify each other, however I do think that Warrington's depth just shades Saints' though. I think a lot will depend on Lee Briers' kicking game as well. Briers has certainly sorted himself out and he looks so hungry out there. Brett Hodgson is another player who have a big part to play for Warrington from fullback - especially his linking off Briers.
Saints have made the Grand Final six times in a row and who is to say they won't do it a seventh time? You would not bet against them with the likes of Francis Meli, Louie McCarthy-Scarsbrook, Iosia Soliola and Jonny Lomax would you?
However, in games like this it is up front and I really think the likes of Adrian Morley and Ben Westwood will put in some huge performances.
A concern for Warrington is that they come up with too many errors and they need to cut those down. You have to applaud their desire to keep the ball alive but they must not keep on forcing the pass.
STEVO SAYS: Warrington should win but St Helens know how to spoil a party. Only one side has gone to Warrington this season and won there - and that is St Helens!
Leeds v Wakefield, 8pm, Sat, Sky Sports 1 HD
Wakefield are the in-form team and will be super confident going into this game. Wakefield coach Richard Agar has done a superb job getting the best out of his side. He is not asking them to do anything out of their scale. The likes of Kyle Amor works so hard and just never stops. They are not going to produce anything scintillating but they work as a unit and they just keep on coming. Okay, they fell of their perch a bit against Salford, but perhaps they eased off a bit knowing that they already had made it through and had one eye on Leeds. Tim Smith has had a wonderful season steers his forwards around the field. Wakefield do need to sort out their defence on the kick though.
Leeds were just not at the game last week against Huddersfield. They will need Rob Burrow to be back in form. He is the danger man and Wakefield know that too. Jamie Peacock will run himself to water too. There is no love lost between these two sides. A couple of weeks ago Leeds went to Wakefield and were taken apart - they will want some revenge for that and I expect them to start very aggressively indeed.
STEVO SAYS: I think Headingly should give Leeds the edge, however it will be mighty close.
Hull v Huddersfield, 8pm, Sun, Sky Sports 2 HD
Three or four weeks ago I would have thought Hull at home to Huddersfield would have been a certain win for Hull. Not anymore. Huddersfield, the side that looked all over the place, had no confidence, came out and gave Leeds an absolute hammering.
I think it was a stroke of genius making Danny Brough Giants' captain. He is the type of player who wants to be boss, and I think really gives them a lot of direction. One concern for me though is their defence - especially near the line. They cannot afford to waver there!
I've been very impressed with Tom Briscoe this season. He has really added a lot of quality to Hull with his skills. He knows where to put himself to take advantage and he can really turn it on. Hull concede too many penalties for my likeing though and I really do hope that they cuts those down on Sunday.
STEVO SAYS: It will not surprise me if it is a draw! However I'm sticking with home advantage giving Hull the edge.