Bulls on the run
Stevo is backing Bradford to heap even more misery on Hull FC as the race for the play-offs hots up.
Last Updated: 30/08/12 6:28pm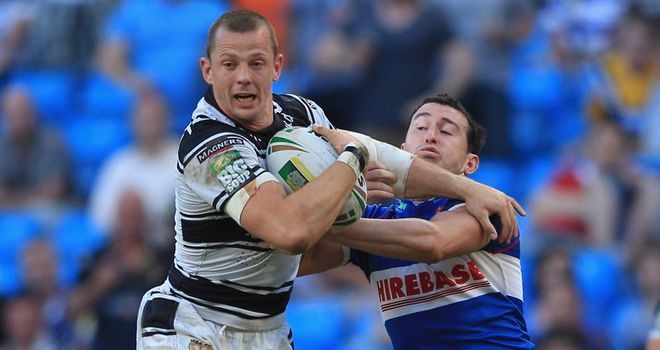 The fight for the last play-off position starts this weekend with Bradford and Wakefield desperate to claim that eighth spot.
I really do feel it is between those two and we will see them both in action on Sky Sports.
Bradford have been playing some sensational rugby league football under some intense pressure surrounding their future, and they will definitely start favourites when they take on Hull on Saturday night.
Hull did beat them the last time they met but their form has gone into free-fall and they were appalling last time out against Widnes. If they do not get themselves sorted for the Bulls then they are going to get an absolute hiding! Hull's coach Peter Gentle said it was the worst performance from a team he has ever coached.
I really don't know what is happening there - they should be really focussing on shoring up their sixth place but at the moment I just cannot see them winning.
The likes of Richard Horne and Willie Manu are too experienced and talented to come up with the number of mistakes that they did against Widnes. Danny Houghton is another player who seems to have gone off the boil. I am a big fan of his but against Widnes he just did not want to know. They really have to get it right for Saturday, draw a line under that performance and show Gentle what they are capable of doing. It's not just down to them though, they whole team needs to step up and play to their potential.
At the other end of the spectrum you have Bradford who are playing out of their skins as a team. Heath L'Estrange and Brett Kearney are playing some lovely rugby football and Ben Jeffries kicking is just sublime. I have been especially impressed by L'Estrange who has been controlling everything from dummy half.
STAR MAN: If Hull are to have any chance then Richard Horne has to perform. He will be disappointed with his performance against Widnes and I expect a much better showing from him on Saturday night.
STEVO SAYS: I cannot see anything else but a result for Bradford. They have the momentum with them and are playing out of their skins. Whatever is bothering Hull has really dented their confidence and I just can't see them sorting it out before their trip to Bradford.