Brave Bulls
Bradford Bulls' financial problems continue but their players have responded outstandingly, says Stevo.
Last Updated: 09/08/12 6:13pm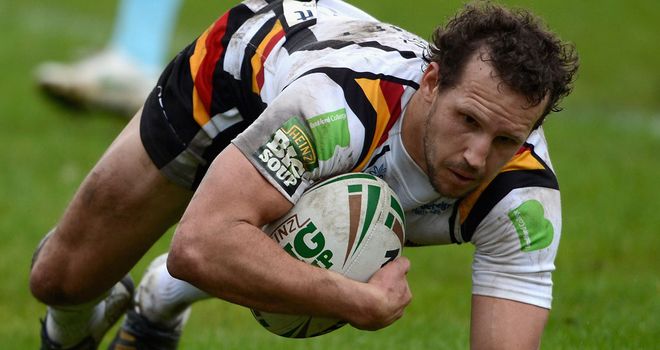 Bradford Bulls are a real mess off the field but on it their players have responded outstandingly.
Anybody interested in rugby league doesn't want to see the Bulls go. But at the moment their situation - and their future - is far from clear or straightforward.
There was an unusual move made by Super League (Europe) last week to say they'd step in and ensure the Bulls can fulfil their fixtures this season and make sure the players get paid. It was a good move for the club and the sport - but what about Bradford's long-term future?
This week Bradford City FC emerged as the latest potential saviour. There is talk of the two sides sharing the city's football ground - but then what happens to Odsal? It's got so much history it would be a terrible shame to see that ground abandoned. Either way it really isn't clear how this collaboration would work.
The other two deals on the table demand assurances that Bradford remain in Super League. But are Bradford going to be demoted to the Championship? And if they are what would happen to those bids? The administrators obviously want to sell the club - there are bills that need paying - but if Bradford are relegated the consortiums will back off.
Out of all of this I feel sorry for the fans and the players. Both parties have been left in the dark and the players, who have mortgages to pay and families to feed, can't sign long term contracts or get any assurances from the club. It's a real mess.
Credit
But credit must go to the players. They've had six points deducted and their future is up in the air but, if they beat Hull KR, they've got a good chance of getting in the top eight. They've responded outstandingly well.
Putting the financial problems to one side for a moment and looking at Friday's match-up with Hull KR, I'd say this is going to be a pretty close game.
Bradford have still got quality players, with the likes of captain Heath L'Estrange and full-back Brett Kearney, and they've been playing some pretty good stuff.
Meanwhile, Hull KR have been off form. They've only had one win in their last six games and have completely dropped away. Their concentration has gone and their confidence has been ripped apart. Bradford beat them earlier this season and it's going to be a tough outing for the Robins.
STEVO SAYS: Bradford can give their fans some cheer - and play-off hopes a boost - with a victory over struggling Hull KR.