Mind over matter
Stevo believes that the mental strength in the Leeds squad will be too much for Wakefield.
Last Updated: 29/07/12 4:06pm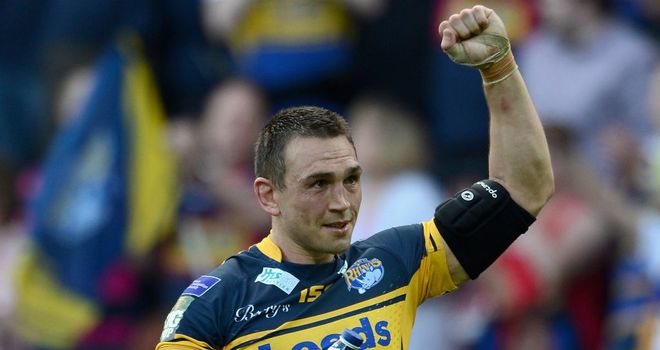 Who knows which Wakefield will turn up on Monday, I hope it's the right one because if it is then this should be a great game.
They can be frustrating as you never know what they are going to produce - one game they are falling apart and then the next they get back on the horse and produce the goods.
Hats off must go to their coach Richard Agar who sorts them out and they will be boosted with their good win against Huddersfield last weekend.
They have some excellent players - Richard Mathers and Tim Smith can really turn a game around. They will really miss former Leeds favourite Ali Lauitiiti, who has been handed a one-match ban, because this is the sort of game that he would relish. Agar also has some injury concerns with Vince mellars, Paul Aiton and Steve Southern and we may see Lee Smith make his first appearance for Wakefield. Smith has just signed from Leeds and I am sure it will be a bit strange playing against the team he has spent his whole career with.
This is not going to be an easy exercise against Leeds who once again are coming into form against all the odds.
Every year we seem to write them off and every year they prove us wrong. It's almost as if they want to see how far back they can come from! The mentality they showed last year was nothing short of outstanding and an incredible effort. It looks like they may just do it against this year.
Leeds know how to get stuck in and their work ethic is incredible. Jamie Peacock epitomises that hard work and will give his all as usual. Carl Ablett is another player who I have been impressed with and has been extremely influential no matter if he is playing in the centre or out wide.
I have to praise Leeds coach McDermott who has taken Ryan Bailey and turned him into a running back three, that has really added to their game. Then there is Rob Burrows. It is no coincidence that when he is starting rather than coming off the bench - as he did last year - that their fortunes change. It looks like he will take over the role of scrum-half to cover for the suspended Danny McGuire - Burrows is the sort of player that you have to have on the field not matter where he plays!
Over the years a Wakefield vs. Leeds clash has created quite a few touches of animosity so this could be a tasty encounter.
STAR MAN: Kevin Sinfield is Leeds magical captain and surely he will be selected as peacock's successor as England captain. This man seems to thrive on authority and lifts his game and those around him. To me he is a superstar of Super League as he keeps on producing. He can control a game all on his own and when he does that, then Leeds are on the front foot.
STEVO SAYS: I cannot see anything but a Leeds win here, Wakefield will come at them hard and fast but I think Leeds will weather the storm and take control.