Wounded Warriors
Widnes will face the wrath of a fine Wigan side out for revenge on Monday night, says Stevo.
Last Updated: 22/06/12 10:36am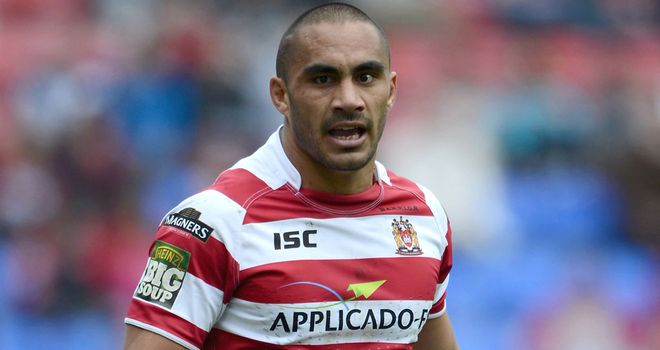 Super League leaders Wigan will be out for revenge when they take on basement boys Widnes on Monday night, live on Sky.
Widnes have had a tough season after coming up to the Super League but they did pull off a fantastic win against Wigan earlier this year - albeit against a depleted Warriors side.
Wigan boss Shaun Wane was very unimpressed with that result. To say Wigan were embarrassed by losing to Widnes would be an understatement - and they will certainly show them more respect this time around. I fear they may really take it out on Widnes!
Wigan will start the match as red-hot favourites and will no doubt dominate the match. They'll kick and smother the ball, forcing Widnes deep into their own half before capitalising on any mistakes. Then, when Wigan attack with ball in hand they'll really go for it.
They launch the ball out wide even when they're 15m from their own line and that's why they're so good to watch. Widnes' defence will have to be right on their game, because if they're not, Wigan cold really pile up a big score.
However, the hosts will face Widnes without one of their key players, Thomas Leuluai. The New Zealand half back broke his leg playing against England last week and will be an enormous loss for Wigan.
Of course, one man doesn't make a team and it shouldn't stop Wigan winning Super League, but the combination between Leuluai and Brett Finch has been superb this year.
The two halves are the most important players in any rugby league team, so of course he's going to be a big loss.
Sam Tomkins, who normally plays at full back, has played at stand off before and could go back in to partner Finch, or young Matthew Russell could be called back from Hull FC where he's enjoying a successful loan spell.
This season was always going to be a struggle for Widnes, who came up from a lower division and had to rebuild their squad virtually from scratch.
But they've learnt a lot, brought in Kevin Brown, an experienced international player who is a good organiser and a good player, and now they need to continue to develop their squad.
A lot of people have no patience and think rugby league teams should click straight away but it's difficult. Widnes have had some good results though, not least against Wigan, and there's hope there for their fans and the young juniors coming through.
STEVO'S STAR MAN: If it's bad weather it could come down to goal kicking, in which case Patrick Ah Van will be crucial for Widnes.
STEVO SAYS: You've got to say this is going to be an easy win for Wigan. I can't see Widnes upsetting them again. Shocks do happen but I don't think we'll see one on Monday night.