Give them a break
Stevo tells critics to back off England and looks ahead to Hull KR's Friday night clash with Catalan.
Last Updated: 21/06/12 5:16pm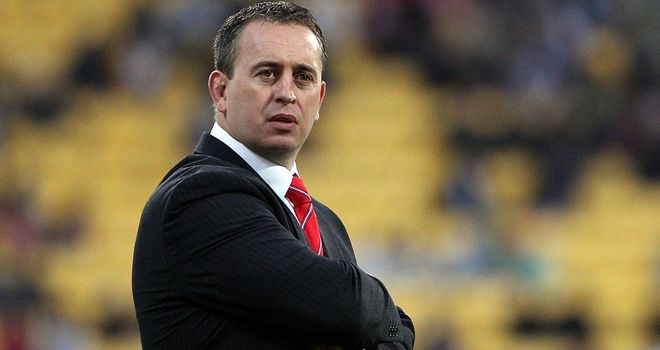 England beat the Exiles 18-10 last week, but still couldn't escape the wrath of the critics who continue to insist we'll be thrashed by Australia and New Zealand at next year's World Cup.
Everybody has a right to their own opinion but I find it hard to grasp why there's all this doom and gloom. In those wet conditions, skill factor went out of the window and you can't really assess England's world cup chances after that one game.
Our kick and chase game was good, the defence was good but you don't have to be Albert Einstein to work out that we'll struggle against Australia and New Zealand.
That's how it's been for some time, since way back in the 1970s. All these former players are criticising this current crop, but I can't seem to remember when they were involved in an Ashes-winning series or World Cup-winning team.
It has always been thus. We know we've been behind the Australians since 1972 when we won the World Cup and 1970 when we won the Ashes. Since then the cupboard has been bare; the only thing on the mantelpiece has been dust.
But Steve McNamara knows he's got a big job to do and we're not there at the moment. We know we've got a long way to go but it was disappointing to hear people say we have no chance. We won. Let's get off the backs of the players and coach and be positive for a change.
Hull KR v Catalan Dragons
Turning attentions back to Super League, third-placed Catalan Dragons travel to New Craven Park on Friday night as underdogs to face Hull KR, who are hunting their fifth straight victory.
The visitors have beaten KR in the League and Cup this season, though, so it should be a fascinating encounter - and a very exciting game.
It will also be a showdown between the Robins' Michael Dobson and the Dragons' Scott Dureau. That battle between the two half backs will be fantastic. They both have good kicking games and good skills as well.
Dureau has been a big contributor to Dragons taking third spot in Super League. Catalan always come up with a great win or two and you always think: 'Is this going to be their year, are they going to take that next step?'
But they really struggle in England. In the south of France it's difficult for teams physically and psychologically and they are always starting favourites at home. But when they get on a plane and come over here they seem to struggle.
They've lost their last two and really need a win to get back on track and keep the top two, Wigan and Warrington, in their sights - although I'm not sure anybody's going to be able to stop them pulling away.
Meanwhile, Hull KR have really surprised everyone. Craig Sandercock has done a very, very good job there. I have a lot of friends who support Rovers and at the start of the season they were saying they didn't care for this new coach.
But he's got them fit, he's got them playing well and they've come up with some really good wins - including their last four in a row. Catalan are going to have to be spot on to get through Rovers because they are on a roll.
STEVO'S STAR MEN: Michael Dobson is the man at the moment and his clash with Scott Dureau will be fantastic. They'll both be well worth watching.
STEVO SAYS: I've got a feeling Catalan are going to click into action on Friday - they're desperate for it. They don't want to drop out of the top four. But Hull KR have got sights on making the play-offs and it's always tough there. I very rarely sit on the fence but I've got to say it could be a goal drop between them.