World Cup starts now
Stevo says England have to beat the Exiles if they are to be competitive in the 2013 World Cup.
Last Updated: 15/06/12 1:56pm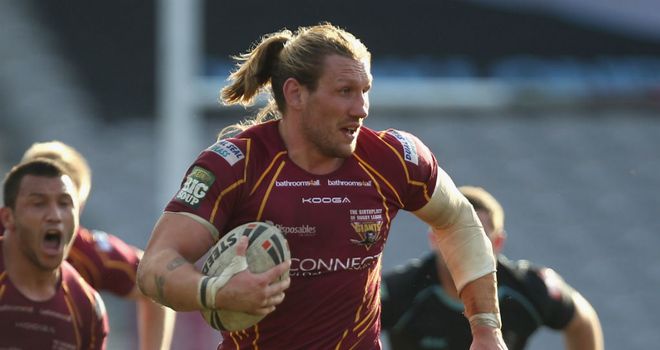 Seventeen players have the chance to book their places in Steve McNamara's World Cup squad - if they win on Saturday.
McNamara has made it clear that if they click and beat the Exiles convincingly then he will stick with them for the 2013 World Cup. And that is the way it should be. This is no time for experimenting, this is the time to flex the muscles and show what England can do.
I think that England should win as I feel that McNamara has picked a good squad. Apart from one.
I am very surprised that Danny Brough has not been selected and even more surprised that he is not even on the bench! Kevin Sinfield is a fine player who always performs at club level but I am not so sure he performs at the international level. On top of that if Sinfield gets injured then England are struggling with the kicking game.
I do agree with the selection of Carl Ablett and of course with Josh Charnely who is in such good form and you just have to give him a chance.
I think Ryan Atkins deserves his chance too. Despite being left out of all the squads he has fought hard to catch McNamara's eye. What I admire about McNamara is that he said if a player can prove to him that he deserves to be in the squad then he will pick him - and that is what Atkins has done.
The England front row is big and strong - we know what Jamie Peacock can do but I do hope that McNamara can get into the mind of big Eorl Crabtree and put a little bit of spite into him.
He is a massive man but at international level you have got to be ruthless and cruel. You have to hurt in both defence and in attack. I really hope that McNamara turns this big unit into a monster because he has the size to create havoc.
Sean O'Loughlin will tackle his heart out and I am really pleased to see Gareth Hock in there too.
The Exiles will be looking to put away an English side who have set their eyes on winning the World Cup and that makes them very dangerous. They are jam-packed full of class players who have been told to go out and enjoy themselves.
And that is exactly what England need. The Exiles will be throwing things at them that you would not believe and England need to deal with that.
I am looking forward to seeing Scott Dureau in action - it will be his first time at international level and he will want to play his heart out. For an Aussie who does not get a green and gold jumper there is always that regret. This is not as big but at least he is going to step out on the international stage.
STAR MAN: Gareth Hock is the type of player that England have really missed. We have lacked a forward who is also a ball handler. His second row combination with Danny Tickle should be really effective, with Tickle doing loads of hard yards while Hock will be solid in defence and have the ability to offload the ball in attack. You can guarantee that James Roby will there to back him up. Another key man for England will be Rangi Chase. He has struggled a little bit this year but I think he has found some of his quality and he has the opportunity to reward McNamara's faith in him. He need a few dummy runners running off him though - if he doesn't he will be running down blind alleys all day.
STEVO SAYS: I think England will win. I was a bit doubtful when the Exiles had the partnership of Brett Finch and Thomas Leuluai which I thought would have been a bit too much for England to cope with. While I think Dureau will have a fine game, they do lose a lot without Finch. He has been the architect for Wigan and The Exiles won't be as dangerous as they would if he was in action.