Raising the bar
Stevo says Leeds need to sort out their defence and up the tempo if they want to beat Wigan on Friday.
Last Updated: 01/06/12 12:48pm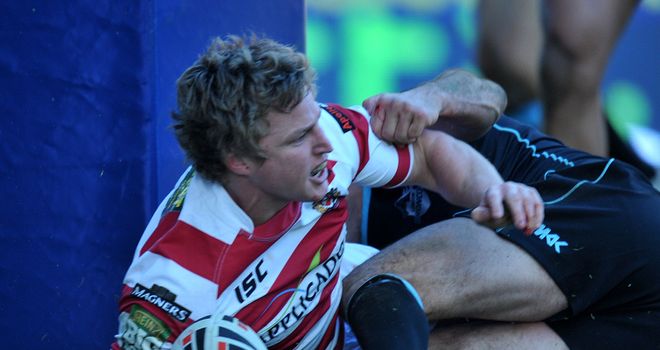 The Magic weekend up in Manchester was a huge success and while there was plenty of magic, we also witnessed a little bit of tragic!
I was disappointed with the all-in brawl between Wigan and St Helens which happened in the final game of the weekend.
A lot of people would say: 'Well what about the good old days', but I am afraid they were not the good old days - these are the good days!
However, let's look forward and we really could not have selected a better game to kick of the Jubilee weekend: we have the Challenge Cup holders, Wigan against the Super League Champions, Leeds.
Leeds coach Brian McDermott will be a bit concerned because his side are not playing well and he is not stupid enough to think that Leeds will be able to do what they did last year, come from fifth to win the title.
I am not saying last year was a fluke because that would be an insult, but I will say that I don't think we will ever see anyone doing that again.
Leeds realise that they have to up the tempo. They really put Bradford to the sword up in Manchester, mainly due to a brilliant performance from Danny McGuire and to score five tries is no mean feat. Leeds will be looking for more magic from him as well as a solid kicking game from Kevin Sinfield.
However, it is in the forwards that Leeds really need to muscle up, plus they have to sort out their defence! We all know what Jamie Peacock can bring to this area and I will be expecting a huge effort from him.
Their defence is a big concern. It just seems to lack the enthusiasm and the commitment that is needed at this level. However, Leeds have a habit of lifting their game and this is the perfect moment to get back into the swing of things. There is nothing better than boosting your confidence than beating the team that sit at the top of the table.
Quality
When you analyse what Wigan have been doing this season, you can see why they are at the top of the heap; they have just so much quality.
Brett Finch and Thomas Leuluai are the best halfback combination we have in Super League. Finch is a non-stop organiser, while Leuluai has become more of a defender as Finch has taken over control. Finch's experience has really benefited the Warriors - he just never stops yapping!
On that subject, I am pleased that Sam Tomkins HAS stopped yapping. Tomkins is too good to worry about chatting back to the officials - leave that up to the likes of Finch, who has been there and done and that, and his skipper Sean O'Loughlin. Tomkins needs to concentrate on what he can do, and boy we all know what he can do.
What I really like about Wigan at the moment is the team spirit and the unselfish work put in to create space for the likes of Tomkins and Josh Charnley. Their coach Shaun Wane has developed a new style that really gets the best out of his young players.
Their attack is devastating but their umbrella defence is also so tough to break down. I call it a radar defence - they come in on a sweeping movement which cuts off the long ball. They often entice their opposition to throw the long ball before they cut it off very quickly.
Darrall Goulding has been outstanding for Wigan as has George Carmont - you have a youngster and a 'veteran' really pulling out all the stops for their side. I am not sure Leeds' more experienced players are doing the same.
Take Brent Webb for instance - one moment he is brilliant, the next he does something daft and gives away a penalty. You cannot afford to do that, especially against Wigan.
STAR MAN: If Leeds want to win this game then they have to stop Brett Finch. He is superb and really brings out the best of the creative players around him.
STEVO SAYS: The Rhinos will really need to lift themselves for this game. There is no doubt they have the players and they have the leadership. However, Wigan are in fine form and I think they will be too strong for Leeds on this occasion.