Best for last!
A mouth-watering Wigan v St Helens derby is the best way to end the Magic Weekend says Stevo.
Last Updated: 25/05/12 5:47pm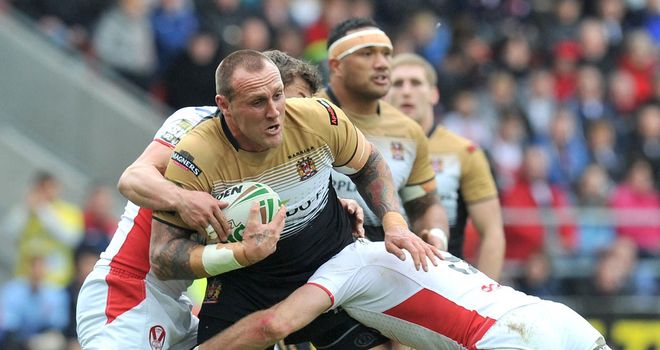 Sunday sees another festival of the greatest game on earth and what a feast we have for you!
We kick off with Catalan Dragons v London Broncos closely followed by Huddersfield v Salford. Then Bradford and Leeds go toe-to-toe before we get the jewel in the crown.
St Helens v Wigan has to be one of the greatest rivalries out there - I know all the other derbies are just as big to their fans but even they will agree that this one is something special.
Derbies are tough to get right. You need to control the excitement and the adrenaline that pumps you up, you really cannot allow the moment to get to you. You need to balance all the passion and the fire with some much needed steadiness and that is when experience comes in.
Two of the more experienced players for Saints are James Roby and Paul Wellens and they will really help to keep the Saints' ship steady. In our first Monday night Super League game last week, St Helens went to Leeds and came away with a superb win - that would have done them the world of good.
We saw players like Jon Wilkin - who has struggled to find his form after his injury - really hit his straps against the Rhinos. As for Jonny Lomax, well he was just superb and I made him my man of the match. He must surely be pushing hard for international selection!
Wigan top the Super League for good reason. They were mighty impressive in their convincing win against Huddersfield last weekend and will be pretty confident for Sunday. They have talent all across the board and can adapt very quickly to whatever is happening on the pitch - that makes them very dangerous indeed.
Sam Tomkins is a joy to watch - he has such skill and vision and can make something out of nothing. There is not much about him but he is one tough hombre and knows his way to the line!
Talking about tough players, Gareth Hock is in scintillating form. He is scoring tries and is creating them too.
Star man: In games this close it could all come down to the boot and Wigan are really going to miss Pat Richards. There will be a lot of pressure on Josh Charnley - who missed four conversions against Huddersfield - to get it right against Saints.
Stevo says: This one is just too close to call. Wigan are in fine form and full of confidence while Saints find themselves in the unusual position of 6th on the league table. Yes that win against Leeds would have lifted them, but will it be enough against this tough Warriors outfit?