Giants awakening
Stevo believes that Huddersfield could finally emerge out of the shadows come Friday night.
Last Updated: 17/05/12 6:25pm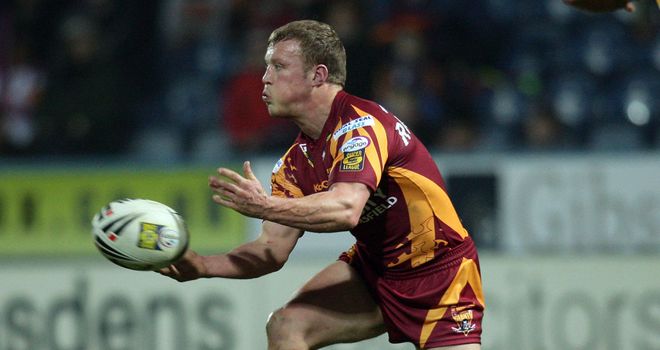 What a challenge this will be.
I think this will be the day when Huddersfield will finally realise that they are not just a good team but they are a superb team.
If they play anything like they have been playing over the last few weeks, then they should win, but this is is a big test for them.
They are up against the big boys and Wigan have also been playing very well. The Warriors are big and strong in the forwards and the halfbacks have been impressive, too; Thomas Leuluai and Brett Finch have organised things very well.
We all know about Sam Tomkins and what he is capable of and the Giants will need to be on the ball where he is concerned. They cannot give him the space to move and if he does get into open play then they have to take him down low and hard; if they go high he will make a mockery of them
All-round, the Warriors are a great side. They have proved that time and time again this year. They know how to slow the game down and they know how to step up a gear when needed.
Brown not happy
Huddersfield coach Nathan Brown has been very vocal about England coach Steve McNamara's selection policy.
He has been especially scathing about McNamara's decision to name the Catalans Dragons hooker, Ian Henderson, in his elite training squad at the expense of in-form Giants hooker Luke Robinson.
Brown says that Henderson looks Aussie, talks like an Aussie so he must be an Aussie! I think that is a bit unfair towards Henderson but I do get his point.
Like me, he was disappointed when McNamara selected Rangi Chase for England. Chase was not born in this country; okay we have this silly residency rule whereby a player can play here for so many years and then get selected to play for this country but I think that needs looking at.
It's wrong and I can understand why Brown has had a shot at McNamara, however, at least Henderson was actually born in this country.
Brown has the right sentiment but has picked on the wrong man! We need to dangle the international carrot in front of those players who were born and bred in this country.
So Robinson, who has been playing very well, will want to really show McNamara what he has missed. There is a lot of pressure on him but I think he can handle it. Two years ago when England went down under for the Four Nations, Robinson and James Roby were the only two England players who impressed me!
I am surprised Robinson has not made the England squad; maybe his face did not fit or he said something out of turn, I don't know. But if it is down to playing ability, then yes he should have been in the squad. Wigan are going to have to watch him very closely.
STAR MAN: Luke Robinson is key for Huddersfield; he has something to prove and will be out in the public eye. If he handles the close scrutiny that will give the Giants a boost.
STEVO SAYS: I think Huddersfield should win. The psychological boost if they do will be huge and give them a great boost for the rest of the season. It should be a great game.
Catch Stevo and Rod Studd arguing the finer point of rugby league - every Tuesday on Super League Back Chat!
To dowload now or to catch up with previous episodes, click here.