Trent's ascent
Catalans Dragons' clash with Leeds is a career-defining game for coach Trent Robinson, says Stevo.
Last Updated: 19/04/12 5:10pm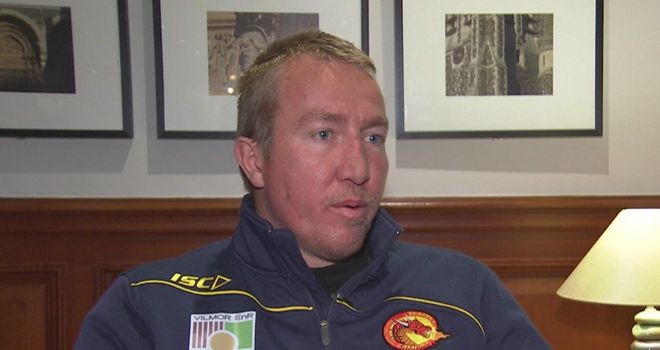 Trent Robinson has done a fantastic job with the Catalans Dragons but he knows that there are times when instead of playing dramatically open, devil-may-care rugby league football you've got to tighten up.
Friday's trip to Leeds might just be one of those occasions.
Robinson has worked hard on all aspects of the Catalan game - we saw as much on Easter Monday when they took Warrington Wolves apart as if they weren't there. Their control of the ball was excellent and Scott Dureau, who is a very, very intelligent player and reliable goal-kicker, was outstanding.
When he first came to the club his defence was all over the shop but Robinson has turned that aspect of his game around, and Dureau is now not only the brains of the outfit but solid in defence, too. Underestimate his combination with Leon Pryce at your peril!
Attitude
This Catalans side play some magnificent rugby league football. They've got a good pack of forwards and they got into Warrington very, very quickly.
I expect Robinson will want that exact same attitude and start at Leeds. Whether he gets that or not on Friday is the big question because Headingley is not the easiest place to play at the best of times. Not many teams arrive there and come away with a win.
If Robinson can inspire his side to do that it will be huge; deep down he must realise that this match could be a turning point for his career and the team, just as it was for Leeds last year when they went to France and got hammered.
At that point it looked as though they were going to miss out on the play-offs. Such was the mood in the camp that there was even talk of getting rid of Brian McDermott.
They must have got together as a team and had a pretty frank discussion. Whatever they said, it worked because from that point they picked it up and went on to the Grand Final and not only wound up as Champions but went on to become World Club champions.
Now, Robinson knows that if Catalans win at Headingley, the confidence of his players will rocket. He'll be able to draw on the experience for the rest of the season.
Gone are the days when Catalans can afford to win convincingly at home but trip up in England. The team stayed in the country rather than go home after holding off Hull KR in the Challenge Cup and that was the right move without a doubt. Too much travelling back and forwards has the potential to be incredibly disrupting.
Quality
McDermott knows that if Catalans get on top they are going to be difficult to beat. He has got to try to put a stick in the visitors' spokes to stop their momentum. He certainly has the players at his disposal.
Danny Maguire looks back to his best and on his day can be as good as anyone in the world. Injured at the end of last season, it has taken him a while to get back into the swing of things but there's no denying the quality of this guy. He is quite superb.
The big question is whether Leeds will take a chance on Rob Burrow, who has been named in the squad of 19, even though he has a fractured cheekbone.
He alone turned Leeds around; McDermott was utilising him off the bench all of the time but realised that he couldn't keep him out of the starting side.
Burrow's display in last season's Grand Final was simply superb - it was the first time ever that every single journalist voting for the Harry Sunderland man-of-the-match award unanimously backed one player. That says it all!
Burrow is tough as nails and he'll play with something akin to a Phantom of the Opera mask if he has to. If the doctors say 'it can't get any worse' he'll be pulling those boots on, don't you worry.
If he doesn't make it there is still plenty of quality in the ranks - Jamie Peacock and Kevin Sinfield to name but two.
STAR MAN: Kevin Sinfield
Burrow is always going to be a key player but I've been so impressed with Sinfield. He reminds me of a general in the army; he is a commanding presence and leader of men, even though he is not the captain of his country - an honour that belongs to his team-mate Peacock. If I was Steve McNamara, I'd be looking at Sinfield as a ready-made replacement for the job when Peacock calls it a day.
STEVO SAYS...
This game is a mouth-watering contest. Catalans have got to make a decision. Do they go all out, like they did against Warrington and try to batter Leeds to get them on the back foot? Neither side is afraid of taking a chance in their own half, so it has the potential to be one of the best games of the season. Catalan have every motivation they need to go for it - if they win by enough points they go top of the table.
This match will be very, very close - in fact it wouldn't surprise me if it's a draw because the teams are so evenly matched. But I won't sit on the fence. I think that Leeds with home advantage should have enough. Let's hope that we get a dry pitch because this game should be sensational! If you can't get to the ground, then watch it on Sky Sports.