A point to prove
Stevo says the Challenge Cup offers Daryl Powell a chance to show that he can mix it with the best.
Last Updated: 12/04/12 4:06pm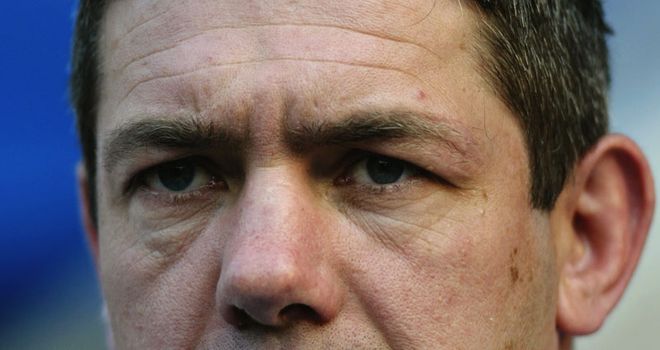 Daryl Powell has a golden opportunity on Saturday to prove that he can mix it with the best coaches around.
The Featherstone head coach will really make the Super League clubs sit up and take notice if he can inspire his Championship side to what, admittedly, would be a shock win against Castleford in the fourth round of the Challenge Cup.
A lot of people like to suggest that our top clubs do not give English coaches enough of a chance, preferring to go for the Australians or the New Zealanders and, in some ways, Powell has been left out on the conveyor belt.
But he's done his time and is ready to reassert himself; the Tigers have been warned!
Incentive
The atmosphere at the Big Fellas Stadium will be electric. If it's not a sell-out crowd, I'll be amazed.
To say that these two towns - which are only a stone's throw apart, don't forget - don't like each other is an understatement and I'm expecting a rough and tough game on the pitch.
I'm sure Ian Millward realises a potential banana skin awaits him and that his players cannot afford to be complacent if they are to successfully sidestep it.
Featherstone have every incentive to pull off a shock; they can focus on winning a little bit of glory, but also know the the game will guarantee them a healthy influx into their coffers.
Make it through to the next round and those rewards get even bigger; if, for example, they drew Leeds at Headingley in the next round it would be absolutely amazing and they would get another bob or two out of that!
Creative
Castleford should win - but the history of the Challenge Cup is littered with upsets, so don't rule anything out.
Rovers have got a lot of very good players and it should be really tight in the early exchanges - what I call a classic, old-fashioned encounter. Featherstone won't try anything fancy, they'll just want to get out there and bash them.
I'm looking forward to seeing Liam Finn in action. The former Dewsbury man is a very, very talented player. He is Rovers' go-to man - he is the guy who will steer them around the park and Millward knows his players have got to target this bloke and stop him from being the man who pushes them around because he is capable of doing something spectacular.
The Tigers definitely can't allow him to claim much latitude because he's very creative and more than able to slip the short pass that pushes the forwards through the gap.
Featherstone certainly know their way to the try-line - as Greg Worthington, Matty Dale, Tangi Ropati, Tommy Saxton and Andy Kain proved last week against Sheffield.
Unfortunately for Rovers they shipped 60 points and they cannot afford to be so sloppy this weekend, particularly against a Castleford team that took Wakefield apart.
I think that result surprised quite a few. To demolish Wakefield on their own ground must have given Millward great, great satisfaction.
But when Rangi Chase is in top form he's very, very difficult to stop. Rangi didn't become Man of Steel by a fluke and he was in simply outstanding form against the Wildcats.
Boost
Chase was one of a host of players who missed Tigers' subsequent defeat to St Helens, but all-in-all they did pretty well considering the players they were missing and Millward was right to feel proud of his understrength team.
There is a plenty of quality in that squad. Danny Orr, the skipper, got pushed to one side earlier this year but he's coming back into it, while I like the look of Jonathan Walker and I've always admired Daryl Clark, the hooker.
The imminent return of Craig Huby is a great boost for the Tigers. He was playing that well before he broke his knee cap last year that I felt he was odds-on for international honours.
He's not going to find recapturing his former form easy, but I wish him well and hope he does himself justice.
If a three-quarter gets injured - especially around the knees or ankles - it really takes the edge off their speed, because that's what they really, really depend upon, their quickness of foot to be able to stride away from opponents.
In relative terms speed is not as important for a prop forward, so if he is struggling for a yard it shouldn't have such an impact on his game. Good luck to him.