Putting the brakes on
Stevo says that Warrington have to slow down Wigan when the two heavyweights clash on Friday.
Last Updated: 23/03/12 3:07pm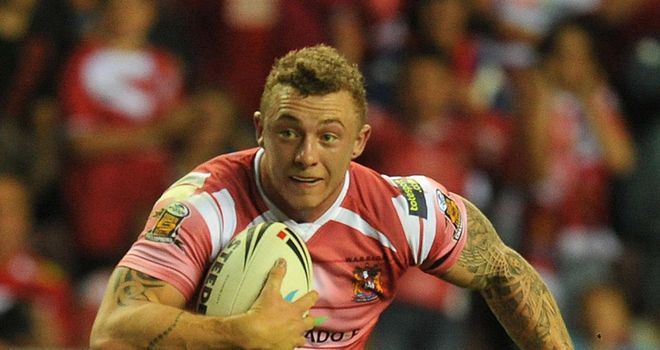 Warrington have been a bit of a yo-yo side recently - they may have got away with the win last weekend against Wakefield but they struggled and it was a last-gasp victory.
Wolves really need to stop Wigan getting their heads up and stop Josh Charnley from running riot. He is only a youngster but he is the top try scorer this season and has nine notched up. Give him half a chance and he will take it.
Warrington need to slow the ball down and make sure Wigan do not get ball out to their wings as quickly as they like to. Their defence has to be rock solid and really keep Wigan on the back foot in the play-the-ball area.
Wolves will need Lee Briers to bring all his experience to this game. He reads the gamer exceptionally well and is the type of player Warrington need if they want to get back to their best. The word is that he took a bump to his hip but has shaken hat off.
Warrington will be looking too Michael Monaghan to perform too. He has been very vocal about the below par performances delivered by the Wolves and feels that he has not performed well either. I know he's only just come back from knee surgery and it does take a few games to get match fit.
I think Adrian Morley will play a big part in this game and Wigan will need to really front up to him - when he plays well then Warrington play well. When he has the ball he runs hard and fast and the opposing defences have to make sure they are on the ball. In defence he just smashes people too. When you have two teams that are evenly matched, it is sometimes the tackles you take and the tackles you make that can soften up the opposing side and those little gaps start to appear. I expect Morley to really be chomping at the bit to get stuck into Wigan.
Wigan will need to make sure they don't have any defensive lapses - they have been guilty of that in the past - especially against Widnes. They were able to counter that by scoring more tires but in such an evenly matched game, they cannot afford to do that.
STAR MAN: Josh Charnley plays off Sam Tomkins very well and I have been very impressed with Charnley's performances this year - I think a bright international future beckons for him.
STEVO SAYS: This is a tough one to call - the kicking game of Briers and Pat Richards could prove crucial and be the key for victory. I really think this could go either way but have a sneaky feeling that Warrington may just steal it.