Shore up the defence
Stevo says that Castleford have to improve their defence if they are to hold back Leeds.
Last Updated: 02/03/12 12:30pm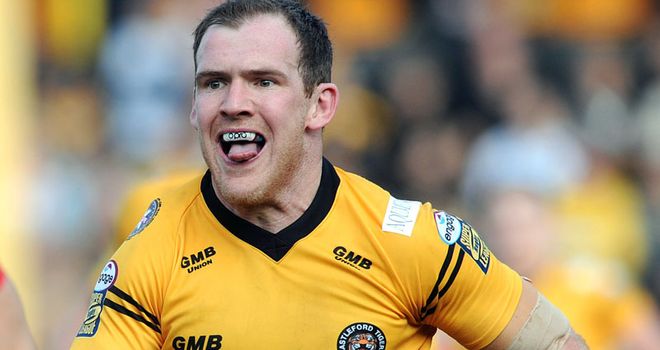 After the breath-taking finish in last Friday's live match, one wonders if we can come up with another epic finish when Castleford host Leeds.
Credit must go to Catalans for coming out and beating St Helens, who must be really hurting. They know that they should have closed that game down and won, but fair play to Trent Robinson who picked out the weakness in St Helens and really exploited it.
Looking at this week's game, I watched Castleford at Wigan and the Tigers were absolutely tonked and Tomkinised - Sam Tomkins just ripped them apart, but they are a young team in progress and will get better.
It is not a good time for Castleford - their coach Ian Millward, for obvious reasons, cannot be there at the moment and it is an emotional time for them.
They really cannot play any worse than they did against Wigan. Their defence was all over the shop with centres running out of position and the wingers coming in when they should have stayed out. That is just asking for trouble against a side like Wigan and they cannot afford to play that way against Leeds either. If they do then the likes of Ryan Hall will have a field day and they will get a bucketful of tries.
I think they did play quite well in the forwards and Wigan found it difficult to get down the middle - but then again they didn't really have to as they were making so many breaks out wide.
The man who stood out for Castleford was the oldest on the field and that was Danny Orr. He was magnificent and really did his best to rally his troops. But they cannot expect Orr to do it all and the forwards have got to own that platform against Leeds.
Leeds are full of confidence and everyone seems to be working well - Kevin Sinfield, Danny McGuire and Rob Burrow are playing very well at the moment.
Castleford do have this habit of sometimes pulling out a surprise but I just don't see it happening this weekend. Leeds will be well aware that they have to do the basics right before they can start thinking that this will be an easy win.
It won't be easy - especially up front where they will have to muscle up.
STAR MAN: You have to look at the two Dannys who can change the game; Orr for Castleford and McGuire for Leeds. These two have the skill and the vision to make things happen. McGuire has the better resources though and that will be telling as the game progresses.
STEVO SAYS: Castleford struggled against Wigan and they are going to have to improve a hell of a lot for Leeds. I am not expecting them to win but a marked improvement would help this young Castleford side develop. There is no love lost between these two teams. It is a tradition that has gone back years and years. This could be the time to look in the mirror and into your teammate's eyes and say we have to lift our game.