Brains and brawn
Huddersfield and Warrington are at the top of their game. Something has got to give, says Stevo!
Last Updated: 17/02/12 3:54pm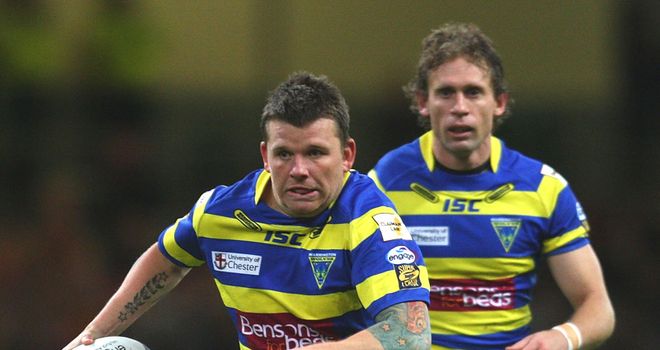 This is going to be a cracking game and a real test for both Huddersfield and Warrington. They both have plenty of talent who are going to relish this game - it is going to be brutal!
Leroy Cudjoe had a good season last year and seems to be doing the same this season - he scored four tries last week for Huddersfield and just seems to be relishing his rugby at the moment. He has the step, the speed and the strength and will make the most of any chances he gets.
Huddersfield are going to have to be on their toes though - Lee Briers absolutely ruined London Broncos last weekend as Warrington steamrolled them 50-10. He took total control of that game - he scored two tries and created a couple of them too. He has such a great rugby brain and seems to have that extra time on the ball that all the great players have.
Huddersfield have to close him down and make sure he does not have even more time on the ball.
The Giants will want to get their big men rolling forward and really gain some ascendancy there. Utility forward David Faiumu and prop Keith Mason are both available this week, and in Tony Tonks may be back too after his suspension.
Both sides have been breaking their opponent's defensive line almost at will, so defence is going to be a key area. Warrington have this ability to really turn up the heat and play at a higher gear than their opponents - that is mainly down to that man Briers so I expect Nathan Brown to get his Huddersfield side to slow things down a bit too.
Saying that, if Warrington get ahead then they know a thing or two about slowing the game down themselves. Last year against Wigan they had racked up some points and then really closed the game down. It may have been boring but it really worked and did not give Wigan a sniff of getting back into the game.
I don't think Saturday's game will be boring though - far from it! I expect some huge hits and a real grunt of a game, as it goes on and it opens up a bit then the likes of Briers and Cudjoe to weave some magic! Don't miss it!
STAR MAN: It is hard to look beyond Lee Briers. I think how he plays will have a major impact on this game. If he lets loose then the Wolves should win, however if the Giants close him down...
STEVO SAYS: This is going to be a very close game to call and I think home advantage may just clinch it for Huddersfield.