Breaking new ground
Widnes may struggle in their first season back in Super League, but Stevo says they will be targeting Wakefield.
Last Updated: 03/02/12 4:45pm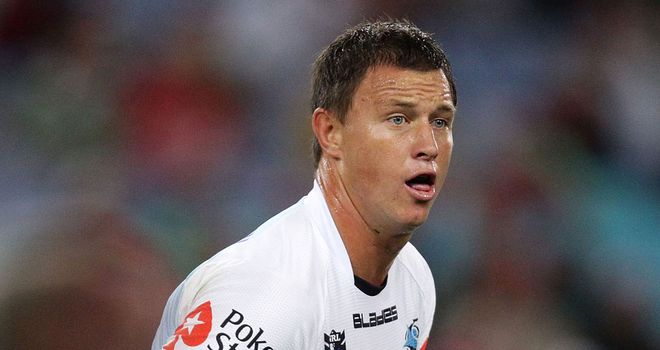 The opening game of the new season is going to be a trailblazer.
As far as I know, Super League has never been played on a synthetic surface before. That should throw up a few questions when new boys Widnes host Wakefield on Friday night.
Vikings coach Denis Betts faces a real tough battle this season and it will be really interesting to see how he goes. Will they have the power up in the forwards? Have they got the strike force in the backs?
Betts does have plenty of experience with the likes of Shaun Briscoe, Scott Moore and Jon Clarke as well as the big lad Patrick Ah Van.
They have also signed up Anthony Watts from the Sydney Roosters who could be someone to look out for. He has had an up-and-down career both on and off the field, but he is a crafty little halfback/hooker and he will certainly add a lot of spice.
Great expectations
I am not being disrespectful towards Widnes but I cannot see them doing too much in their first season back in Super League. They will have their moments of glory and pull off a shock win or two, but they are pretty much odds-on favourites to finish bottom of the tree.
Anything higher than 14th would be a success. However, I believe that getting up to 10th on the table is definitely doable for Widnes.
But I don't expect miracles from them and league fans must realise that they are the new boys and they will need some time to build.
Wakefield is a game that Widnes will certainly target. It may take the Wildcats a little bit of time to adjust to the new surface and that is one advantage Widnes will have.
Question mark
New Wakefield coach Richard Agar has to get all his new players gelling from the very start; he has 18 new players and it's not going to be easy to get them into a smooth rhythm.
They have a pretty smart halfback in Isaac John, as well as Paul Aiton who is a Papua New Guinea hooker. But perhaps the biggest question mark is Tim Smith.
Smith came and played with Wigan a while back but suffered a shoulder problem and returned back to Australia. That gave the opportunity for a young lad called Sam Tomkins.
Smith is back and it is going to be interesting to see how he settles in. He is a player who has also had problems on and off the field, but I think he will change his attitude and want to show what he can do.
Agar will have them his players really fit and I think it is going to be a real classic battle because no-one knows much about each other.
Widnes will be quite nervous; being at home for the first time, in front of the Sky Sports cameras, is all going to build up - but they have got the players who know what the Super League is all about.
My main concern for Widnes is their forwards and if they can handle the pressure. I am looking forward to seeing them come out and prove me wrong!
STAR MAN: If Tim Smith is playing then I think him and Isaac John have got the experience and the quality to produce something special.
STEVO SAYS: This is going to be fascinating and whoever settles in quicker could be the winner; we are looking at something like 30 new players on show here! You can't really analyse this one; it's a bit like a regular race goer arriving at the track without a form guide! I think the result will come down to something off the cuff; Scott Moore or Smith producing something special that just tips the scales.