Hope and Glory
Stevo believes that England have the defence, the skill and most importantly the belief to beat Australia!
Last Updated: 18/11/11 1:00pm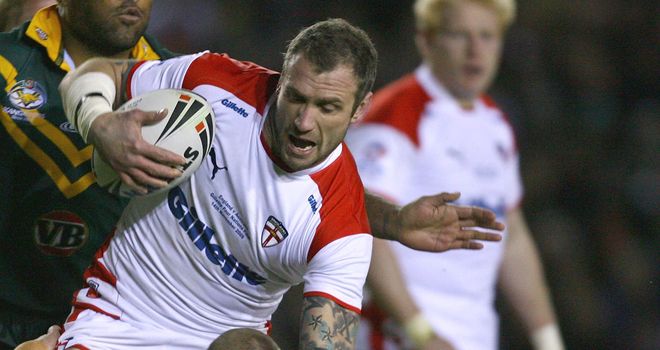 Confidence is one thing that has clearly been lacking in our national side for quite some time, but we certainly have it now!
Steve McNamara has done a fine job in bringing everyone together. Despite having a lack of experience at coaching at the top level, the one thing he has, is that having been a player and been involved in the international set-up he knows what has been missing.
McNamara has got the England momentum going and I think he should get a big pat on the back for eliminating the problems of the past and moulding a team.
Good team spirit can carry you a long, long way. A good defence will carry you even further and having the quality and the skill factor can win you the game. It has been a long time since I have seen those three things coming to a fore in an England side and they are confident.
England are not frightened to take on this Australia side and I think we gave them a big fright when we played them at Wembley. Perhaps a rub of the green or a throw of the dice and things would have been different that day. However one thing I have been impressed with is that there were no real complaints from the England camp about that result and about the ref wrongly ruling out Tom Briscoe's try. They know that they had the opportunities to beat Australia and they have to improve on them.
McNamara has no problem with the ref being Australian - he is the best man for the job and it is far better to have good ref then pick one who is second best on the basis of nationality.
All the skills
England's skill factor excites me and I really think we are equipped to beat the Aussies. Jack Reed has injected some real enthusiasm and Ryan Hall has been explosive. Reed and centre partner Kirk Yeaman have been able to give these score trying opportunities to Hall and Briscoe. We have struggled for some time to get a good centre and wing partnership going. I think we have that now.
England have also struggled in the most important partnership of them all - between stand-off and half-back. I think we have sorted that out now with Kevin Sinfield and Rangi Chase.
I love the fact that Sinfield is finally playing how he plays for Leeds for England - he is bossing them around, steering them around the park and taking responsibility. Jamie Peacock is the captain and will lead by example, but Sinfield is the man calling the shots and so he should be.
There is no fear in this England side and why should there be when you have the likes of Sam Tomkins? He is up there with the best of them and brings that little bit extra. We have always lacked that little bit of creativity when it comes to our linking game but with Tomkins, Sinfield and Chase I believe we have it.
Then we have some impressive forwards - the likes of Peacock, James Graham, James Roby, Gareth Ellis, Ben Westwood and Adrian Morley are not thinking they can go out and test the Aussies, these guys are going out to win.
Australia beware!
Australia will have to go up a couple of gears on Saturday that is for sure! Tim Sheens is a good friend of mine but I am surprised he is playing Darren Lockyer so tight.
I am looking forward to seeing Chase go up against Johnathan Thurston. Chase did not lose his cool when Benji Marshall got stuck into him and he needs to remain as calm on Saturday - and play well too of course. He has to make sure he locks Thurston down and not give him the space to develop his game with Lockyer.
We know the quality of this Australian side; they lose the best player in the world in Billy Slater and you would like to think that would slow them down. Not so because Darius Boyd is superb. England cannot afford to kick straight to him - he showed against Wales last week that he has the speed and the pace to launch and attack from three metres from his own line.
Sinfield's kicking is going to be vital. He would have taken note of what Lee Briers did to the Aussies - he pegged them back with some very clever kicking. He kicked early, changed the direction and used his common sense.
England's win against New Zealand was based on defence, defence, defence! They never allowed Marshall to get going and they need to keep that going in the final.
Another match-up I cannot wait to see again will be between Cameron Smith and Roby. To me they are the two greatest hookers running around. It is a joy to watch them.
Both sides will be stepping it up and I think it will be spicy. Australia will be looking for some strong running from Paul Gallen and Sam Thaiday.
England will come out to the strains of an old favourite of mine - land of hope and glory, however this time it is not about hope, it is all about glory!
STAR MAN: This is going to be Darren Lockyer's final international game and it has been a pleasure to watch him play. From an English point of view I won't be sorry to see him go and he has terrorised England teams through the years. He will want to go out on a high and I don't think we have seen the best of him yet. If he plays a little deeper and England give him some space then watch him go but I am hoping England spoil his farewell bash.
STEVO SAYS: Saturday's game is going to be all about taking your opportunities. However I think sadly the result will be down to an error - you can have all the skill in the world but it just takes one slip, one missed tackle and Tomkins is through. One slip, one dropped ball and Thurston is through! I am not wishing to win, I know we can.