High stakes!
Stevo says England must cut out the errors and stop Benji Marshall in order to beat New Zealand.
Last Updated: 06/12/11 1:22pm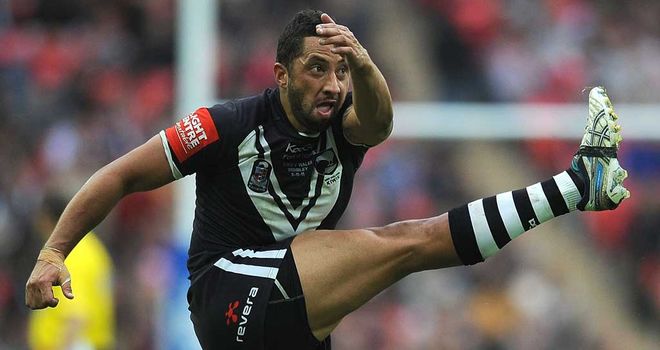 It was rather pleasing to see England coach Steve McNamara come out and say that Saturday's clash against New Zealand is going to be a war.
This is a must-win game for England if they are to get into the Four Nations final and I am sure they will be desperate to show New Zealand and Australia what they are made off.
The Kiwis will have taken note of the attitude that England took into that game against Australia. With a little more cohesion and temperance, England could have won that game. It is no use looking back and blaming the ref though, the reality is that England came up with far too many errors.
England cannot afford to make so many mistakes against a New Zealand side who I think are yet to hit their straps in the Four Nations. Take nothing away from Wales, but I felt that the Kiwis took their foot of the gas and strolled through that second half.
New Zealand coach Stephen Kearney will want to make sure that they had a little bit more up in the forwards - they did not show much spark against Australia. It may have been jetlag, but the Kiwis have to lay the foundations for the likes of Benji Marshall to perform. We have not really seen the individual brilliance of Marshall yet. He seems to have dropped into the habit of taking things on at first receiver far too much which does not suit his game. They really need to make sure he has a little more freedom.
His battle with Rangi Chase could be fantastic - if Chase gets to play. McNamara is apparently thinking of having Chase on the bench which suggests that either Chase has a niggle or that McNamara feels that the Danny McGuire and Kevin Sinfield combination will work better against New Zealand.
McGuire and Sinfield have proved over the years just how successful they are at Leeds and once again brought Grand Final success to Leeds in 2011. They know each other inside out and may bring a little stability to England.
I really hope that England do not throw in players who are injured - this is something that we keep on doing and it does not help our cause at all.
I understand that after a long season you cannot expect our players to be 100 per cent, but I do not see the point of risking players who are 70 per cent fit.
Jamie Peacock, Gareth Ellis and James Graham are all carrying injuries and we will suffer if we take a gamble on them. There is no doubting their guts and their determination to play for England, but we are talking about forwards who really have to dig in for 60 and perhaps even 80 minutes.
If they are carrying an injury then the Kiwis will find this out and exploit it. When you have the likes of Garreth Carvell, who has not had a run out yet, available then it seems daft to play injured players.
The Four Nations means so much for this country - we have not won a major international trophy since 1972. That is too long and we need to celebrate something. We have players like Sam Tomkins who is in exceptional form and Sinfield. His decision making is impeccable and if Peacock is injured then I really hope Sinfield gets the nod to lead them out on Saturday.
STAR MAN: Benji Marshall is going to be a thorn in England's side. He is an exceptional player and if he gets the space he needs and plays off the cuff then who knows what he will produce? If England can keep him in check then it will do their chances a world of good.
STEVO SAYS: England have got to feel confident after the way they played against Australia. New Zealand have not hit the high spots yet, but they have a knack of turning it on when they have to and England face a very tough task. They will be lifted for this game and it should be a cracker.