Gamble on England
Stevo is delighted with England's positive attitude ahead of their Four Nations clash against Australia.
Last Updated: 04/11/11 5:29pm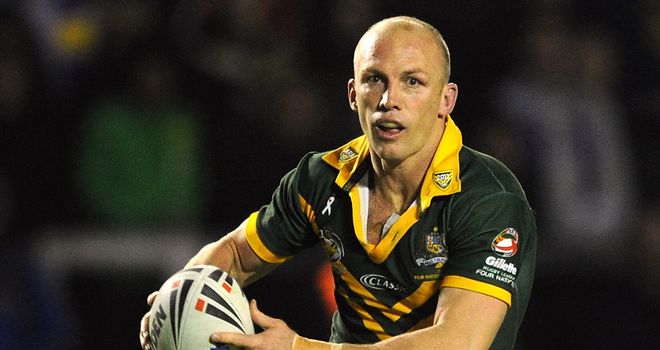 The first game in what should be a terrific double-header will see Wales and New Zealand take the field to entertain the Wembley crowd.
I think we know that it will be all one-way traffic, though. I thought Wales played tremendously well against England despite being so inexperienced and the lack of quality in their side.
They certainly played well for periods but a game lasts for 80 minutes and they could not sustain that. They will find it really difficult against New Zealand. The skill of Benji Marshall is incredible and I think they will be too strong for Wales.
Wembley is a big arena, there will be a lot of space to defend and I am not sure that Wales will be able to cover the whole pitch. The crowd should see some fantastic running rugby out of this game and the Kiwis may run riot if they start to hit their straps and find some space. The Welsh won't lack spirit and guts that is for sure, but I fear the Kiwis will have too much in the tank.
Mental skills
I have been delighted to hear that the likes of Sam Tomkins and Jack Reed have been very positive heading into this game. They have been voicing their opinions and saying that they have not seen anything from Australia to be overly worried. I think that is really refreshing and there is nothing wrong with having a bit of self-confidence.
People will say that coming out with statements like that will only lift the spirits of the Australians, but I really don't think the Australians or the New Zealanders will need any extra reasons for getting up to play England.
Far too often in the past the message from the England camp has been: 'We will do our best.' However, the message coming out of the camp this week has been really positive.
I was impressed with England against Wales - yes we knew Wales were going to struggle but there were some tough collisions in that game. England did make far too many mistakes, but they are not only striving to get their defence right. Their attack is pretty potent right now, too.
Sinfield to boss England
I said last week that Kevin Sinfield will be England's main man and I am very happy that Steve McNamara is allowing him to be the boss. That is the only way he can play - he has the brains and is capable of beating every side in the world. He has orchestrated so many wins for Leeds and is a tremendous player.
Australia will start as favourites especially with the inclusion of Greg Inglis. I did not think Darren Lockyer had the best of games against New Zealand and it surprised me that Tim Sheens played him so tight to the opposite defence. Lockyer's capabilities only come to the fore when he stands deep like he does with Brisbane. That was a strange tactic for me.
It was no coincidence that when Australia did finally score out wide it was when Lockyer took the ball at first receiver when he was so far wide. Cameron Smith is a superb player and has the ability to throw a 40 metre pass. When you can do that, it gives Lockyer time to move and not only that, it gives him time to think.
Risk out wide
I think England need to take a gamble out wide. England's defence have to come in on the angle from out wide into the centre area. We need the likes of Ben Westwood and Gareth Ellis helping out in the centres.
They have got to try and force Lockyer and Johnathan Thurston down the middle so our big boys can grab them - maybe rough them up a little bit, too. I don't want any dirty or foul stuff, but this is international rugby and I really do enjoy rough and tough play.
We have got to start aggressively and let these Aussies know that they are in for one heck of a tough encounter. It is so important that the likes of Kirk Yeaman and Reed work out their defensive system with the second rowers out wide.
Rangi Chase must be out a bit wider, too, and must not be used as a first receiver. I was impressed with Chase against Wales and expect him to step it up against Australia.
Man for man you think that this game is not going to be easy but we have the likes of James Graham, James Roby and Jamie Peacock - a world class front row.
I really think we can take on them on and beat them in the forwards. It is just out wide and in the centres that we really need to shine. We have got to prevent Thurston and Lockyer controlling the game. If they get the space then England are in big trouble.
The battle of the fullbacks will be good, too. I think Billy Slater just has the edge over Sam Tomkins at this point of time but we have seen Slater in the past come up with a couple of crucial mistakes - as has Tomkins.
I think both coaches will be kicking to the fullbacks in the hope that one of them make an error which could prove decisive.
STAR MAN: Kevin Sinfield is still my star man because he is the leader and he needs to boss the game. If he is allowed to do that and we apply the pressure then it could be a great day for England.
STEVO SAYS: This is going to be a great game and I am very happy with England's attitude heading into this game. The confidence is growing and the players look like they want to play for each other. England will dig deep and I will have my red and white tie on come Saturday and as long as we don't make as many errors as we did against Wales, then England have a very good chance of upsetting the odds. Come on England!