Final countdown
Stevo believes the St Helens and Leeds clash on Saturday will be the best Grand Final for years.
Last Updated: 07/10/11 7:52am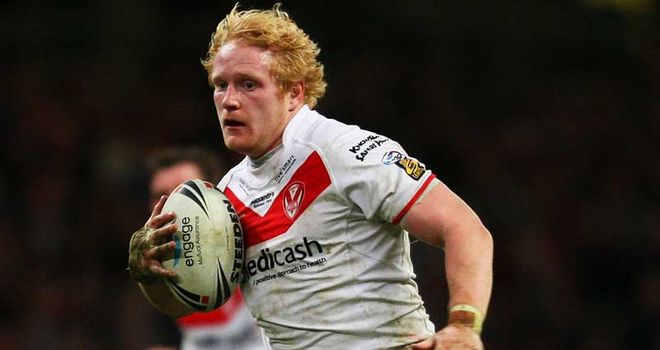 I really think this game is going to be an absolute classic and one that we will remember for years to come.
Both sides are on form and you cannot really split the two. It is quite unbelievable to think that a team that only finished fifth in the table will run out as slight favourites at Old Trafford in the Grand Final.
I think Leeds do start as favourites because they have some momentum and you can trace that back to their dismal first-half performance in the Challenge Cup final against Leeds.
They were rejuvenated in the second half by one man. Rob Burrow. And since then, Leeds have found the confidence, the quality and the class to play together.
At the start of the season, they were always going to battle without great players like Jamie Peacock and Danny McGuire who they lost to injury. They were very much a yo-yo side and, with weeks to go, they were in grave danger of missing out on the play-offs altogether.
Not looked back
However, they got back in to the swing of things with Burrow leading the way and have not looked back.
I would still like to see him start a game but you cannot fault Brian McDermott.
He got them to Wembley in the Challenge Cup and they have made a Grand Final by bringing Burrow off the bench.
Leeds will be looking to Kevin Sinfield; his kicking game is vital. Every time Leeds have beaten St Helens in a Grand Final, it has been Sinfield's kicking game that has turned them around time and time again.
They know that Paul Wellens is not the quickest but they also know it is suicide to kick down his throat. They will pierce between the fullback and the wing and make both of them chase back.
Only one will pick it up but by that time, I can guarantee that the Leeds defence will have them back on their own 30 or 40-yard line.
Experience
St Helens head into their sixth consecutive Grand Final, which is pretty impressive. They won the first one and lost all the rest, to Leeds three times on the trot and to Wigan last year.
Saints' biggest problem is that while they have players with great experience of Grand Finals, they also have youngsters who have never been to one.
However, their young guns have been a revelation this season with Lee Gaskell and Jonny Lomax leading the way. They have really established one of the best and solid British born halfback combinations.
But they are a little raw around the edges and you saw their nerves getting the better of them last weekend against Wigan.
When youngsters get under pressure in these do-or-die games, they either take a step back and dwindle away or they dust themselves off and get back into action. That is exactly what Gaskell did and it bodes well for him in the Grand Final.
Royce Simmons will pull Gaskell and Lomax to one side and tell them to go out, enjoy it and play their natural game. He wants good players to show what they can do.
Fulcrum
We know the quality of James Graham and James Roby and what they bring. I really think those two lads are the fulcrum for St Helens.
Both have been in outstanding form and they really dominate in and around the play-the-ball area. There is no one better than St Helens at playing the ball quickly; if they don't catch you offside then they will make valuable metres.
On Saturday, you will witness two of the finest hookers in the game. James Roby's battle with Danny Buderus is worth the entry fee alone and I am rubbing my hands together in anticipation.
I know I used to be a former hooker, but they really are so important to the team. These two certainly raise the bar.
STAR MAN: Everyone wants to be a star man - especially in a Grand Final - but I think James Graham will be heroic. He will want to win the Harry Sunderland trophy as it is his last game for St Helens. His performances last week was unbelievable.
STEVO SAYS: It is very rare that I sit on the fence and I think it will come down to one shocking error that will decide this game. I really don't know who to select and you will probably be better off flipping a coin! However, as a proud Yorkshireman, I will go with Leeds. Yet, I would not be surprised if Saints won. I would also have a big smile on my face if Kevin Sinfield or Jonny Lomax won it with the one pointer.