Let me entertain you
Stevo says that Wigan must find their spark if they want to stop a highly entertaining Catalans side.
Last Updated: 23/09/11 3:36pm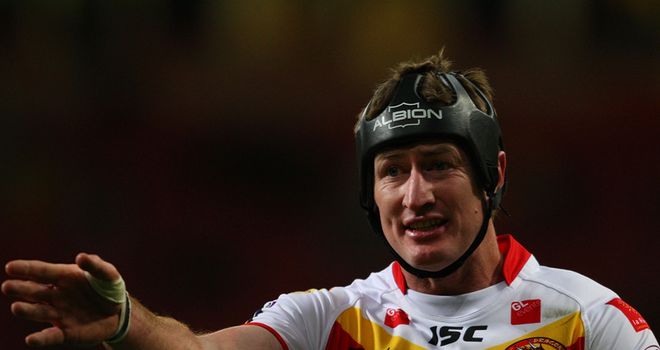 Everybody is saying that Wigan are not the same since Wembley and I would have to agree with them.
They seem to have lost their spark and their fitness; they look really jaded. Perhaps it is a bridge to far for them?
They will not be feeling confident because Catalans have done the double over them. This Catalans side can play some very attractive rugby.
I love watching them, and they have a very intelligent coach in Trent Robinson. They are definitely entertaining and they are very adventurous with the ball in hand.
However, they have two things going against them. The first is that sometimes their defence falls asleep and against this Wigan outfit you just cannot afford to do that.
I really don't see that being too much of a problem - but their away form will be. They just don't seem to travel very well and that will be a concern for Robinson.
Sam Menzies will be their main man and what a player he is! He is 37 years of age and running around the paddock like he is 18.
He is an icon in Australia and has become an icon in Super League, too. He is a great motivator and really gets Catalans up for their battle. They respect and look up to him; he is a leader without peer.
Catalans have some good power in the centre, too, with Jean Philippe-Baile, and then there is Scott Dureau! He is a great player, a great kicker and has wonderful movement around the park. He fully deserves his place in the dream team.
Speed
As for Wigan, Thomas Leuluai has to step up for this game. He seems to have lost his speed and his spark but he has to turn that around.
Sam Tomkins is a marvellous young player, but I feel that Wigan expect too much from him and expect him to come up with something magical. They need a more experienced player to make sure they play to their pattern do not panic. Leuluai is that man.
Wigan know that they cannot give Catalans room to move; they love to take gambles and run with the ball. It is pretty to watch but sometimes you have to win ugly.
STAR MAN: As I said above the warriors rely too much on Sam Tomkins. They need Thomas Leuluai to be a foil for him and to help him out. If Leuluai sparks, Wigan spark.
STEVO SAYS: I think Wigan will win, but I think they will have to fight tooth and nail for it and really dig deep. It is difficult to get your confidence back so quickly but this is the business end and Wigan will want to get the job done.