Potter - I need an answer
Huddersfield make offer to try and help out beleaguered rivals
Last Updated: 07/08/12 6:03pm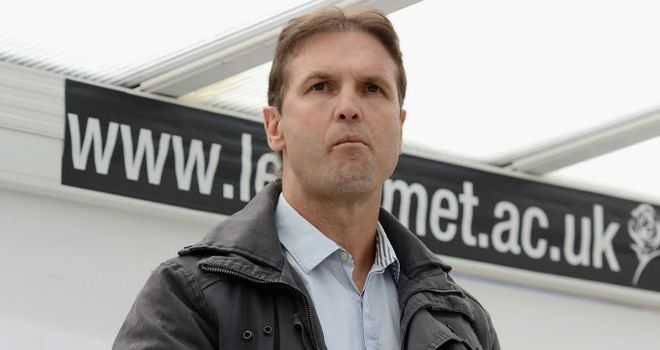 Mick Potter: working without pay since being made redundant by joint administrator Brendan Guilfoyle
Rugby League Betting

Rugby League Betting

Free Matched Bet
Bradford coach Mick Potter will return to Australia after Friday's match against Hull KR unless there is some positive news over the troubled club's future.
The Australian and his assistants Francis Cummins and Lee St Hilaire have been working without pay since they were made redundant by joint administrator Brendan Guilfoyle five weeks ago.
"If Guilfoyle turns it (the offer from Super League Europe) down and I don't get paid, I'll just go home. I've looked at flights."
Mick Potter Quotes of the week
The trio returned to their jobs at the Bulls after meeting with the players but Potter has kept putting off a final decision on his own future since then.
Now, however, he has now delivered a final ultimatum, telling a media briefing: "The situation needs to be resolved because it's an on-going joke now."
The Rugby Football League rejected a bid from a consortium of local Asian businessmen and Super League bosses stepped in with an offer to buy Bradford on behalf of the other 13 clubs in an effort to break the deadlock.
Still waiting
Super League (Europe) are still waiting for Guilfoyle's response to their offer and Potter says time is fast running out for him.
"I need an answer this week," he said. "I thought there was going to be something today but tomorrow (Wednesday) will be fine as long as the answer is in the positive.
"Otherwise I'll just go back home. If Guilfoyle turns it down and I don't get paid, I'll just go home. I've looked at flights."
Meanwhile, BullBuilder, the Bradford Supporters Trust, have that a bucket collection at Sunday's home against Widnes raised over £3,600, taking the overall total past £15,000.
That amount includes cash donated by Warrington from away-ticket sales at their recent home match against the Bulls, while Huddersfield have unveiled a similar scheme for their upcoming game against the Bulls.
Bulls chaplain Warren Evans, who is administering the fund which has so far paid out more than £9,000, said: "I'm proud to accept the offer proposed by the Huddersfield Giants and am pleasantly encouraged by the support offered to the Bulls by the wider rugby league community.
"I want to encourage all Bulls supporters to get along to what should be a cracking local derby.
"A good turn-out will ensure vocal support for the team, a fantastic atmosphere and also help financially where the club needs it most."