Barrie v Terry
Barrie McDermott and Terry O'Connor go head-to-head with their Super League predictions...
Last Updated: 26/04/13 1:16pm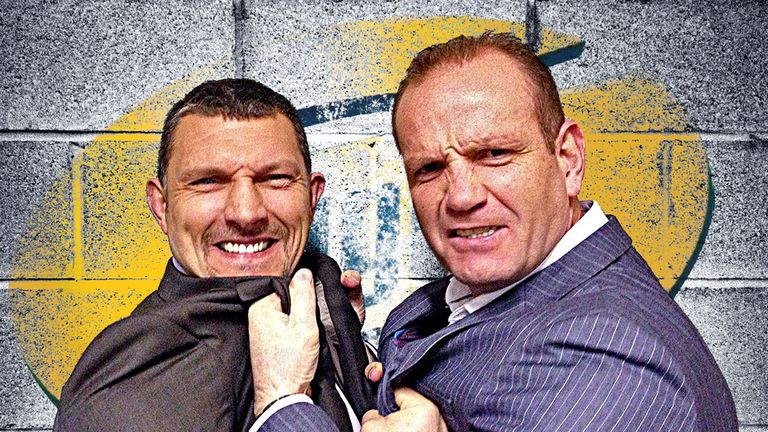 On the pitch Barrie McDermott and Terry O'Connor liked nothing better than tearing into the opposition.
They may have hung up their boots but that competitive streak still runs strong and we have found a way to channel their energies...
Each week they will preview the live televised Super League games and provide predictions for the rest of the action - and we'll keep track of who's called the most matches right!
Barrie has closed the gap to just four points - lets see how they get on in round 13.
Current standings
Round
Barrie
Terry
Round 1
6
6
Round 2
5
3
Round 3
5
7
Round 4
1
6
Round 5
3
4
Round 6
2
3
Round 7
6
5
Round 8
5
7
Round 9
4
5
Round 10
9
5
Round 11
6
7
Round 12
7
5
Total
59
63
Don't forget that you can follow all the action from the Super League weekend on Sky Sports.
Widnes v Wakefield
8pm, Fri, Sky Sports 2 HD
Terry says: Widnes have picked up another injury when they lost young forward Alex Gerrard for six to eight weeks. That is another loss for them but on the plus side they have the young lad Adam Lawton. Lawton made only his second appearance and played very well in scoring a hat-trick. Widnes playing at home are different to most sides - they take full advantage of the ipitch. Their form has improved this year but they have worked hard on their discipline and are working hard together. They are up against Wakefield who are one of those sides who can intimidate you. I expect this game to be won and lost between two players - Tim Smith and Kevin Brown! This will be a great battle.
TERRY PREDICTS: I expect Widnes at home to win this by 12 points.
Barrie says: Dennis Betts the Widnes Coach was very unhappy with his team's performance against Doncaster, who put up a tremendous effort last week to lose just 42-28. It will be the 28 points conceded that upset Betts. Wakefield fielded a lot of their promising young players and still won 66-6.
The Vikings are one of the hardest teams to try to work out how they will perform but I don't think Denis Betts has it any easier. I am going to go with the Vikings as the players will have been keen to make amends for their attitude last week and will want to redeem themselves in front of their loyal support.
BARRIE PREDICTS: The Widnes club are recruiting astutely and the players will reward the club with a victory by 14 points.
Salford v Castleford
5.30pm, Sat, Sky Sports 3 HD
Terry says: This will be Brian Noble's first game in charge of Salford. Last week against Hull, Salford were very good at the start and at the end - it was just little things in the middle that let them down. They did not quite work hard enough and it is those little things that Brian Noble talks about all the time. Are Salford on the up? Can they back it up this week against Castleford? Rangi Chase is their key man - it gets boring talking about how good he is but with his future unsure at Castleford this could be the game for him to sign off in style.
TERRY PREDICTS: I expect Salford to come in under Brian Noble and win this game by 18 points.
Barrie says: Danny Orr, the Castleford stand-in coach, seems to have brought a little bit of stability to the club, but if Rangi Chase leaves to go to pastures new in Oz it could all be for nothing. Chase has been at the fulcrum of EVERYTHING they do for so long it will take some time to work out new systems with new players. Having said that though, if Chase plays it could be the best swansong match anyone has ever played. Brian Noble the new Salford coach is too experienced not to factor the 'is Chase playing or not?' in to his tactics. Noble won't have had that much time to instil his way of how he wants the game to be played but he will have enough influence in the short time that he has been at the club to make sure that what he DOES show the Salford players WILL make a difference.
BARRIE SAYS: The City Reds will spoil Chase's last party if he plays - winning by 18 points.
London Broncos v St Helens
Terry says: London need to play with the same confidence they showed last week in the Challenge Cup. Their form in Super League has not been that good and sometimes the Challenge Cup break can do a side good. They have not been the best defensively and are bouncing off the tackles - with the quality of players they have on paper, they are a better side than that. I think they are going to sense blood in St Helens, who have so many players missing. No Francis Meli, no Ade Gardner, no James Roby - the list goes on and on. London know that they will be up against a lot of inexperienced youngsters who have not really played that many games of Super League. One of those young Saints players who has grabbed his chance is Alex Walmsley. When everyone is fit, he will be the one who still starts because he has played so well.
TERRY PREDICTS: I expect a very tough game St Helens and am going to go with London to win because of all those injuries. Broncos by six points.
Barrie says: The Broncos had a tough game last week - it would have been very hard to overcome a determined and confident Featherstone outfit as they did by narrowly winning 28-12. The Saints had it tough too losing Francis Meli to a red card for an uncharacteristic head high shot. The Saints will be thinking that if they had had their full 13 on the field for the full 80 minutes they would have won the game at full time but that kind of thinking is not quite on the mark. Nathan Brown, the St Helens coach, knows his problems are due to their experienced and better players not being available to him. Tony Rea and his players will have their tails up and the game could be decided by which set of young players acquit themselves better - the Broncos youth who are actually very exciting to watch or the Saints youth who are equally as exciting? I think it will be the more experienced players who will determine the outcome and Gower from the Broncos is in his natural position playing.
BARRIE PREDICTS: Gower will engineer the tries for a capital win for London by six points.
Hull v Wigan
Terry says: When you go to Hull you are always going to play against a tough battle-hardened side - they are not in bad form either at the moment and have only lost one game in the last six. I am sure their coach Peter Gentle will be more confident then he was at the start of the season. Wigan just keep on producing these superb players. Will we see the best from the Wigan side against a Hull team on the up?
TERRY PREDICTS: I am going to go for a shock here - the safe bet is Wigan but it gets a bit boring when you keep on going for the same side. Hull by two points.
Barrie says: There will be a confidence about the Hull squad now after there 60-6 win against the North Wales Crusaders, but I believe that Shaun Wane, the Wigan Coach, will be looking at a team full of Tiggers bouncing up and down as they eagerly anticipate this game. Shaun is a natural Eyhore and he won't let the players get too up themselves. Their 60-10 win against Leigh will have prepared them better for this battle.
BARRIE PREDICTS: The KC stadium could be the ten acre woods massacre as the Warriors will win (nie the Pooh) by 26 points.
Hull KR v Leeds
Terry says: If KR can keep Travis Burns, Michael Dobson, Greg Eden and Josh Hodgson fit then they can beat anyone! Greg Eden is a player who gets huge raps but Travis Burns makes things tick for them. They are up against Leeds, who are probably the most entertaining team in Super League - they play on the edge no matter what the conditions. They are an ageing side but are just jam-packed full of quality.
TERRY PREDICTS: At Hull KR I would imagine that this is going to be a very tough game for Leeds, but the tougher the game the more the Rhinos rise to the challenge. I expect them to win by eight points.
Barrie says: Last week, the Robins were so much better than the Saints in the first half of their 26-18 win that it's hard to work out how they nearly got beat by 12 men after Meli left the field. I will leave that for the Hull KR coach to work out! Leeds are an easier team to try to predict because they are always looking for any and every opportunity to make a break or score. When teams play against the Rhinos they know they can NEVER relax as the Cas Tigers will testify and point to last week's game they thought they were in a winning position but didn't get the biscuits. They have been dead and buried so many times of late but they still come up with a win. The Robins will undoubtedly score points and might dominate the game but the triumvirate of Burrows, Sinfield and McGuire allows the outside backs Hall, Watkins, Moon, Ablett and Hardaker to capitalise on their efforts.
BARRIE PREDICTS: It's a Rhino win by 7 points.
Catalan v Huddersfield
Terry says: I think Catalans are playing a lot better since they have gone away from trying to be that physical team that bully everyone. Earlier in the year they tried too hard to knock people's heads off. They have gone back to playing more rugby and are one of the most attractive sides around. Thomas Bosc is playing very well and had a hand in everything that they did well last week. And Remi Casty is in superb form as well. They are up against a Huddersfield side who at half-time were getting beaten by Batley in the Challenge Cup. They did came back to win that game but I am sure Paul Anderson put a rocket up them which will fire them up this weekend too.
TERRY PREDICTS: Even going to the south of France I think the Giants will get back in the winner's circle and win this one by 14 points.
Barrie says: Laurent Frayssinous, the Dragons coach, surrounded Thmoas Bosc (his star half back) with homegrown French youngsters and rested a lot of his first team squad but managed to win 50-12 last weekend. Looking at the Giants v Bulldogs result last weekend 4-13 you would think that Paul Anderson had done the same and rested ALL of his squad. There is no doubt that John Kear is a tremendous coach and he certainly knows how to lift his players in one-off games, but that won't wash with Anderson. He was full of admiration for the Bulldogs showering them with praise about how they went about their game but he will be mightily relieved that the Giants are in the next round. It will be that relief that will spur the Giants players to 'up' their game against the Dragons.
BARRIE PREDICTS: Catalans aren't yet playing to their full potential but they will put some points past the Giants and win by eight points.
Warrington v Bradford
Terry says: Bradford have some game-breakers and they love to offload the ball. They are one of the surprise packages this year with a new coach and new players. Their main men are Jarrod Sammut and Brett Kearney - if you stop him then you stop Bradford. Warrington's form has been indifferent this year and they know it. Tony Smith knows he is close to getting some key players back like Lee Briers and Adrian Morley which will boost them, but the players who are covering for them need to perform.
TERRY PREDICTS: This should be a cracking game and again I am going to go for a shock win and say Bradford by eight points.
Barrie says: Both teams scored 70 points or over. Both teams have an exciting attitude to how the game is played. Both teams have players who can fashion a try out of nothing.......and both teams concede points as well. Who has the best defence? The Bulls have scored more points but they have also conceded more so the easiest thing to say would be the highest scoring team will win.
BARRIE PREDICTS: Too many game-breakers in each team that makes it nigh impossible to say "so and so will win the game for them "....so I won't I will say though the Wolves will win by four points.