Barrie vs Terry
Barrie McDermott and Terry O'Connor go head-to-head with their Super League predictions...
Last Updated: 05/04/13 12:09pm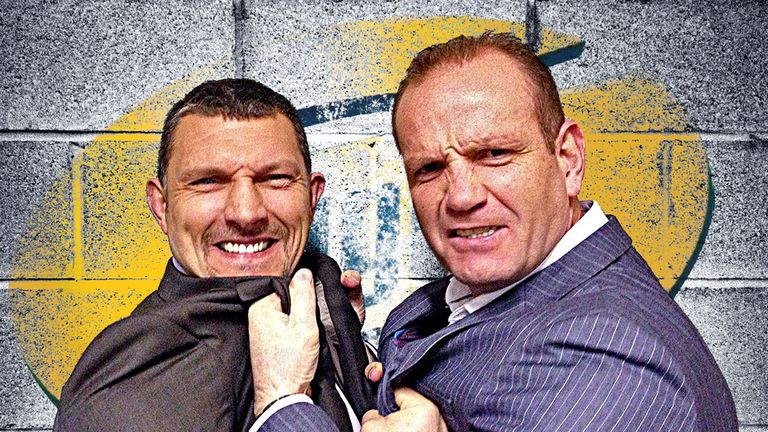 On the pitch Barrie McDermott and Terry O'Connor liked nothing better than tearing into the opposition.
They may have hung up their boots but that competitive streak still runs strong and we have found a way to channel their energies...
Each week they will preview the live televised Super League games and give their predictions for the rest of the action - and we'll keep track of who's called the most matches right!
Barrie had a superb round 10 and has closed the gap on Terry - lets hope the hectic Easter programme has not tired out our dynamic due too much as we head into round 11 of Super League XVIII!
Current standings
Round
Barrie
Terry
Round 1
6
6
Round 2
5
3
Round 3
5
7
Round 4
1
6
Round 5
3
4
Round 6
2
3
Round 7
6
5
Round 8
5
7
Round 9
4
5
Round 10
9
5
Total
46
51
Don't forget that you can follow all the action from the Super League weekend on Sky Sports.
Castleford v Huddersfield
3pm, Sat, Sky Sports 2 HD
Barrie says: Well the RAC men came and repaired the Giants wheels didn't they? It was a great response from Paul Anderson's lads who were up to true mark against Widnes and will want to maintain their momentum. The Tigers will need to get better very quickly to get the season back on track after Saints saw them off last week. It's going to be a long season for Cas and if they have any ambition not to finish in the bottom quarter of the table they need to do well against the top teams and beat the teams around them....I hate to say it but it is hard to see them not struggling big style with a Giants who have their own agenda for this game and that's to keep hold of the form they have found again.
BARRIE PREDICTS: The Giants by 28 points.
Terry says: Poor old Castleford conceded 85 points over Easter whilst Huddersfield conceded just 26. I would like to see Castleford play with the same energy that they did when they played and beat the Rhinos, if they can do that they have a chance. Huddersfield at the moment have a huge squad that are competing for places. The man who is in sensational form is that man Danny Brough. Also playing well is Larne Patrick, he was immense against Widnes and he will need to play the same on a smaller pitch at Castleford, especially as the giant Earl Crabtree is missing because of a one match ban he picked up on Tuesday
TERRY PREDICTS: Huddersfield by 18.
Leeds v Warrington
6.30pm, Sun, Sky Sports 2 HD
Barrie says: This is the most exciting game of the round. Both teams have quality players on the injured list but the depth of both squads will be a factor. Wolves have players returning as do Leeds but the Rhinos are losing a few including a four match suspension for Ryan Bailey. This will be a mixture of good defences getting beaten by great attack. The battle of the two coaches is another side line of this match they are two of the best Super League has ever seen and their sides both play a similar type of rugby league where passing and high risk is delivered with varying precision.
BARRIE PREDICTS: The start of this game will be as good as it gets - Leeds will win as they will respond the to the vocal South Stand who will cheer them to a win by eight points.
Terry says: A repeat of last year's Grand Final and six days after Leeds fantastic victory in the south of France. They had to play the last 33 minutes with 12 men after Bailey was sent from the field. Brian McDermott chose not to play Richard Moore who sat on the subs bench for the whole game, I guess it's the confidence that he has in the rest of his big men.
Warrington will have to play with the confidence that got them to the Grand Final last year, but they will obviously need to go one better. Leeds at home is tough for any side and I'm sure Tony Smith would want his side in better form; they lost and conceded 38 at Widnes then beat London on Easter Monday by 54-20 at home.
TERRY PREDICTS: I believe The South stand will be the Rhinos big weapon on Sunday night. Leeds by eight points.
London Broncos v Bradford
Barrie says: The Broncos can score points, especially Kieran Dixon who has scored a couple of crackers and is joint leader so far this year with 11 tries. They have proved that last week against the Wolves it's stopping the opposition scoring that they have trouble with. The Bulls can be guilty of this as well but they tend to score a few more than London do. If you are wanting to watch a strong defensive display you won't find it in this game. It's going to be the team who can take advantage of a 'purple' patch and rack up some points that then other side won't be able catch up in time.
BARRIE PREDICTS: I'm going for an away victory by six points.
Terry says: London failed to pick up any points over the Easter period after losing to the Catalan Dragons and Warrington Wolves. The Bulls pulled a draw out of the bag at Headingley, then followed up their point against the Leeds Rhinos with a home success over the Salford City Reds. Francis Cummins will be confident, but the Broncos will welcome back Chris Bailey, Mark Bryant, Tony Clubb, Shane Rodney and Craig Gower from the squad that lost to Tony Smith's men on Easter Monday.
TERRY PREDICTS: I'm going for a shock to most in this game but maybe not to Tony Rea - Broncos by 10.
Hull FC v Catalan Dragons
Barrie says: After an extremely slow start against Trinity, Hull finally found plenty of spirit and managed to beat Wakefield on an off day for the Wildcats. The Dragons are notoriously slow to start so if the supporters need the game to start with a bang they'd better bring their own box of fireworks. Hull will take a lot of confidence from last week against Wakefield after that dreadful derby match. The French side will want to play at home every week after the way they entertain the fans but will still be thinking that they get a raw deal away from home. Danny Houghton has made an amazing 419 tackles so far this year and will have another high workload from a team that plays down the middle.
BARRIE PREDICTS: Catalan to win by eight points.
Terry says: Catalan I'm sure will be disappointed they didn't get more out of the game with Leeds. They had the majority of possession in good field position but lacked the final play to record more points. The plus in this game was they were on the right side of the penalty count, that will be needed again against Hull. I'm confident Hull will be up for this game at home, they owe the black and white faithful as the last time they played at home they suffered a defeat by KR, one which I'm sure didn't go down well!
TERRY PREDICTS: Hull by eight points.
Hull KR v St Helens
Barrie says: Rovers have been waiting for this fixture since the final whistle on Monday against Wigan. If KR don't learn the lessons from last week they might find themselves at the wrong end of a big score again. It's never pleasant to lose but to lose like that is something that sticks with you all your career. They won't win this week but it will be a case of restoring some pride and confidence in each other.
BARRIE PREDICTS: Saints to win by 16 points.
Terry says: How will the KR players respond to the public criticism they received from chairman Neil Hudgell. They suffered a humiliating 80 minutes at the hands of a rampant Wigan side. In fact it was the biggest defeat in 131 years (that was around the time Eddie Hemmings was born). They can either come out fighting or feel sorry for themselves and blame others around. I'm not sure that is the makeup of the lads though and they will be fighting to put the record straight. Saints may have a few players back for this game. One player who was given another chance on Monday was Josh Perry who came out and scored two tries. This will be a very tough game and I'm sure one that will be full of big legal clashes.
TERRY PREDICTS: Another upset maybe on the cards, Hull KR by 12
Widnes v Salford
Barrie says: The Vikings are becoming a formidable 'home' side and they can give anyone a good game at home but away from home there are still a work in progress. Scoring points is still an issue and Patrick Au Van is top for the Vikings with just five. Alan Hunte has made a real difference to Salford who will look to keep the game at a manageable pace on the fast 3G track to give them a chance at the points so expect Marc Sneyd's kicking game to be important and it will be close.
BARRIE PREDICTS: The Vikings will keep to their script and win by 14 points.
Terry says: Widnes gave a number of youngsters an opportunity on Monday and one which I'm sure they won't forget in a hurry. When you are young and thrown in at the deep end you learn very quickly how quick, physical and aggressive Super League is. Denis Betts will be hoping to have Kevin Brown and Cameron Phelps back along with a number of others who missed Monday's game. This I'm sure is a game that Widnes will be targeting. Salford have played some good stuff lately and have brought in Jake Emmitt from Castleford in a straight swap for Ryan Boyle. The ex St Helens youngster will give the Reds a lift I'm sure.
TERRY PREDICTS: Widnes will want another good showing at home to make up for Mondays defeat. Widnes by 18
Wigan v Wakefield
Barrie says: I'm a bit worried for the Wildcats who would have wanted more from the Hull game. Wigan are certainly THE form team of last month with a lethal balance of experience and youth plus the desire to thrash opposition to within an inch of their Super League lives. Trinity really do need to put in plenty of effort, stick with the Warriors pace and match their rugby smarts or there will be a host of tries scored against them by the likes of Tomkins, the other top try scorer Josh Charnley, top of the pops goal kicker Pat Richards. No doubt about the winner, but the score?
BARRIE PREDICTS: The Warriors to win by 24 points.
Terry says: What will Richard Agar say to his players going into this game. If any team play tough and committed its Agar's men. They have a touch of flare along with an aggressive go forward. Will Tim Smith cause enough problems against his former club? Wigan scored 112 in two games over Easter and you can see why with the talent in the side. Shaun Wane allows them to play in any area of the field, if they see an opportunity they will take it. Look at the spine of the side Tomkins, Smith, Green and tough nut Michael McIlorum - hey are all in brilliant form and I'm sure three of them will be playing in the World Cup come the end of the year.
TERRY PREDICTS: Wigan by 22.