Bradford timeline
A look at the Bulls' desperate fight for survival
Last Updated: July 25, 2012 10:19am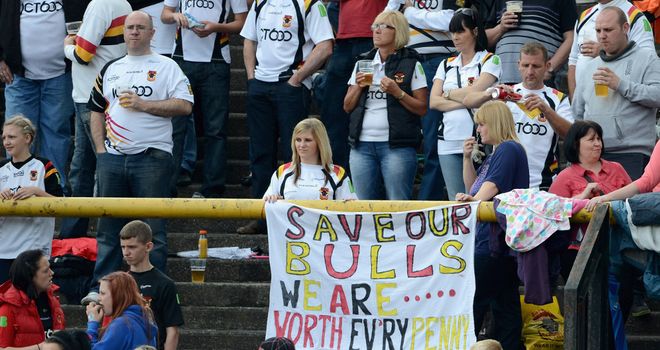 Skysports.com takes a look at Super League crisis club Bradford's fight for survival over the past few months.
January 24: The Rugby Football League announce they have bought Odsal stadium from Bradford for an undisclosed sum, later revealed to be £1.25million, and will lease the ground back to the club for a monthly rent. The governing body also claw £750,000 back in loans advanced to the Super League club.
March 27: Bradford chairman Peter Hood launches a desperate appeal for £1million after the club's bankers, RBS, cut their overdraft facility. He warns they need £500,000 by Good Friday to keep the club afloat.
March 28: The club raise £100,000 in pledges within 48 hours.
March 29: Widnes chairman Terry O'Connor donates £10,000 of his own money to Bradford's appeal.
April 5: Former Bradford chairman Chris Caisley calls an extraordinary general meeting to oust Hood and co-director Andrew Bennett.
April 5: The All Party Parliamentary Group write to the chairman of RBS urging him to extend the club's overdraft.
April 5: An auction of sporting memorabilia at Odsal raises £28,000 towards the appeal fund.
April 6: A bumper crowd of 20,821 turn out for the Leeds home game on Good Friday, enabling club to exceed original budget for the match and further boost the appeal fund.
April 10: Bradford announce they have reached their initial target of £500,000 in pledges.
April 22: Hood announces he is preparing to step down ahead of the EGM scheduled for May 23.
May 9: Hood and Bennett formally resign from the board.
May 11: Former directors Stephen Coulby and Rowland Agar rejoin the Bradford board and ex-chairman Caisley, still a major shareholder, announces a strategic review.
June 2: Coulby reveals the club's debts are worse than first thought following an independent financial review and that a further £1.25million is needed to survive beyond the end of the year.
June 13: Bradford file notice of intention to appoint administrators after HM Revenue & Customs threaten to issue a winding-up petition over an unpaid tax bill in excess of £300,000.
June 26: Club enter administration and joint administrator Brendan Guilfoyle says they have 10 working days to find a buyer or go into liquidation.
July 2: Guilfoyle reveals the club is losing £100,000 a month and makes 16 redundancies, including head coach Mick Potter and the rest of his backroom staff and chief executive Ryan Duckett, to save around £45,000. That number is quickly reduced to 15 with the reinstatement of conditioner Geoff Evans.
July 3: Former general manager Gary Tasker takes on the role of interim chief executive for expenses only.
July 4: Head coach Potter and his assistants Francis Cummins and Lee St Hilaire agree to return and work without pay to prepare the team for the forthcoming game against London Broncos.
July 8: The Bulls beat London 44-12 in front of members of the ABC consortium, a group of local Asian businessmen including Akbar's managing director Shabir Hussain, who hold talks with Bradford Council leader David Green and chief executive Tony Reeves.
July 10: Guilfoyle agrees to extend his deadline to find a buyer until July 27 on the condition that the RFL advance money from central funds to cover the wage bill.
July 13: Guilfoyle pays the players their wages for July after the RFL advance the club money due from the Sky television deal.
July 19: The ABC consortium make an offer to buy the club on condition that they are able to buy back the Odsal lease and receive a guarantee that Bradford will remain in Super League.
July 25: The RFL's board of directors impose a six-point penalty on Bradford for going into administration.