Rugby League World Cup: McCormack up against old pal Napolitano
Last Updated: November 2, 2013 1:27pm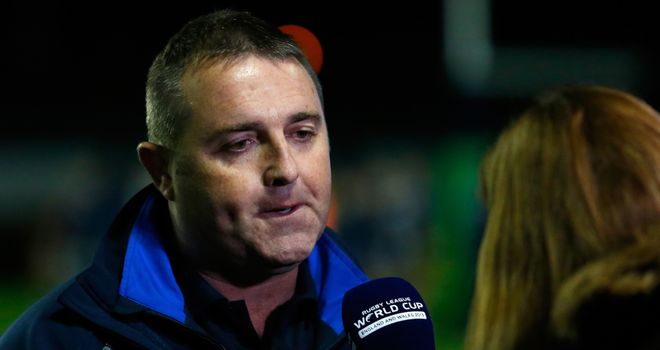 Steve McCormack: Up against a man he mentored on Sunday
Scotland coach Steve McCormack is not surprised by Italy's impressive form over recent weeks.
McCormack is old friends with his Italy counterpart Carlo Napolitano who he sensed was heading for the top a long time ago.
The two will be in opposing camps on Sunday when their respective sides face-off at Workington in a game crucial to each of their World Cup quarter-final hopes.
The contest comes on the back of fine wins for both last time out - Scotland against Tonga and Italy over Wales - and has the added spice of the two coaches being friends.
Fourteen years ago Napolitano signed for Salford under coach John Harvey and was immediately put in the academy, under the guidance of McCormack.
When Harvey left and McCormack took over, Napolitano was given his Super League chance and the two had a bond which has lasted ever since.
"I'm really pleased for Carlo. He's a player I had at Salford. I watched him develop as a young player and he's a person and coach I have kept in touch with so delighted for him," McCormack said.
Napolitano would only make three top-level appearances for Salford, but that did not affect his relationship with his mentor.
"I keep in touch with him, we met up during the last World Cup and speak to each other regularly," McCormack added.
"He's a good fella and it's good to see young, passionate coaches and a young, passionate Italian doing well.
"He's a top person, he will make a very good coach. He was a back-rower, a character and he's developed into a good business man, has a good job, and the way he conducts himself, he's a credit to his family in Salford and to Italian rugby league."
The feeling of appreciation is mutual.
Napolitano is forming a fine reputation at the World Cup, with the Wales win on the back of a stunning warm-up victory over England, and the coach is happy to credit McCormack's role in his development.
"He's a mentor to me and as an individual he's a smashing bloke," he said. "I had wonderful years at Salford, he's a very smart individual, has a very good coaching process, he inspired me.
"I played in Super League under John Harvey there, Steve was assistant coach. I signed under Andy Gregory, he brought Steve in as academy coach and I played all my academy rugby under Steve."