Rugby League World Cup: Kevin Sinfield says England ready for Ireland test
Last Updated: November 2, 2013 2:09pm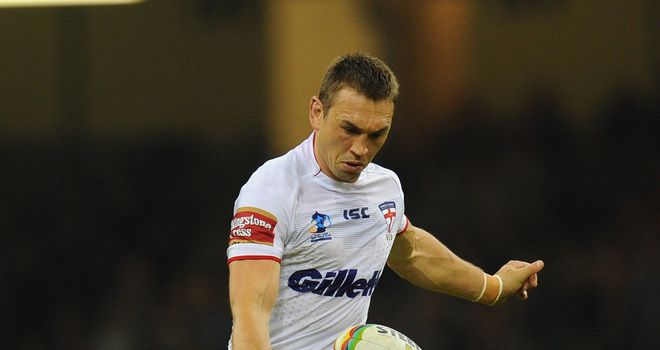 Kevin Sinfield: England ready for tough Ireland game
Kevin Sinfield insists England are taking nothing for granted in Saturday's World Cup clash with Ireland at Huddersfield.
Sinfield insists the team have put their embarrassing warm-up defeat to Italy behind them, and took heart from pushing tournament favourites Australia all the way.
Sinfield's men are in the role of favourites against Ireland and the skipper is confident they can deliver this time.
"The group is fully concentrated on what's going on between our four walls," said Sinfield. "Our expectation is greater than anything that anybody externally can put on us. We just want to get out there tomorrow and perform and hopefully get the competition moving for us."
Controversy off and on the pitch has not helped England's cause. The expulsion from the squad of Gareth Hock and the non-selection of James Graham for the Australia game caused much debate.
But an early-morning evacuation from the England hotel caused by a fire alarm on Friday actually helped the team spirit.
In a video posted on his official Instagram page, Sam Tomkins filmed himself joking: 'It's half past six in the morning and the fire alarm has just gone off. I think it must have been the Irish.'
Sinfield said: "That's part of the challenge of being in hotels and being together. There is always something like that that crops up.
Disruptions
"It was the smallest of disruptions. Everybody went back to bed for another hour. I think the lads saw the funny side of it. Nobody was cheesed off or anything, they just got on with it.
"The boys have just trained great, probably as well as we've trained for the last couple of weeks. Everybody has got a fantastic attitude towards the game and we're looking forward to playing here in front of a full house.
"Like I said last week, and I'll say it again, the squad is really strong and together and are really committed to trying to do something special for England. But we need to get on the board now."
Saturday's game is the first meeting between the teams since England came from 10-4 down to beat Ireland 26-16 in the quarter-finals of the 2000 World Cup at Headingley, and Sinfield is expecting a similar test from Mark Aston's men.
"Ireland are going to turn up and throw everything at us," he said. "We're aware of that. We're preparing for the best of Ireland but hopefully they're preparing for the best of us because it's important we go out and play like we can.
"That game back in 2000 was very physical and, if I remember rightly, the pitch was pretty waterlogged which meant it was a real forward battle. The pitch out there is in great condition and hopefully we get a decent track tomorrow and both teams can throw the ball about and play some good stuff."
England coach Steve McNamara added: "We expected Ireland to be very good. They have got some real experienced NRL players and players who are regulars in Super League.
"They know a lot about us and fortunately we know a lot about them."