Sonny Bill Williams now 'wiser and more mature'
Last Updated: 27/10/13 5:40pm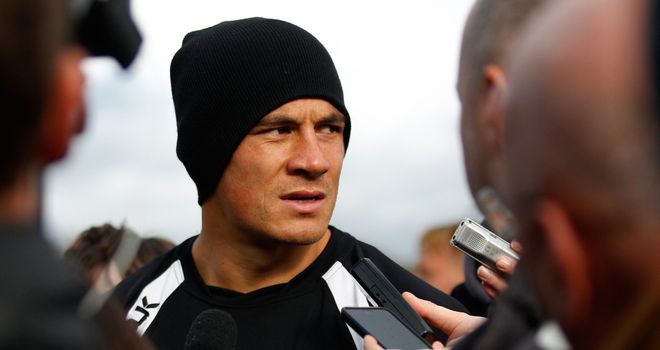 Sonny Bill Williams: Returning to the New Zealand rugby league side
New Zealand centre Sonny Bill Williams is now "wiser and more mature" than when he last played rugby league for his country, according to his national coach Stephen Kearney.
Arguably league's biggest star, after his successful cross-code switch to union and back, Williams will return to the Kiwis national side for their World Cup defence, which gets under way against Samoa on Sunday.
Williams has sparked numerous unwanted off-the-field headlines during his nine-year career but Kearney has been highly impressed since his return.
"He's been fantastic. He's been really good," Kearney said of the 28-year-old, who won the NRL with the Sydney Roosters earlier this month.
"He's light years away from where he has. He was always a special talent but he's five years on, wiser and more mature. He's different.
"He has got to know himself. He's measured himself, he's grown and is a man now. We all need time to do that. At the time he was a 22-year-old, a big fish in the pond and some of us don't handle that."
Williams, who quit league in 2008, citing salary cap restrictions as a primary reason and went on spend four successful years in union before briefly competing as a professional boxer, also caused controversy with the manner of his return to the Kiwi squad.
He initially told Kearney he did not wish to be included for the World Cup, only to have a last-minute rethink which caused the coach to drop Tohu Harris.
"As I've always said, I would never have made that decision if I thought it would harm the group. I've known Sonny for a long, long time and I knew what it meant to him when we spoke about," Kearney added.
"Knowing Sonny well enough, he wouldn't have made the phone call (if he was not committed). It was always going to be a tough decision to (to drop Harris) and when you've made a decision and go back on it..
"But I've known him for a long time and knew what it meant. I made it nice and clear.
"I rang him initially and he had a real good think. He had got home from a Grand Final win but the details are irrelevant because I knew what it meant to Sonny and then it was a matter of trying to make it happen."