Super League: Bradford's Adrian Purtell expects big 2014 improvement from Bulls
Last Updated: 27/08/13 4:23pm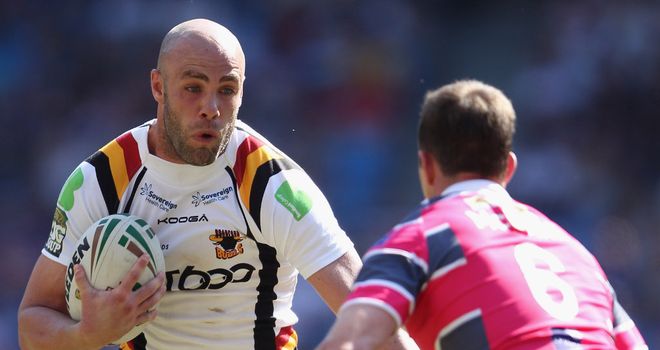 Adrian Purtell: Is excited for the 2014 season with the Bulls
Whilst Bradford's hopes of reaching the Super League play-offs were ended following defeat to Castleford, Adrian Purtell still wants a positive end to the season to provide a platform to build for 2014.
Although there are two games remaining this term, the Australian is already enthusiastic about what 2014 could hold for the Bulls.
As such, Purtell, who will miss the Bulls' final two games with a knee injury, is keen for his team-mates to give their all ahead of what he believes could be an exciting campaign next year.
"I think it's very exciting for us with the players we have signed for next year," he said.
"We've got a good backbone in a team that works really hard for each other and the guys we have signed are only going to make us stronger.
"The club is going in the right direction and I'm looking forward to being a part of that."
For now, Francis Cummins' men must ready themselves for their closing fixtures, both of which will be played on home soil.
Opportunity
"We went into the Castleford game looking to win the last three and now our focus has changed to winning the last two," Purtell said.
"It's important to finish the year on a positive note and these two games in front of our own fans gives us an opportunity to do that.
"They won't be easy but if we can build a bit of momentum and take it into pre-season then we can come out firing next year."
Individually, Purtell has done well since returning from a heart attack suffered last year and is confident a full pre-season will see him back to his best for the start of next season.
"The club is going in the right direction and I'm looking forward to being a part of that"
Adrian Purtell
"I've been happy that I've got so much footie under my belt this year and am really looking forward to a big off-season so I can rip in and have another positive year in 2014," the centre added.
"I've still got a lot of improving to do; defensively at Castleford wasn't good enough for me. As one of the older, more experienced guys I've got to be in charge of our side.
"But it will be great to do a full pre-season and be around the boys for the duration of it as last year I was not given the all clear until after the season had started."