Saints are 'all fired up'
Saints face Wigan tonight at the DW Stadium
Last Updated: 07/09/12 7:53am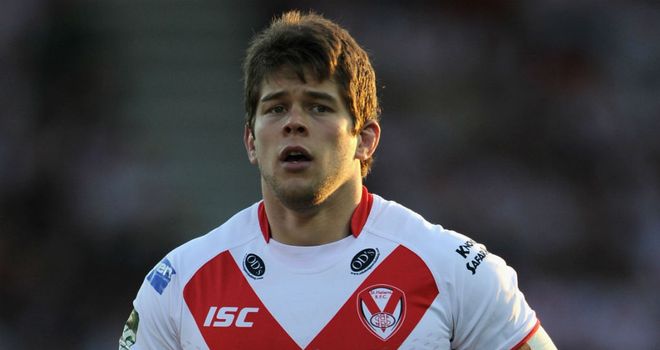 Louie McCarthy-Scarsbrook: 'We're all fired up and ready to go'
St Helens will be out to put a dampener on Wigan's celebrations as they prepare to receive the Super League leaders' shield tonight.
The Warriors secured top spot for the second time in three years with victory at Hull KR and they will be presented with the silverware at the DW Stadium at the end of tonight's final match of the regular season.
Saints still need a win to guarantee a third-place finish for the second successive year and McCarthy-Scarsbrook says they are desperate to break their seasonal duck against their arch rivals.
Wigan have won all three derbies so far this year but McCarthy-Scarsbrook says his team can take confidence from last season, when they went to the DW Stadium with a similar record and inflicted a damaging play-off defeat.
"We're all fired up and ready to go," said the former London Broncos prop.
"It's a little bit like this last year when we drew and had a couple of losses but went into the play-offs and beat them.
"Hopefully we can finish on a high and put a dampener on their final game at home, which would be nice."
Dampener
A fourth Wigan win would set up yet another derby in the opening round of the play-offs next Friday and it is conceivable the rivals could meet again in the semi-finals.
McCarthy-Scarsbrook admits the possibility of the arch rivals playing each other six times this year could be stretching a point.
"We'll either end up going back there or playing Warrington and both of them games ain't going to be easy," he said.
"We want to finish as high as we can. I don't think we want to play Wigan five or six times in a season - that's getting a bit ridiculous - but it's a great atmosphere when you do play them.
"This is probably one of the best derbies in sport. There's always an eeriness in the changing room because everyone knows going out there it's going to be war.
"When it gets deadly quiet you can tell then that everyone's on, it's a good sign."