Bulls players paid on time
Bulk of the wage bill came from an advanced payment by RFL
Last Updated: 13/07/12 4:48pm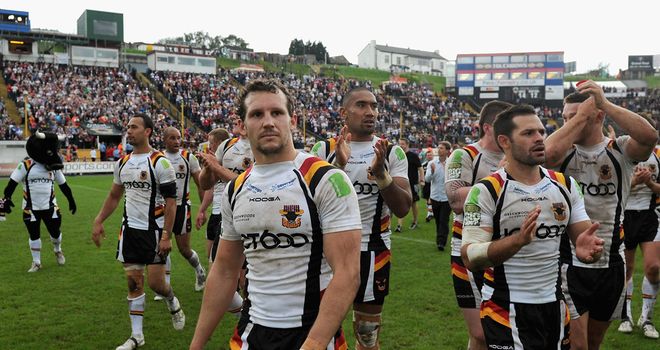 Bradford's players salute the Odsal crowd after last week's win over London
Bradford's administrator Brendan Guilfoyle has confirmed that the club's players have received this month's wages on time.
The club raised some cash from last Sunday's home game against London Broncos but the bulk of the wage bill came from an advanced payment by the Rugby Football League from the Sky television money due next week.
That was part of the conditions for Guilfoyle agreeing to extend his deadline to find a buyer from Tuesday to Friday, July 27, which means that the club's next Super League match against Leeds at Headingley next Friday will go ahead.
"We are extremely grateful to the Super League and to the RFL for advancing us funds to enable us to pay the July wage bill," he said.
Former general manager Gary Tasker is working unpaid as interim chief executive while head coach Mick Potter and his two assistants, Francis Cummins and Lee St Hilaire, returned on a voluntary basis for last Sunday's game.
They have also agreed to stay on to prepare the team for the Leeds derby while the Bulls received another boost today when Paul Medley, the club's head of youth development, reported back for work after agreeing to work on a voluntary basis for the next fortnight.
Hardship fund
Fans have also set up a hardship fund administered by the club's pastor to provide assistance to sacked workers.
The future of the club beyond July 27 now appears to rest with a group of local Asian businessmen, known as the ABC consortium, who have followed up their initial interest by holding talks with the RFL.
Today Guilfoyle confirmed he had "serious interest" from the ABC consortium but has yet to receive a formal offer.
The businessmen want a guarantee that Bradford will be allowed to keep their place in Super League while the major stumbling block is their insistence that they be given the chance to buy back the Odsal Stadium lease from the RFL before agreeing any deal to take over the club.
The RFL, who paid around £1.25million for the lease in January, are likely to place conditions on the future use of Odsal before agreeing to any deal.