Guilfoyle issues apology
No confirmation over possible returns of Noble and Caisley
Last Updated: 03/07/12 7:07pm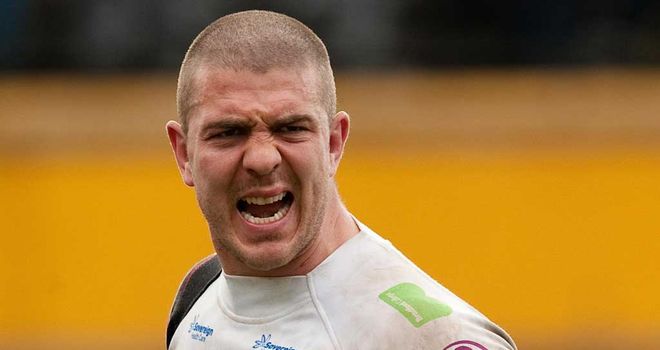 Matt Diskin: received a personal apology from administrator Brendan Guilfoyle
Administrator Brendan Guilfoyle has apologised to the Bradford players for failing to attend a meeting he had arranged for Tuesday morning.
The squad were asked to gather at their training bases in Tong, near Cleakheaton, and were promised an update on the club's financial crisis.
"We have been in touch with the captain, Matt Diskin, to give a personal apology to him and his team-mates - I recognise how unsettling it was for the players."
Brendan Guilfoyle Quotes of the week
However, they were told by a third party shortly before the meeting was due to take place that it had been cancelled.
Joint captain Matt Diskin said: "We all turned up with the impression that we were meeting Brendan Guilfoyle to find out some more news but 10 minutes beforehand we found he's not given us the courtesy of turning up.
"We're in the dark, as we have been through the whole process. We don't know what is happening. The pure lack of communication is quite disrespectful in our eyes."
Too late
Guilfoyle, a partner in Leeds-based P&A Partnership, said he had decided to cancel the meeting on Monday night but said the message did not get through to the players in time.
In a statement, he said: "I had convened a meeting with the players for today (Tuesday). Late last night I decided to cancel it as I had no update for the players and told them to have a day off.
"Unfortunately, it was too late for the message to get through by the time we contacted the captain, the players representatives and their solicitors.
"We have been in touch with the captain, Matt Diskin, to give a personal apology to him and his team-mates - I recognise how unsettling it was for the players."
The Bulls are due to play London Broncos in their next Super League fixture at Odsal on Sunday amid rumours that former coach Brian Noble is set to take charge.
Guilfoyle refused to confirm that Noble had been lined up as a caretaker coach when he attended a fans' meeting on Monday night. He also stated that former chairman Chris Caisley was not behind the scenes waiting to mount a rescue bid.
"I cannot state strongly enough that I am not speaking to any former directors or shareholders or anyone who has ever acted as a director, about buying the club," he said.
"I am desperately looking for ways for this club to survive and genuinely looking for purchasers.
"I would urge Bradford's business community to rally round and see how they can save this club."
Guilfoyle, who made 15 people redundant, including the entire coaching staff, in a major cost-cutting exercise on Monday, has extended the deadline for the administration by two working days to next Tuesday, but said there can be no further extension unless a buyer is found.
Potential investor
He also revealed at the Monday meeting, which was attended by around 500 fans, that a potential investor had been unearthed.
"I am sure the passion and tangible support offered by fans will play a significant part in any rescue," he said.
"It has already had an effect. One businessman who had rejected any involvement rang me after the meeting and said he had changed his mind.
"He has now asked to look at the numbers, based on the loyalty and support shown by fans.
"This city should be proud of its fan base, who are a real asset to anyone buying Bradford Bulls."