Betts - Mathers should "man up"
Vikings coach insists artificial pitch is the future for rugby league
By Mark Kendall - Twitter: @SkySportsMK. Last Updated: February 7, 2012 8:32pm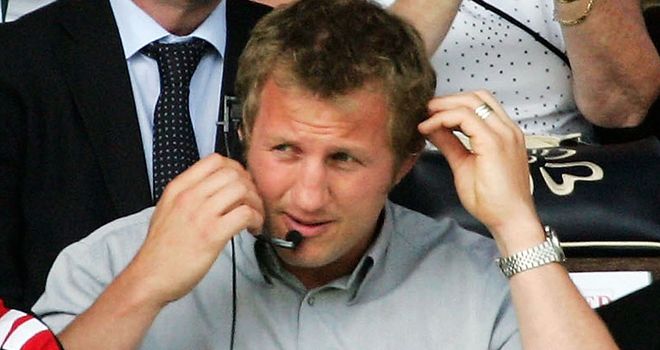 Denis Betts: Issued a staunch defence of Widnes' revolutionary 'i-pitch'
Widnes coach Denis Betts has issued a staunch defence of the club's artificial pitch and claims Wakefield full-back Richie Mathers needs to "man up" after his criticism of it.
The Vikings and the revolutionary 'i-pitch' made their Super League debut last Friday, although the home side's big night was spoiled as they slipped to a 32-14 defeat against the Wildcats.
But much of the post-match talk surrounded the pitch after Mathers took to his Twitter account to post photos of his grazed arms and legs.
Mathers pointed to the surface at the Stobart Stadium Halton as the cause of his injuries and went on to describe it as an "absolute joke".
However, the RFL revealed there had been no official complaint about the playing surface, while Widnes insisted that extreme weather conditions had caused the problem, citing similar injuries from other games played on grass pitches over the weekend.
Betts - Mathers should "man up"
Betts is in no doubt that it was the conditions which had caused the issue and took a swipe at Mathers for his outspoken views.
"I think it's definitely down to the conditions, we had 34 blokes running around on Friday night and we had one bloke (Mathers) complaining," Betts told Sky Sports News. "I think that speaks volumes.
Extreme conditions
"It's a very tough sport, I think you've just got to man up a little bit. It was extreme conditions - it was minus-seven, there was ice on the ground and ice can hurt when you land on it.
"I think it's definitely down to the conditions, we had 34 blokes running around on Friday night and we had one bloke (Mathers) complaining. I think that speaks volumes."
Denis Betts Quotes of the week
"I don't think it was anything to do with the pitch, it was more to do with the freezing conditions and as you see from, not only the Salford game, but also the Hull KR-Leeds game that went on on Friday - which was almost called off as well - there's a lot of lad with scrapes and bumps from that game as well."
Betts went on to underline the fact that the authorities remain happy with the 'i-pitch' and insisted the club had undertaken an exhaustive programme of research before pressing ahead with the instalment.
"It's not something that's been done on a whim, there's been a lot of investment, a lot of time and a lot of effort gone into it," he continued.
"Everybody is really, really compliant and really happy with how hard we've worked to make sure this is a fantastic safe surface to be able to play a high-collision contact sport on it, like rugby league.
Perfect surface
"We've covered ourselves, we know exactly what we've done. To judge it on one fella's little rant and to get carried away because it's different, I think that's a bit extreme.
"I think we need to understand how much effort has gone into making this a safe, perfect surface to play rugby league on.
"I think this is the future for this kind of sport. This weekend we had three games and two training sessions on this one pitch over a two-day period.
"Social media creates a lot of hysteria doesn't it? We don't need to justify ourselves, we've done the work, we've put in the time on testing it and we've trained on it for the last month - we know it's a great surface."
Following that opening defeat, Betts admits his side are facing a long, hard season ahead, but insists he and his players will be giving everything to become a competitive force.
"We know exactly where we are and it's not an easy league," he added. "It's a very competitive, very tough league to be involved in and we're starting from the ground up.
"It would have been great to get that first win for the fans, especially the amount of fans we dragged in here, but they've just got to be supportive, look towards the future and understand that the amount of effort that's going in towards getting those results is high."