Higham hoping for Cup double
Wolves player set to become a father on cup final day
Last Updated: 28/08/09 3:08pm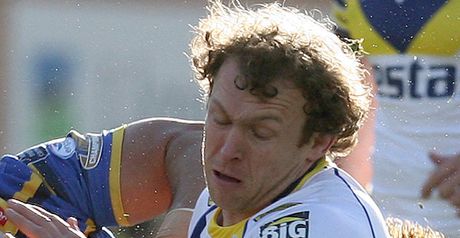 Higham: Possible double celebration
England hooker Mickey Higham will make his comeback from injury in the Carnegie Challenge Cup final on the day his wife expects to give birth.
The former Wigan and St Helens player will start from the bench as Warrington face Huddersfield at Wembley, three months after suffering a torn bicep.
The 28-year-old admitted to being surprised at his late call-up following an injury to Jon Clarke, but hopes to make his mark despite his off-the field distractions.
"She'll be in the stadium so the crowd might set it off," Higham said of his wife.
"I've put my phone on silent and I keep checking every five or 10 minutes. The physio will have to have it again tomorrow.
"If you'd have asked me a couple of weeks ago, it would have been a blunt 'no' but I put the hard work into my rehab and kept my fitness up," he said of his return to the side, two weeks ahead of schedule.
"If I didn't feel right, I wouldn't have played but I did the test and it felt strong so I put my hand up for selection.
"I didn't think it would be as good as it was. It's improved hell of a lot in the last two weeks."
Higham was on the losing side with St Helens in 2002 and then missed the 2004 victory owing to a foot injury.
"I'm just ecstatic. I've had disappointment in this competition before. It's never been the kindest Cup to me. I've played one, lost one and was injured for another so it's third time luck," he added.