Hock indebted to Warriors
England second rower 'lucky' to receive Cup call
Last Updated: 24/10/08 10:29am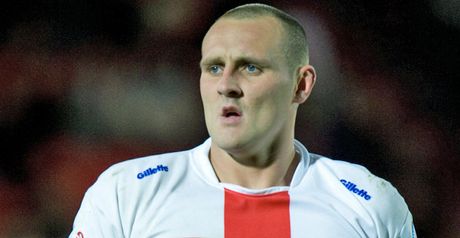 Hock: 'Lucky' to be selected
Gareth Hock admits he has his Wigan team-mates to thank when he runs out for England in the opening match of the World Cup on Saturday.
Watch England v PNG on Saturday from 9.30am, live on Sky Sports 2 or log on to skysports.com for live, interactive text commentary
"I was lucky we had a run in the play-offs and I got a few games under my belt."
Gareth Hock Quotes of the week
The 25-year-old missed both the start and finish of the regular Super League campaign through suspension and his World Cup hopes hung by a thread after he grabbed the arm of referee Ian Smith during Wigan's defeat to Huddersfield in July.
A five-match ban ruled him out for the rest of the regular season but a successful run by the Warriors in the play-offs enabled Hock to press his claims for a call-up with three impressive performances.
"Tony spoke to me at the time of the ban but it was in my mind that I wouldn't get picked because I was out so long," he said.
"But I was lucky we had a run in the play-offs and I got a few games under my belt. I got the chance to work on my fitness and I did alright."
Moved on
Hock missed the 2007 Test series with New Zealand after being banned for a dangerous tackle but Smith believes he is a reformed character and deserved a second chance, especially after missing the mid-season international against France through injury.
"He's learned a hard lesson," said Smith. "Even leading up to that (suspension), he's been doing his best to control himself and it probably looked a little bit worse than it was.
"But he's moved on and I'm sure he will not let his team-mates or his country down.
"I had every intention of taking him to France but he did his ankle in the lead-up. I sat down and had a good talk to him.
"He assured me a lot of those things are in the past. I trust him and believe him.
Determined
"I also admire the way he plays. He's very talented and, when he makes all these good decisions, he's a fantastic player. I've got faith he is going to make more good decisions than bad."
Hock admitted the World Cup was a personal target at the start of the season and, having been given a reprieve, he is determined to make the most of his chance.
"I trained really hard at the beginning of the year," he said. "I had some goals and I got my head down.
"There is pressure on me. It's the first game and I've got to play well to try to keep my place because there are plenty of back-rowers in the squad.
"It won't be easy. Papua New Guinea are going to be in our faces so it will be tough."