Super League: Jamie Soward says London Broncos spell proved beneficial
Last Updated: 11/03/14 11:24am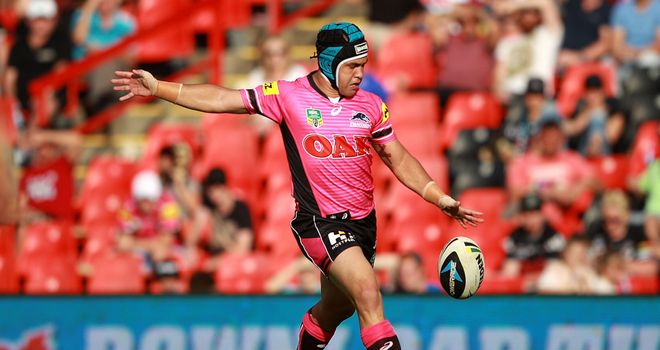 Jamie Soward: Says his time with London Broncos proved beneficial
Penrith Panthers' Jamie Soward says he underwent a 'life-changing' experience in Super League with London Broncos last season.
Soward was an NRL Grand Final winner with St George Illawarra Dragons in 2010 while he also stared for New South Wales in game two of the Origin series in 2011.
However, after agreeing a four-year deal with Penrith mid-season in 2013 he was eventually granted an early released allowing him to join the Broncos.
Soward made a big impression in the capital and while he was unable to inspire the club to greatness they made a positive impression on his career.
Tony Rea's men helped Soward rediscover his appetite for rugby league and while he insists he remains close to the club and their players.
Eye-opener
"I still talk to those boys and I suppose it was life-changing for me because I wasn't enjoying myself at the Dragons."
Jamie Soward
"London was awesome, the coach Tony Rae was great with me, I had a really good time," Soward told the Telegraph in Australia.
"It was eye opening in the way he wanted me to play footy. They are doing it pretty tough over there but I had a great time and I think it's helped me relax more.
"I was excited to go over there, go travelling, and do the things I can't do here and it was a great time.
"I still talk to those boys and I suppose it was life-changing for me because I wasn't enjoying myself at the Dragons. I am really lucky to get a second chance here and Penrith and I am hoping I can show what I can do."