Rugby League Experts & Columnists
Barrie v Terry: Pair go head-to-head with their Super League predictions
Barrie McDermott and Terry O'Connor go head-to-head with their Super League predictions...
Last Updated: 06/03/14 4:00pm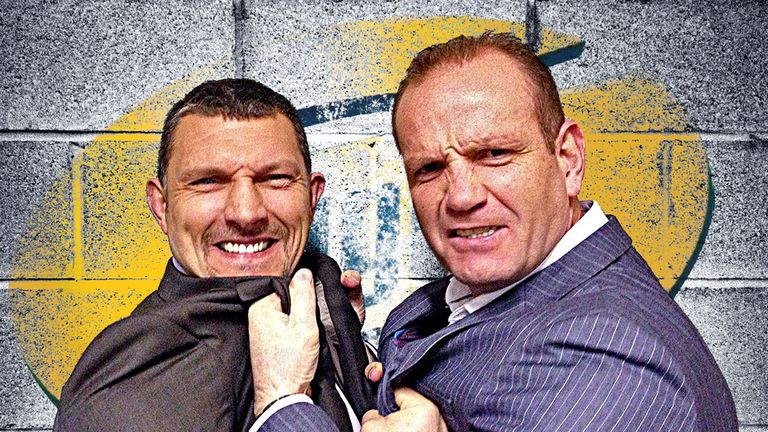 Last season Terry pipped Barrie to the post and proved to be the most successful tipster - but Barrie is determined to make amends in 2014!
Each week they will give their predictions for the Super League games, scoring a point for a win and if they both pick a winner then the one with the closest score gets an extra point!
Current standings
| | | |
| --- | --- | --- |
| Round | Barrie | Terry |
| Round 1 | 7 | 8 |
| Round 2 | 5 | 6 |
| Round 3 | 7 | 10 |
| Total | 19 | 24 |
Widnes v Salford: 8pm, Thu, Sky Sports 1 HD
Barrie says: I've been really impressed by Widnes this season. They had that great performance against Huddersfield last weekend and that will be a huge boost for them. Denis Betts and Mick Cassidy have done a good job in the pre-season to get the Vikings to this level so early in the season. On the flip side Salford will be bitterly disappointed with their loss to St Helens as it was seen as a real acid test for them to see if they were ready to take on the big boys. It does not look good for them at this stage of the season. However, when they get the players back that are missing it will be a different story. Junior Sau is back in the squad for this game but Gareth Hock is still missing and Rangi Chase is also still a couple of weeks off. Once they get back to full strength they will be a real force to deal with.
Prediction: I am erring on the side of Widnes because I think the momentum is with them. Kevin Brown is missing but Jon Clarke is returning and in-form Rhys Hanbury will have a crucial say in this game. Widnes to win by eight points..
Terry says: There's still no Rangi Chase but at least Junior Sau is back for Salford and he is a huge plus for them. Salford coach Brian Noble watched the first half of Widnes v Huddersfield and I am sure he would have been impressed with what he saw. He is trying to turn his ensemble of world class players into a team - that does not happen overnight. Widnes have some great players too - Danny Tickle, Jon Clarke and Kevin Brown. But what Denis Betts has done is given them a hardworking team culture that I think still needs to be developed at Salford.
Prediction: I cannot wait for this game, it is going to be a great contest and I am expecting a lot of points to be scored. I am going to say that Widnes will win by ten points.
Huddersfield v Leeds: 8pm, Fri, Sky Sports 1 HD
Barrie says: Leeds were blinding in how impressive they were against Catalans - they are just so fast. Their backline is frightening with so much pace and threat. Huddersfield are coming off a shock loss to Widnes - they were lucky to come away with a draw in the previous game against Hull KR too. They really need to bounce back and I am expecting this to be a real tough and a tight contest. Players like Eorl Crabtree and Jamie Peacock will look to set the platforms for their respective teams.
Prediction: I fully expect Huddersfield to show their quality and resilience in this game but I still think Leeds will win by six points.
Terry says: Huddersfield are coming off the back of a loss to Widnes but have to regroup and focus because this is not going to be an easy game. This game will test their character and their spirit. Leeds were superb against Catalan - you look at their side with players like Kallum Watkins, Joel Moon, Ryan Hall, Tom Briscoe and Zak Hardaker - they were pure class. If Danny Brough does not get his kicking game right, then the Rhinos' back three will punish the Giants.
Prediction: It's a tough game to call, I would love to go against Barrie but I just think Leeds are just too hot at the moment. Rhinos by eight points.
Hull FC v Bradford
Barry says:Not much more can be said about Bradford off the pitch but every cloud has a silver lining and I think Francis Cummins and his staff are doing a commendable job. Last weekend James Donaldson was the star of the show with 66 tackles. I believe that puts him third on the all-time tackle list. It was an amazing effort and players like Danny Addy, Adam Sidlow and Anthony Mullally are also getting exposed to this level of rugby league which will elevate them to the next level. Hopefully Liam Sutcliffe will be available for Bradford - he is an international star of the future and I think Bradford have done a good job to get him and it is the link and the relationship that former Rhinos player Cummins has got with Leeds that has made this possible.
Prediction: I expect Sutcliffe to have a good game on his debut and Bradford to give a good account of themselves. Unfortunately I cannot look past Hull FC though - I think they have a little bit more stability and a little bit more quality and I am going for them to win by ten points.
Terry says: Hull FC started slow last week against Warrington and ended up losing by two points. If they had taken some of their opportunities, they probably would have won that game. However they will still be full of confidence and will be looking forward to this game. Bradford gave it everything last weekend and got a hard-fought win over London. Some of their youngsters but in some solid performances and showed some steel.
Prediction: I don't think Bradford will have enough this week though. Hull FC to win by 16 points.
St Helens v Hull KR
Barrie says: It's a been a bad week for Hull KR with a couple of unwanted and unlucky distractions off the pitch and they are in shaky form on the pitch. Saints are just flying at the moment and have really impressed the rest of Super League who are respectful of their danger. Alex Walmsley and Kyle "he looks like nobody owns him" Amor are doing a fabulous job in the middle ably assisted by Jon Wilkin who is in his natural position of second row. Jonny Lomax is a threat every time he gets the ball and the back three of Adam Swift, Thomas Makinson and Lomax is as good as anything around.
Prediction: I am going to go for St Helens to take this game by 14 points.
Terry says: Hull KR have a very good side on paper but they are not performing. Too many of their players are defending on their heels - if you do that then you are going to get run over! They do not look urgent enough and they have to pick their game up. I am very disappointed by them. Saints have been so impressive and will run riot if KR do not tighten up their defence.
Prediction: Hull KR are just not performing and I think Saints will win by 18 points.
Castleford v Wigan
Barry says: this game has thrown up some huge confrontations in years gone by. I am just about old enough to remember the famous regal trophy in the 90's where Castleford played Wigan when Wigan were in their pomp. Cas beat Wigan at Headingley in an amazing game. Cas coach Daryl Powell has got a mentality in this side that rivals that and they defend very hard and have attacking threats like Daryl Clark and the "Thing on the wing" Justin Carney. I thought that there might be an upset with Wigan v Wakefield last week but got my fingers burnt!
Prediction: I am mightily impressed by Castleford but I cannot back against Wigan. Wigan by eight points.
Terry says: Cas are coming off a very good victory and will be looking forward to this game. I have a feeling that Wigan coach Shaun Wane may go for some of the younger lads who got the win over Wakefield. Castleford is one of the most intimidating places to go to in a Wigan shirt. I did it on a number of occasions and you really need to be made of stern stuff!
Prediction: This is going to be some game but I think Wigan have got that World Club challenge loss against the Roosters out of their system and will win by eight points.
London v Warrington
Barrie says: Warrington got their first win of the season against Hull FC last weekend and while it was not a complete performance, it got them back on track. I expect even more improvement from them this weekend. They are looking to be peaking for the right parts of the season which are at the back end of the year. I watched London against Bradford and there were a couple of my old academy players on show - James Duckworth, Thomas Minns and Alex Foster who are learning the hard way and giving a great account of themselves especially Minnsy who scored a good try last week. For them it will be looking to improve on that performance from last week where they ran the Bulls pretty close
Prediction: London will try hard but I can't see Warrington losing this one and I expect them to put 20 points on the Broncos.
Terry says: London were half-decent last weekend and they were unlucky not to take advantage of a few chances. They show that dogged determination and I like the way they have been playing. Scott Moore has been their best players and I am expecting another big game from him. Warrington are still not firing, players are playing well but collectively they are not gelling. The biggest worry for their coach Tony Smith is their defence - they are missing too many tackles.
Prediction: if Warrington turn up - and I think they will I think their class will shine through and they will win by 16 points.
Wakefield v Catalan
Barrie says: The one thing Wakefield can do is score points they put 24 last week but that was not enough to beat Wigan. Catalan are decimated though - the whole spine of their team is missing: fullback Brent Webb, stand-off Thomas Bosc, scrum-half Scott Dureau and hooker Ian Henderson.
Prediction: Tough times for the Dragons and I think they have not quite got the depth that they need to cover all their injuries and it's important the fans hold their nerve. Laurent Frayssinous is a good coach and will lead a good side when the first choice players are available, however, Wakefield will get this one by ten points. .
Terry says: I will say it straight away - Catalan will not win this game! Wakefield have things going for them and are full of running and confidence. Catalan have too many injuries and their away form is shocking.
Prediction: Wakefield will win this one by 14 points.