Barrie McDermott: Daniel Holdsworth the man to lead Hull FC to Challenge Cup glory
Barrie McDermott believes Daniel Holdsworth holds the key for Hull FC in the Challenge Cup.
Last Updated: 23/08/13 6:25pm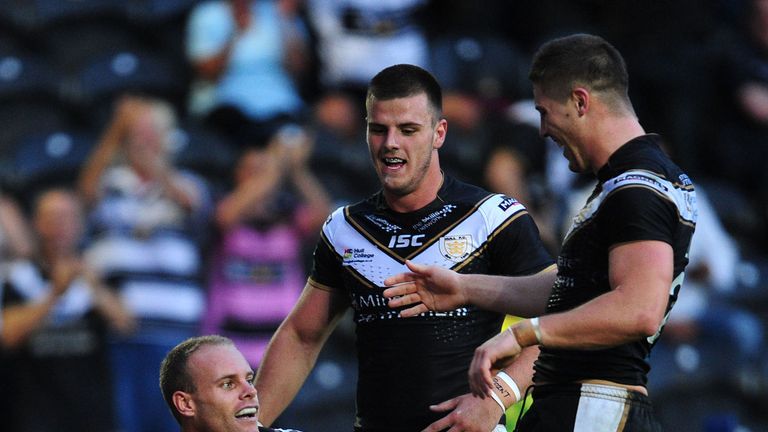 "Both teams have potential match winners and are capable of both nudging out a close win and blowing the opposition of the pitch," said McDermott.
"I have considered this result on both teams having all their players available and if that's the case I'm going to go for a Hull FC win purely because I also think it will be in the hands of Daniel Holdsworth and his pack of forwards.
"Holdsworth left Salford last season to move to Hull so he could appear in finals like this and he won't want to let the opportunity to show he is world class pass him by."
McDermott also says that Hull have to come up with a plan to stop the likes of Josh Charnley, Sam Tomkins, Matty Smith and Blake Green getting the ball - which is easier said than done!
"Peter Gentle will have worked a plan (whether it works or not) to stop the ball getting to Charnley who I see as the major danger to Hull. But, if they are looking at Charnley all the time, then that gives Tomkins, Smith and Green the space to cause problems.
"Hull's scramble defence had better be on top form."
Wigan boost
Wigan's preparations for the final have not gone to plan as they slumped to a 22-8 loss to Catalan in their Super League clash last weekend. However McDermott believes the return of Sean O'Loughlin will give them a huge boost.
"O'Loughlin is set to skipper the Warriors at Wembley on Saturday for the second time in three years and I believe that Wigan's slump has been partly due to his valuable service being missing," he said.
"This game is also perfectly poised for Sam Tompkins to inspire a Wigan win - he has the composure to deal with this occasion and the confidence to set himself the ultimate goal of lifting the Cup for the club and the Lance Todd for himself."
Tomkins is not the only man catching McDermott's eye for the Lance Todd Trophy - awarded to the Challenge Cup Final's man of the match: "I also believe that Danny Houghton will be a big contender for the Lance Todd Trophy," he says.
Belief
"He has been quiet but efficient of late but expect a top drawer game from him as he will run and probe allowing Holdsworth the time and space to dictate the play.
"A lot will obviously depend on the team selection and injury doubts, but ultimately it comes down to who will seize their opportunity. How many times have we seen a player take centre stage after having been brought in as a replacement for a last minute change?
"Hull FC can win this if they go for it and play with the same belief they had against Warrington, and Wigan can win it if they recapture the form that they had in in the first two thirds of the season.
"These two have a very historic clash to draw inspiration from too. That game way back in 1985 is widely acknowledged as the best Challenge Cup Final ever when Wigan won 28-24.
"I am a big believer in anything can happen on the day and this final will be a cracker!"