Barrie v Terry
Barrie McDermott and Terry O'Connor go head-to-head with their Super League predictions...
Last Updated: 02/08/13 9:42am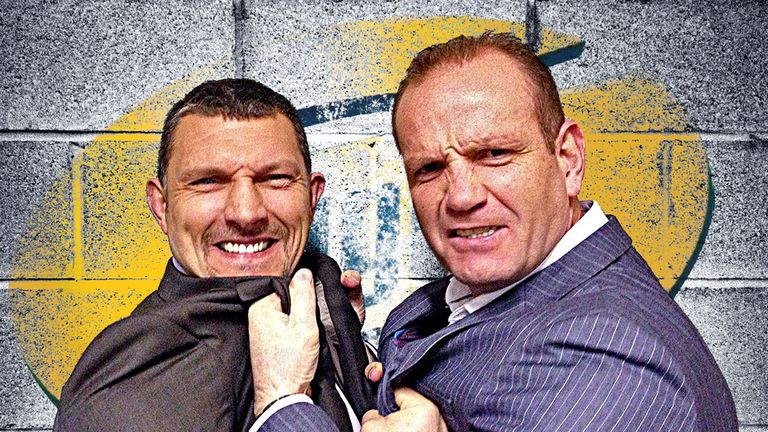 On the pitch Barrie McDermott and Terry O'Connor liked nothing better than tearing into the opposition.
They may have hung up their boots but that competitive streak still runs strong and we have found a way to channel their energies.
Each week they will preview the live televised Super League games and provide predictions for the rest of the action - and we'll keep track of who's called the most matches right. We will reward one point for a win and if they both have picked a winner then the one with the closest score will get an extra point!
Terry still has the lead after Round 22 but we are confident that Barrie can start making some inroads into that lead after Round 23!
Current standings
Round
Barrie
Terry
Round 1
6
6
Round 2
5
3
Round 3
5
7
Round 4
1
6
Round 5
3
4
Round 6
2
3
Round 7
6
5
Round 8
5
7
Round 9
4
5
Round 10
9
5
Round 11
6
7
Round 12
7
5
Round 13
7
5
Round 14
8
7
Round 15
8
7
Round 16
6
6
Round 17
5
7
Round 18
8
5
Round 19
5
5
Round 20
3
6
Round 21
6
11
Round 22
5
8
Total
120
130
London v Leeds
7.30pm, Thu, Sky Sports 1 HD
Terry says: First of all I'm sure everyone will spare a thought for the ex-Leeds coach, the great Graham Murray. He was a fabulous man and a great coach. I believe he was the man who was the catalyst at the Rhinos, he also got them to the Inaugural Grand Final against Wigan in his first year. He is a huge loss to the game, a man respected by all who came into contact with him.
It will be an emotional day for the Rhinos players and club and I'm sure it will be a win for the Rhinos. Leeds have scored a total of 140 points in the last three games and with Watkins and Bailey back I think they could win this game by more than 40. I worry for the Broncos. As a player you get to the semi-final of any cup and you want to perform. The club was 80 mins from a final but I'm afraid they buckled and crumbled under the Warriors' pressure. What do the players have to play for? A new contract, pride, self-respect, the club! I would imagine all of the above. Can they do it? I'm not so sure. When you are at the bottom and looking around you because of all the uncertainty your mind wanders and I'm certain a few players will be looking up north for future employment. If the captain wants out other players will want the same. They are up against a happy Rhinos squad who enjoy playing together.
TERRY PREDICTS: I'm going for a huge Rhinos win by 42 points.
Barrie says: This weekend we lost a great Rugby League man who was very influential in my career. A very charismatic man who left a lasting impression on our game on both sides of the world. Rest in peace Muzza!
The Broncos are playing an in-form Rhinos after their disastrous performance against the Warriors in last week's Challenge Cup semi-final. It could very well be another stonking for the London club this week as well, lots of people and good judges think it will be a high-score loss for Tony Rea's men who must be heartily sick of losing in the manner in which they do. Leeds are building up towards the play-offs and want to finish higher than the usual fifth spot of the last two seasons.
BARRIE PREDICTS: The easiest result to predict this week, but London will play with some good old fashioned pride in a Rhinos win by 12 points.
Wigan v Hull KR
7.30pm, Fri, Sky Sports 3 HD
Terry says: To score 70 points in a semi is a great achievement, but Waney will be made up with the big fat zero next to London's name on the scoreboard. How good was Sean O'Loughlin? He is Mr. Consistent and one of the game's best ambassadors. It's difficult to back against Wigan at the minute even though they didn't perform at St Helens. The Warriors have a huge game next week against Huddersfield and they know they cannot slip up in this game as next week may well decide who tops the league after 27 rounds. It looks a tough fixture for Craig Sandercocks men as they have conceded an average of 42 points in the last 10 games against Wigan.
The challenge for KR is to stop all the threats from the Warriors. The Robins have some strike as well and I'm sure Michael Dobson will want to be the main architect behind a Robins win at the DW. Can Dobson and Burns dictate the play better than Smith and Green? Well the huge bulldozers from both sides in the middle will answer that question come kick off time.
TERRY PREDICTS: I can't see Wigan losing this one though and back them to win by 24 points.
Barrie says: Wigan may have put 70 points past the Broncos last week without reply, but they are going to have to beat a motived but still erratic KR side desperate for a top eight spot. Will Wane rest some of his players who played last week whilst still recovering from niggles or injuries? If he does the Robins will have a chance as Saints showed in the last league game. If he keeps the same team Wigan will win easily.
BARRIE PREDICTS: I think it will be a similar team from the Warriors but as soon as they look as if they are in control the players with knocks may well be substituted and rotated, meaning the score could be close but a win by 10 points for the Warriors.
Hull v Widnes
Terry says: What a great result for Peter Gentle's men. They defended very well against Warrington and deserved to win the Challenge Cup semi-final. Hull might not be in great form league wise but they certainly are a determined outfit. They defend with great intensity and they hit on suspicion in defence (just ask Brett Hodgson after Mark O'Meley belted him when we was supporting a team mate). I think they have all the attributes to win some silverware. I cannot see a weakness in attack or defence and all though they aren't the biggest, their forwards get stuck in. Can Widnes do the double over Hull? If they play attacking rugby like they always do they have a chance. After a week's break and another week to clear up some injuries to key men, Denis Betts will be confident of an upset.
TERRY PREDICTS: It's party time at the KC and I expect a big turn out from the FC fans, if they turn out in numbers that might be enough to beat the travelling Vikings by eight points.
Barrie says: This is a tricky one, will the Hull players be forgiven for wrapping themselves in cotton wool to make sure they don't get injured before the Challenge Cup Final? I am sure they won't but if the Vikings get stuck in the little voice at the back of the FC players might have something to say and I am sure the Vikings will be aware of this so expect plenty of fair aggression from Widnes. It will be in vain though because Hull look to have found their mojo. The new lad Jacob Miller was so excited to have won last week you'd have thought he was a full blown born and bred black and white Hull son. Even the 'old' warhorse Mark O'Meley seemed thrilled to be going to Wembley.
BARRIE PREDICTS: Peter Gentle the Hull coach will be warning his players to maintain their form because there is a month to go before he picks the Final team. A home win in a tight game by six points.
Catalan v St Helens
Terry says: In a season that started with an embarrassing loss in round one against Huddersfield, St Helens defied the odds and had their best win of the season against Wigan. They defended heroically and attacked Wigan like it was the final minute of a Grand Final. The youngsters came of age and it was fitting that Joe Greenwood scored the winning try after the poor lad dropped the ball over the line and made a few other errors. Lots of coaches would not be risked in the arena but Nathan Brown knew all about the youngsters character. I would say that all though thinks haven't gone Saints way this year a few more wins could see them finish fifth and Catalan are one of the sides that are just placed above them in the league.
TERRY PREDICTS: Catalan playing at home will be fancied by most neutrals, although St Helens have won their last four away meetings with Catalan Dragons. Saints by six!
Barrie says: The Saints did themselves a favour beating their neighbours the Warriors in last week's fixture to keep in the top eight but they aren't safe by any means and they know that. They also know the Dragons have had a poor run recently and will be looking to remedy the problems this week by beating a team who could leapfrog above them in the league if they lose.
BARRIE PREDICTS: Saints have the ability to win and their young players are having a lot of say in how they play but if I have to be realistic the experience of the French outfit will make a big difference and my head say's a Dragon win by eight points.
Huddersfield v Salford
Terry says: Look back to round nine when Brian Nobles men won a tough encounter 21-20, can they do the same job against a Huddersfield side that are chasing top spot? Paul Anderson will be looking for perfection as he builds for the big one next week v Wigan. With Danny Brough signing a new five yearr deal at the club it's good to see Huddersfield keeping hold of its prized assets. I'm sure clubs both sides of the world would love to have the Scottish genius in their side. Coaches and conditioners plan to be in peak condition for certain times of the year, this is one of those times. Salford turned Catalan over two weeks ago in emphatic style. The season has had its ups and downs - will this be another up against a form side?
TERRY PREDICTS: My answer to that question would be no, the Giants are giant in stature and since the upset in the Challenge Cup they are focused now on every league fixture but more importantly performance. Hudds to win by 30 points.
Barrie says: Danny Brough has signed a new five year contract with the Giants and will reward them with a controlled inspirational display to ensure Ken Davy the Huddersfield Giants chairman will receive the league leaders shield by finishing at the top of the league at the end of the regular season.
BARRIE PREDICTS: The Reds won't lie down but are missing a few due to that brawl against Catalan and will make the home team battle for their win by 18 points.
Castleford v Warrington
Terry says: A wounded wolf is a dangerous animal and the wolves are wounded after coming second best against Hull at the weekend. You always wait for a reaction when a classy side like Warrington get beaten in a top game. I'm sure all Daryl Powell will be telling his troops to play with confidence and the correct attitude. Castleford play great rugby against the top sides, I would say they play better against the sides nearer the top of the table. I'm not sure if Myler will be back for the Wolves but he must be close now, and Chris Bridge needs three tries to reach a career century of touchdowns and just one appearance to reach 200 career games.
TERRY PREDICTS: Warrington to come out howling and win by 18 points.
Barrie says: Daryl Powell, the Tigers coach, will be confident his team will take the two points for a win today, but so will Tony Smithy the Wolves coach! This is the type of games that the Super League really needs - two coaches with the attitude of 'we can win this' and pass it onto their players and I think that the crowd will relish the style of play from both teams.
BARRIE PREDICTS: Cas will certainly come close to winning, but I think the Wolves will have set themselves a target of winning ALL their remaining games starting from this one. A Wolves tightly-won-game by three points.
Wakefield v Bradford
Terry says: The first thing to come into my mind when I look at this game is the financial problems that the once great Bradford club find themselves in again. The players did it last year when they found themselves in similar circumstances. Can they do it again? The club have made a few good signings and fingers crossed this is a small cash flow problem. Bradford beat Hull recently, but that's still only the second win in 11 from Francis Cummings men. Wakefield, on the other hand, have had two very close results against Leeds. The first was a two point defeat, they then played outstandingly well against a Leeds side that welcomed back Kevin Sinfield, that game they lost by seven points. I'm sure after those performances and the way they are currently playing this result is going to Richard Agar's men, but fingers, toes and other parts of the human body crossed that Bradford will be ok.
TERRY PREDICTS: Wakefield have something to build on and I think theyb will take this one by 14 points.
Barrie says: Trinity were sickened to have lost their last two games at the hands of the Rhinos in the space of seven days, they will be wanting to show their loyal and vocal supporters they are still aiming to finish in the top 8 until it is mathematically impossible to do so. But hang on a minute, the Bulls are still in with a shout as well, and I will go as far as saying that whoever loses this game has blown their chances. It should make this game a must see for both sets of fans to attend.
BARRIE PREDICTS: Trinity are so hard to beat at home and the games they have lost have been by mere points rather than a thrashing. The Wildcats coach Richard Agar will be smiling today as they beat the Bulls by 12 points in a close game with Trinity scoring the winning points in the final minutes.