Barrie vs Terry
Barrie McDermott and Terry O'Connor go head-to-head with their Super League predictions...
Last Updated: 21/03/13 3:02pm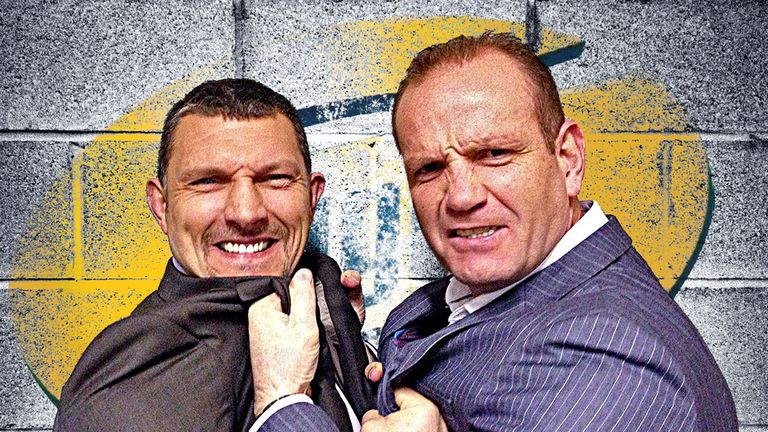 On the pitch Barrie McDermott and Terry O'Connor liked nothing better than tearing into the opposition.
They may have hung up their boots but that competitive streak still runs strong and we have found a way to channel their energies...
Each week they will preview the live Super League games and give their predictions for the rest of action - and we'll keep track of who's called the most matches right!
Round 7 saw Barrie claw back a point where the only big surprise was London beating Castleford. Both Barrie and Terry admit to being a bit stumped by Castleford's form - great one week, anonymous for two. Our experts also agree that the size and depth of all the squads will start to play an important part as we head into week eight of Super League XVIII.
Round
Barrie
Terry
Round 1
6
6
Round 2
5
3
Round 3
5
7
Round 4
1
6
Round 5
3
4
Round 6
2
3
Round 7
6
5
Total
28
34
Don't forget that you can follow all the action from the Super League weekend on Sky Sports.
Wigan v Widnes
5.30pm, Sat, Sky Sports 2 HD
Terry says: "The war of words has started in the build-up to this game by two former Cherry and White greats - Wigan coach Shaun Wane and Widnes coach Denis Betts. If it kicks off in the tunnel I know which coach I'll be backing! Denis says that Wigan are scared of playing against Gareth Hock (fair comment, they are only human), whilst Shaun says those comments are stupid and ridiculous (also good point, although I would say that as Mr Wane has said it). Will Sam Tomkins be fit? It's not only Tomkins in doubt - Harrison Hansen, Gil Dudson, Epalahame Lauaki, Lee Mossop and Paul Prescott are all injured, whilst Tuson and O'Loughlin are nursing injuries.
"Widnes also have key men missing - Kevin Brown, Cameron Phelps and Stefan Marsh are still out with injuries they sustained against Hull. And then there is that man mountain Gareth Hock. When Hock signed for Widnes both clubs agreed to a clause in the loan deal that prevented Hock playing against his parent club. I would be fairly confident with an away win here if he was eligible because of all the men missing for Wigan.
"Last week Widnes led at half-time against Catalan but reverted to similar form they shown last year in the second half when they gave to many penalties away. The frustrating thing for Betts was the tries they conceded last week were on the back of the silly penalties they gave away."
TERRY PREDICTS: If Tomkins plays Wigan by eight points.
Barrie says: "Wigan put in a terrific performance with a lot of their 'star' players not available but their young players were outstanding in their loss to Leeds last week. The Vikings lost their way in the second half against the Dragons, and will be very disappointed with that. Widnes need to find the path this week and keep on it but, Wigan know the way with their eyes closed and should be well on top of Denis Betts' men!"
BARRIE PREDICTS: the Warriors to win a competitive game by 14 points.
Hull KR v Castleford
6.15pm, Sun Sky Sports 1 HD
Terry says: "Both sides under performed last week and only scored 12 points which I'm sure disappointed both sets of fans. Castleford play better when they play against the top sides! Do they believe KR are a top side? On paper they have a playing roster that if they click could match most teams in the league. They have scored more points than any other side, they are the only team to score over 200 points (202) but the problem they have is that they have conceded just 10 points less (192). If they are to progress in the competition, that needs to improve.
"Looking at Castleford's game last week it was a throwback to the 60's; the pitch was heavy and the game was slow against London. They are a better side than what they showed last week and I'm sure Ian Milward will have his team pumped for this game which will grace our cameras on Sunday. I will go with Sandercock's men who last time they played at home they beat Warrington."
TERRY PREDICTS: Hull KR by 18.
Barrie says: "Castleford really do need to hit their form against this points scoring machine that is Hull KR. Not a lot to be said about this game, KR are way too strong for the Tigers who might hope for damage limitation as a result.
BARRIE PREDICTS: KR will win by 24 points.
St Helens v Salford
Terry says: "Salford are looking for their first victory in St Helens for over 33 years. With Tony Puletua, Paul Wellens and Josh Perry returning, it is going to be difficult for them. The plus for Salford is that James Roby will be missing due to injury. Jonny Lomax will also be missing which I'm sure will give the Reds a huge lift. Dominic Speakman could make his debut - if he does he'll be the fourth young forward to debut in 2013. Do the Reds have the confidence and skill to get over Saints? I'm not sure they do. What they do have is a team that tries hard week in, week out, but that will not be enough. Nathan Brown's men hit the right notes last week and this game should be a comfortable win for the men from Merseyside."
TERRY PREDICTS: Saints by 30
Barrie says: "Jonny Lomax is having a ball at full-back and it seems bizarre that he might keep one of the best players of the last decade, Paul Wellens, out! The Reds are in a terrible rut and struggled against Warrington last week. Salford need to resolve their coaching situation quick sticks before their supporters lose faith - they are faithful and loyal you can't afford to upset. After a shaky start Nathan Brown has now got results from his new system and it will be a bit more successful this week."
BARRIE PREDICTS: Saints will win by 38 points.
Wakefield v Leeds
Terry says: "Wakefield have now gone four games without a win. They conceded 52 last week against a rampaging St Helens side who were superb - especially in the second half. This fixture last year saw at Wakefield outperform Leeds over the 80 minutes beating them by 38-18. I'm not sure they can repeat that performance this time around. Some of the youngsters have matured and pushed the Rhinos further forward under the guidance of Brian McDermott this year. This I'm sure will be a very tough encounter."
TERRY PREDICTS: Leeds to win by 14.
Barrie says: "Last week's 18-14 score for the Rhinos against Wigan looked as if they ground the win out but, there were at least four clear chances for the Rhinos to have scored more tries. It was like watching the World Club Challenge game again, too many dropped balls and loose passes.
"Wakefield looked like they couldn't ground coffee never mind a win! Richard Agar needs to find something to put the zip into the Wakefield's defence and not rely on Leeds dropping the ball. It will be close because Trinity at home are a different side but, the Rhinos have too much class."
BARRIE SAYS: Leeds will win by 8 points.
Warrington v Huddersfield
Terry says: "This is an interesting fixture and a tough one to call. Huddersfield are unbeaten away from home this season with big wins over Leeds and Saints. Warrington have won one out of the last three games, but I'm sure Tony Smith's men know what lies ahead - a big giant side that will cast shadows all around the HJ stadium along with two intelligent half backs. Danny Brough was left out of England's squad for the World Cup so he will be out to show Steve McNamara that he is the best 7 in Super League. His place in the squad has gone to Warrington's Richie Myler. I believe his performances this season have warranted that England spot and many a good judge believe he is in the top three performers in the comp this year."
TERRY PREDICTS: Warrington by six points.
Barrie says: "If ever a game needed to be on the TV this is it. It will be a points fest but not because of poor defences! Both teams have unlimited options to attack with Smith and Anderson encouraging adventurous play. If the Wolves can find an answer to Brough then they will win. However I think they will get the question wrong this week. The concern for the Giants is that Warrington should have some more of their troops returning to action."
BARRIE PREDICTS: I pick Huddersfield to win by two points.
London Broncos v Hull
Terry says: "London played Hull twice last year losing by just two points at home and then by eight at the KC. Can the likes of Gower conjure up that kind of magic again to get over the try line more than the men from FC?
I was impressed with how the Broncos battled past Castleford on a heavy pitch against a side that normally plays well on home soil. London looked hungry and determined and they will need that same attitude.
"Hull have failed to win away from home on four attempts this season but I think it's fifth time lucky for the black and whites. Hull are a battling side that made more metres than Huddersfield last week even in defeat, if they have the field position they could have a good day in the capital."
TERRY PREDICTS: Hull by 16.
Barrie says: "Surprisingly London are only a point behind Hull on the Super League table. FC have spent nearly three times as much as the Capitol City outfit in recruiting the best players, but you wouldn't know it going on the results would you? The Broncos seem to be a 'confidence' side who need to start the game well if they stand a chance of winning, but Peter Gentle needs the win to please the fans and more importantly the Hull owner."
BARRIE PREDICTS: Hull to sneak past with a one point win.
Catalan Dragons v Bradford
Terry says: "We have five teams locked on nine points in the league table. Bradford are top of that table in overall third place with Catalan in sixth place. It's a close game by two evenly-matched sides. The Bulls have scored 19 points more and conceded 11 points less. Catalan are at home for the second week in a row so they will of had a very good week on the field without the interruption of traveling.
"Bradford got off to a flyer and will want to start with the same speed and intensity as last week, but I think it will be difficult against the men from the south of France who have not yet tasted defeat at home in 2013."
TERRY PREDICTS: Catalan by eight points.
Barrie says: "The Bulls can score plenty of points, but they let the opposition score nearly as many as well. They need to keep their defence in check because the Dragons on their own turf love to entertain and will be giving the home crowd plenty to cheer about. I think it will be who can score the most points in 80 minutes and to this end it will be the Dragons who claim the win."
BARRIE PREDICTS: Catalan by four points.