Fortress London
Richard Moore salutes Laura Trott and Chris Hoy; the stars of the World Cup at the London Velodrome.
Last Updated: 23/02/12 3:00pm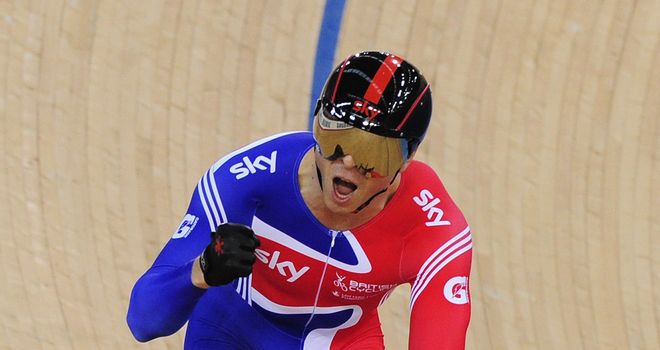 The Olympics seemed to move closer last weekend, during one evening and three sold-out days in the stunning London Velodrome.
Dave Brailsford apparently had some misgivings about the new facility staging a World Cup. While it is necessary to stage an Olympic 'test' event, it didn't have to be such a prestigious one, inviting the world's best and allowing them the chance to become acquainted with the boards ahead of the Games in August - thereby, perhaps, compromising home advantage.
Was it self-defeating? It could have been, if rival nations such as Australia or Germany had come and conquered, planting their flags and claiming some kind of 'ownership' of the velodrome. But, in some respects, the opposite can now be said. The atmosphere was partisan, at times febrile, and 'Fortress London' was thus established ahead of the Olympics.
The two riders who seemed to respond most positively to this support - and, equally, the crowd to them - are at opposite ends of the age spectrum.
Laura Trott, 19, and Sir Chris Hoy, 35, were the undoubted stars of the meeting, with Trott contributing more than her share to Britain's team pursuit gold, then providing arguably the highlight of the four days with her astonishingly gutsy victory in the elimination race, en route to bronze in the omnium.
What makes Hoy tick?
Hoy is confounding. I feel like I should know exactly what makes him tick: he grew up around the corner from me in Edinburgh and rode one of his first road races in the same East of Scotland team as my brother. We were teammates at the 1998 Commonwealth Games in Kuala Lumpur and, 10 years later, I wrote a book, Heroes, Villains and Velodromes, about him.
Yet, watching Hoy racing at the weekend, I wondered. When he races he undergoes some kind of metamorphosis, from mild-mannered and down-to-earth Chris, to remorseless and ruthless Hoy.
More than that, what we realised in London is that, in the four years since Beijing, where he won three gold medals, Hoy has added new tricks to his repertoire. Whereas then he won races from the front, using his power as a kind of blunt object, he has now honed a much sharper edge.
In the second round of the keirin he extricated himself from a mass of bodies to win - something that is a lot more difficult than it looks, requiring skill, fearlessness and aggression - before winning the final with a little more ease.
His only significant slip-up came in the first heat of his sprint quarter-final against Grégory Baugé. For heat two, Hoy appeared so angry with himself that Baugé didn't stand a chance. The decider went to the wire, but Hoy, utilising all his speed, channelling all his desire, threw himself at the line to win by a few centimetres.
Battle of wills
However, it was his very last ride, against Maximilian Levy in the final of the sprint that was arguably his most impressive. After Hoy claimed round one, and led out round two, Levy attacked as the bell rang.
Hoy held the inside line, Levy came over the top, nudging ahead, bearing down on him: in this position he held a significant advantage. But Hoy responded, holding his line, summoning all his strength not to allow "fresh air to appear between my front wheel and his back wheel." Had this happened, Levy could have swooped down the banking, blocking Hoy, forcing him to ease off and come the long way around - an impossible task.
At this point it wasn't about speed or power: it was a battle of wills. Levy, in an advantageous position, remember, higher up the track, tried with all his might to overpower and to intimidate. Hoy flatly refused to concede an inch. You got the impression that, had the race gone on all night, he would still not have budged. He held his position and eventually 'broke' his opponent, who gave up as they came out of the final bend.
Levy should have won. Indeed, he (and Baugé) might now be thinking that, if he couldn't beat him from that position, he will never beat him. It seemed to be a kind of animal desire that won Hoy that race. Where it comes from, I have no idea.