Melbourne Storm win NRL Grand Final after claiming hard-fought victory over Canterbury Bulldogs
Last Updated: 30/09/12 11:01am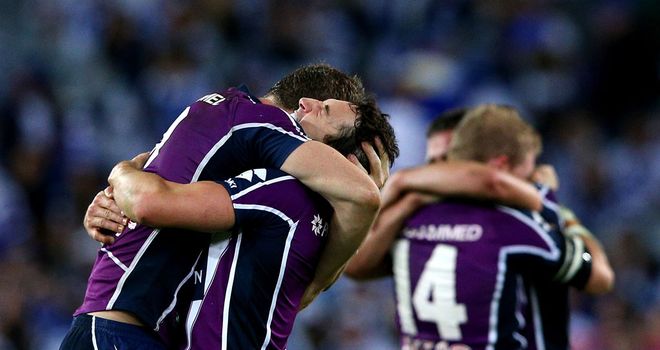 Melbourne Storm: First premiership win in 13 years
Melbourne Storm claimed their first official NRL title in 13 years after battling to a 14-4 victory over Canterbury Bulldogs in the Grand Final at ANZ Stadium.
Stripped of their 2007 and 2009 premierships due to breaches of the salary cap, the Storm finally added a second title to their 1999 premiership courtesy of tries from former Wigan second-rower Ryan Hoffman, star full-back Billy Slater and wing Justin O'Neill.
Both sides defended stoutly in a hard-fought battle in front of an 82,976 crowd, but the Storm reaped the rewards of their offensive cohesion in the first half.
Their victory could have been even more emphatic but for an off day with the boot by captain Cameron Smith, who succeeded with just one of his four attempts at goal.
England forward James Graham suffered a sixth consecutive Grand Final defeat as he was heavily involved from the bench for the Bulldogs.
The 27-year-old, who lost five consecutive Super League Grand Finals with St Helens, could be facing more misery after he found himself at the centre of a biting allegation.
Graham, who has made a big impression in his first season with the Bulldogs, was put on report following a fracas that erupted after Canterbury scored their only try through wing Sam Perrett in the 26th minute.
Slater claimed he was bitten on the ear and initial television slow-motion replays did not make pleasant viewing for Graham.
Graham is due to link up with England for their training camp in South Africa next week but a potential suspension if the allegation is proven could mean he misses the autumn internationals against France and Wales.
It was a more productive day for his fellow England international Gareth Widdop, who played an influential role for Melbourne and made a brilliant try-saving tackle on Josh Reynolds.
NRL

Fri 26th Jun - Regular Season

Brisbane Broncos

44 - 22

Newcastle

South Sydney Rabbitohs

20 - 8

Manly Sea Eagles

Sat 27th Jun - Regular Season

New Zealand Warriors

30 - 8

Canberra Raiders

North Queensland

18 - 24

Cronulla-Sutherland Sharks

Parramatta Eels

16 - 12

St George-Illawarra Dragons

Sun 28th Jun - Regular Season

Sydney Roosters

20 - 10

Gold Coast Titans

Wests Tigers

12 - 35

Penrith Panthers

Mon 29th Jun - Regular Season

Canterbury Bulldogs

20 - 4

Melbourne Storm

Fri 3rd Jul - Regular Season

Penrith Panthers

0 - 0

South Sydney Rabbitohs

Sat 4th Jul - Regular Season

St George-Illawarra Dragons

0 - 0

North Queensland

Sun 5th Jul - Regular Season

Manly Sea Eagles

0 - 0

Cronulla-Sutherland Sharks

Mon 6th Jul - Regular Season

Wests Tigers

0 - 0

Parramatta Eels

Sat 11th Jul - Regular Season

Penrith Panthers

0 - 0

Sydney Roosters

Canterbury Bulldogs

0 - 0

Brisbane Broncos

Sun 12th Jul - Regular Season

New Zealand Warriors

0 - 0

Melbourne Storm

Cronulla-Sutherland Sharks

0 - 0

St George-Illawarra Dragons

Mon 13th Jul - Regular Season

Gold Coast Titans

0 - 0

Manly Sea Eagles

Fri 17th Jul - Regular Season

Melbourne Storm

0 - 0

Penrith Panthers

Parramatta Eels

0 - 0

Canterbury Bulldogs

Sat 18th Jul - Regular Season

Canberra Raiders

0 - 0

Cronulla-Sutherland Sharks

Newcastle

0 - 0

Gold Coast Titans

St George-Illawarra Dragons

0 - 0

South Sydney Rabbitohs

Sun 19th Jul - Regular Season

Sydney Roosters

0 - 0

New Zealand Warriors

Brisbane Broncos

0 - 0

Wests Tigers

Mon 20th Jul - Regular Season

Manly Sea Eagles

0 - 0

North Queensland

Fri 24th Jul - Regular Season

Brisbane Broncos

0 - 0

Gold Coast Titans

Wests Tigers

0 - 0

Sydney Roosters

Sat 25th Jul - Regular Season

New Zealand Warriors

0 - 0

Manly Sea Eagles

South Sydney Rabbitohs

0 - 0

Newcastle

Melbourne Storm

0 - 0

St George-Illawarra Dragons

Sun 26th Jul - Regular Season

Penrith Panthers

0 - 0

Canberra Raiders

Canterbury Bulldogs

0 - 0

Cronulla-Sutherland Sharks

Mon 27th Jul - Regular Season

North Queensland

0 - 0

Parramatta Eels
Related