Rugby League World Cup: Papua New Guinea v Samoa: Preview
Last Updated: 04/11/13 7:46pm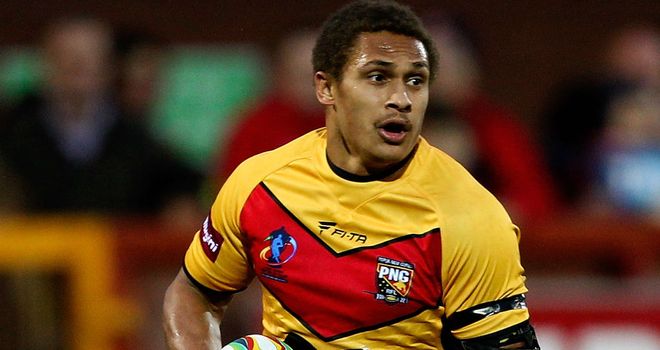 Ray Thompson: The Papua New Guinea hooker is ready for Samoa test
Papua New Guinea face Samoa at New Craven Park in Hull with both sides seeking victory in a must-win game which would keep their slim hopes alive of remaining in the Rugby League World Cup.
PNG were narrowly beaten 9-8 by France in their opening Group B fixture while Samoa lost 42-24 against defending champions New Zealand.
Papua New Guinea hooker Ray Thompson says that head coach Adrian Lam has had the squad working on their ball execution and defence as they prepare to take on a strong Samoa outfit.
"The preparations for the game against Samoa are going really well," said North Queensland Cowboys star Thompson.
"Obviously we were a bit disappointed with the result against France but there are still a lot of positives to take out of that game.
"It means we go into training with a bit of confidence and we know the areas that we need to improve. For us it has been so far, so good.
"The pleasing thing from the France game was that we got ourselves in a position to win. We feel that our ball execution let us down a bit so that is something to work on.
"We know Samoa have a big pack which means our defence is going to be important on Monday so we will be working on that in training.
"Our main priority is what we do. We will have a little look at Samoa and how they play but at the moment the priority is taking care of ourselves and making sure we do everything right."
Samoa have made five changes to their squad following their loss to New Zealand.
Tim Laifia, Michael Sio, Junior Moors, Ben Roberts and Daniel Vidothave been called in as the Pacific Islanders look to keep their quarter-final hopes alive.
The Samoans did actually make a request to tournament officials to call up two replacement players after a spate of injuries.
However, the request was declined meaning coach Matt Parish has only been able to name an 18-man squad for Tuesday night's clash in Hull.
PNG (19-man squad): Josiah Abavu, Paul Aiton, Dion Aiye, Ase Boas, Jason Chan, Neville Costigan, Isreal Eliab, Richard Kambo, Enoch Maki, Larsen Marabe, Bosam Nene MacDonald, David Mead, Mark Mexico, Jessi Joe Nandye, Sebastion Pandia, Jason Tali, Ray Thompson, Charlie Wabo, Menzie Yere
Samoa (18-man squad): Leeson Ah Mau, David Faalogo, Pita Godinet, Tim Laifia, Joseph Leilua, Michael Sio, Penani Manumalealii, Mose Masoe, Suaia Matagi, Anthony Milford, Junior Moors, Ben Roberts, Junior Sa'u, Iosia Soliola, Sauaso Sue, Mark Taufua, Daniel Vidot, Anthony Winterstein
Related
2013 Rugby League World Cup

This years' Rugby League World Cup has been hailed as the greatest of all time by the organisers. Australia claimed their 10th title by beating New Zealand in the final in front of a record attendance.

RFL chief executive Nigel Wood is confident the sport will capitalise on the success of hosting the World Cup.

We take a look back at the highs and occasional low from probably the best World Cup to date.