Wildcats pounce to stun Giants
Wakefield come from behind as Huddersfield lose again
By Rebecca Stephenson (@1rebs). Last Updated: 22/07/12 5:45pm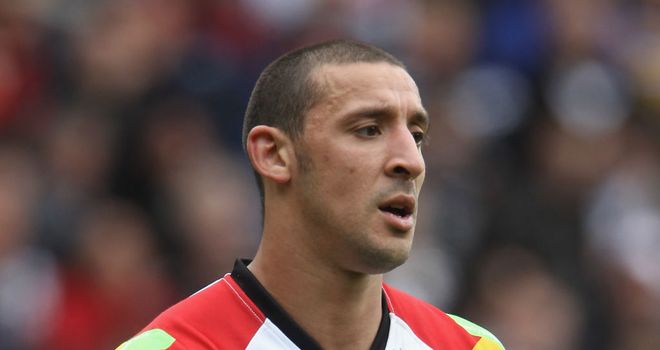 Paul Sykes: Six-goal performance from Wakefield centre
Wakefield came from 14-6 down to win 35-14 and ruin Paul Anderson's first match in charge of the Giants.
The Wildcats scored 29 unanswered points in the second half to claim their first win in five Stobart Super League matches, whilst the Giants have now won just once in nine games.
Anderson was fast-tracked into the role of head coach following the sacking of Nathan Brown but he was unable to halt the rotten run that has seen them drop from the Super League summit to a precarious seventh.
The former Great Britain forward had rung the changes, handing the captaincy to Luke Robinson and recalling five players after the heavy Challenge Cup defeat by Warrington.
The re-shuffle looked to have had the desired effect as Huddersfield established an eight-point lead six minutes into the second half
But the Wildcats struck back and exposed their opponents' fragile confidence by running in four tries in the last 18 minutes.
Early pressure
The Giants enjoyed all the early pressure but the Wildcats demonstrated some tough defence, and It took a mistake for the home side to open the scoring when full-back Scott Grix seized on a dropped pass by Tim Smith and the supporting Luke George was able to sprint to the line.
Danny Brough's conversion attempt rebounded off an upright and the visitors drew level on 24 minutes when Cockayne raced onto Smith's kick to score his 11th try of the season and Paul Sykes' goal edged the Wildcats in front
Wakefield held onto their lead until the last minute of the first half, but they were undone by a miscued kick from Brough, which allowed Leroy Cudjoe to get George over for his second try of the match.
Brough again failed with the conversion but the Giants did manage to add a third try early in the second half when replacement hooker Tommy Lee, fed Eorl Crabtree.
The conversion was to be the last time the Giants would register.
Lead
Wakefield got back into the game when Smith's kick fooled the Giants defence and Collis was on hand to claim the touchdown and they retook the lead on 62 minutes when Brough went to intercept a pass and gave Lee Smith a clear run-in for his first try for the club.
And the result was soon put beyond doubt, as two tries in the space of three minutes from Mathers and Tim Smith gave the Wildcats a 28-14 lead.
Kirmond piled on the agony in the closing stages with the Wildcats' sixth try before Sykes added insult to injury by nailing a drop goal.
First Utility Super League

Sun 24th May

Wakefield Wildcats

18 - 30

Widnes Vikings

Sat 30th May

Salford Red Devils

vs

Widnes Vikings

Hull FC

vs

Hull K R

Leeds Rhinos

vs

Wigan Warriors

Sun 31st May

Catalans Dragons

vs

Huddersfield Giants

St Helens

vs

Warrington Wolves

Castleford Tigers

vs

Wakefield Wildcats

Thu 4th Jun

Widnes Vikings

vs

Hull FC

Fri 5th Jun

Hull K R

0 - 0

Castleford Tigers

St Helens

0 - 0

Salford Red Devils

Warrington Wolves

vs

Catalans Dragons

Sun 7th Jun

Huddersfield Giants

0 - 0

Wigan Warriors

Wakefield Wildcats

0 - 0

Leeds Rhinos

Thu 11th Jun

Leeds Rhinos

vs

Castleford Tigers

Fri 12th Jun

St Helens

vs

Wigan Warriors

Sat 13th Jun

Catalans Dragons

vs

Hull FC

Sun 14th Jun

Huddersfield Giants

0 - 0

Warrington Wolves

Hull K R

0 - 0

Widnes Vikings

Wakefield Wildcats

0 - 0

Salford Red Devils

Thu 18th Jun

Castleford Tigers

vs

St Helens

Fri 19th Jun

Hull K R

0 - 0

Warrington Wolves

Wigan Warriors

0 - 0

Salford Red Devils

Sat 20th Jun

Catalans Dragons

vs

Wakefield Wildcats

Sun 21st Jun

Leeds Rhinos

0 - 0

Hull FC

Widnes Vikings

0 - 0

Huddersfield Giants

Thu 2nd Jul

Warrington Wolves

vs

Wigan Warriors

Fri 3rd Jul

Leeds Rhinos

vs

St Helens

Sun 5th Jul

Huddersfield Giants

0 - 0

Hull K R

Hull FC

0 - 0

Wakefield Wildcats

Salford Red Devils

0 - 0

Catalans Dragons

Castleford Tigers

0 - 0

Widnes Vikings

Thu 9th Jul

Wigan Warriors

vs

Leeds Rhinos

Fri 10th Jul

St Helens

0 - 0

Huddersfield Giants

Sun 12th Jul

Hull FC

0 - 0

Castleford Tigers

Salford Red Devils

0 - 0

Hull K R

Wakefield Wildcats

0 - 0

Warrington Wolves

Widnes Vikings

0 - 0

Catalans Dragons

Thu 16th Jul

Warrington Wolves

vs

St Helens

Fri 17th Jul

Hull K R

0 - 0

Hull FC

Leeds Rhinos

0 - 0

Salford Red Devils

Wigan Warriors

0 - 0

Widnes Vikings

Sat 18th Jul

Catalans Dragons

vs

Huddersfield Giants

Sun 19th Jul

Wakefield Wildcats

0 - 0

Castleford Tigers

Thu 23rd Jul

Hull FC

vs

Wigan Warriors

Fri 24th Jul

Sun 26th Jul

Huddersfield Giants

0 - 0

Wakefield Wildcats

Leeds Rhinos

0 - 0

Catalans Dragons

Widnes Vikings

0 - 0

Salford Red Devils

Castleford Tigers

0 - 0

Warrington Wolves
Related