Bulls v Wolves: Teams
At Odsal Stadium, Saturday March 3, live on Sky Sports 1HD from 5.30pm
Last Updated: 02/03/12 11:54am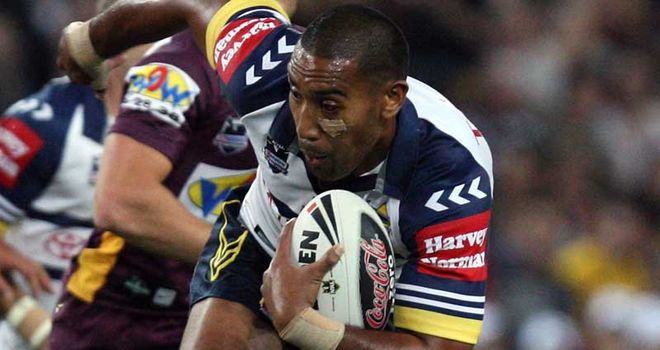 Manase Manuokafoa: Could be in line for his Bulls debut against the Wolves
Early pacesetters Warrington Wolves put their unbeaten Stobart Super League record on the line against Bradford Bulls on Saturday.
Tony Smith's charges go into the clash having accrued seven points from their opening four games of the season, the latest a 42-10 thrashing of Hull KR.
But the 2011 League Leaders Shield winners will not find it easy against a resurgent Bulls side who beat Wakefield 36-18 last time out to record their second Super League victory of the season.
Bulls coach Mick Potter hopes his side can build on the Wildcats triumph against the Wolves.
Impossible
He told the club's official website: "I thought we got better and better and if the game had gone on longer I think we would have scored even more points.
"We are hoping we can take that into this week because we'll need to be confident, we'll need to play and we'll need to counteract what they throw at us."
Asked what the biggest challenge will be when they take on the Wolves, he replied: "Not allowing them to offload and if they do offload it then making them do something they don't really want to do.
"It will be impossible to stop 100 per cent but forcing them into errors when they do offload the ball is what we have to aim for and making sure we don't give them cheap field position so that we can build some pressure on them.
"If we start making errors or over playing, then it plays right into their hands and they will punish us by either scoring tries directly or putting us right down our end of the field and putting us under immense pressure.
"We need to be mindful of that and striking that balance will be really important for us."
Manase Manuokafoa could be in line for his Bulls debut after being named in Potter's squad for the clash.
Atkins milestone
He replaces Chev Walker - who hasn't recovered from a hamstring injury he picked up in the last training session before the Wakefield game - in the only change to the 19-man squad from last week's victory.
For Warrington, Michael Monaghan has had surgery to clean up cartilage in both knees and misses out, but Smith is hopeful he will be fit again in time to make the trip to Leeds next Friday.
Micky Higham missed out on the final 17 against the Robins but is now fully fit after an elbow problem and replaces Monaghan while Simon Grix is recalled to the squad after a medial ligament tear.
Saturday's game could see centre Ryan Atkins reach a personal milestone as he is just one try away from his career 100.
The Wolves will be attempting to repeat their success of last season when they posted a 58-14 win over Bradford from their trip to Odsal before backing that up with a 64-6 home triumph.
Bradford squad: Kear, Diskin, Lulia, Whitehead, L'Estrange, Burgess, Crookes, Addy, Hargreaves, Sammut, Kearney, Kopczak, Platt, Langley, Scruton, Bateman, Joseph, Jeffries, Manuokafoa.
Warrington squad: Atkin, Blythe, C. Bridge, Briers, Carvell, Cooper, Grix, Higham, Hill, Hodgson, McCarthy, J. Monaghan, Morley, Myler, Ratchford, Riley, Waterhouse, Westwood, Wood.
First Utility Super League

Thu 21st May

Castleford Tigers

16 - 24

Huddersfield Giants

Fri 22nd May

Hull FC

10 - 17

St Helens

Leeds Rhinos

36 - 16

Hull K R

Salford Red Devils

18 - 34

Warrington Wolves

Sat 23rd May

Catalans Dragons

58 - 16

Wigan Warriors

Sun 24th May

Wakefield Wildcats

18 - 30

Widnes Vikings

Sat 30th May

Salford Red Devils

vs

Widnes Vikings

Hull FC

vs

Hull K R

Leeds Rhinos

vs

Wigan Warriors

Sun 31st May

Catalans Dragons

vs

Huddersfield Giants

St Helens

vs

Warrington Wolves

Castleford Tigers

vs

Wakefield Wildcats

Thu 4th Jun

Widnes Vikings

vs

Hull FC

Fri 5th Jun

Hull K R

0 - 0

Castleford Tigers

St Helens

0 - 0

Salford Red Devils

Warrington Wolves

vs

Catalans Dragons

Sun 7th Jun

Huddersfield Giants

0 - 0

Wigan Warriors

Wakefield Wildcats

0 - 0

Leeds Rhinos

Thu 11th Jun

Leeds Rhinos

vs

Castleford Tigers

Fri 12th Jun

St Helens

vs

Wigan Warriors

Sat 13th Jun

Catalans Dragons

vs

Hull FC

Sun 14th Jun

Huddersfield Giants

0 - 0

Warrington Wolves

Hull K R

0 - 0

Widnes Vikings

Wakefield Wildcats

0 - 0

Salford Red Devils

Thu 18th Jun

Castleford Tigers

vs

St Helens

Fri 19th Jun

Hull K R

0 - 0

Warrington Wolves

Wigan Warriors

0 - 0

Salford Red Devils

Sat 20th Jun

Catalans Dragons

vs

Wakefield Wildcats

Sun 21st Jun

Leeds Rhinos

0 - 0

Hull FC

Widnes Vikings

0 - 0

Huddersfield Giants

Thu 2nd Jul

Warrington Wolves

vs

Wigan Warriors

Fri 3rd Jul

Leeds Rhinos

vs

St Helens

Sun 5th Jul

Huddersfield Giants

0 - 0

Hull K R

Hull FC

0 - 0

Wakefield Wildcats

Salford Red Devils

0 - 0

Catalans Dragons

Castleford Tigers

0 - 0

Widnes Vikings

Thu 9th Jul

Wigan Warriors

vs

Leeds Rhinos

Fri 10th Jul

St Helens

0 - 0

Huddersfield Giants

Sun 12th Jul

Hull FC

0 - 0

Castleford Tigers

Salford Red Devils

0 - 0

Hull K R

Wakefield Wildcats

0 - 0

Warrington Wolves

Widnes Vikings

0 - 0

Catalans Dragons

Thu 16th Jul

Warrington Wolves

vs

St Helens

Fri 17th Jul

Hull K R

0 - 0

Hull FC

Leeds Rhinos

0 - 0

Salford Red Devils

Wigan Warriors

0 - 0

Widnes Vikings

Sat 18th Jul

Catalans Dragons

vs

Huddersfield Giants

Sun 19th Jul

Wakefield Wildcats

0 - 0

Castleford Tigers

Thu 23rd Jul

Hull FC

vs

Wigan Warriors

Fri 24th Jul

Sun 26th Jul

Huddersfield Giants

0 - 0

Wakefield Wildcats

Leeds Rhinos

0 - 0

Catalans Dragons

Widnes Vikings

0 - 0

Salford Red Devils

Castleford Tigers

0 - 0

Warrington Wolves
Related