England v PNG: Teams
At Eden Park, Saturday 6 November, KO: 0500 (GMT)
Last Updated: 06/11/10 6:42am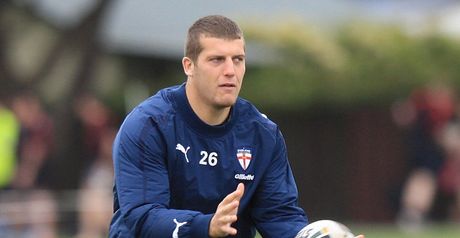 Clubb: first appearance of the tour
Coach Steve McNamara has reshuffled his squad as England look to sign off their underwhelming Four Nations campaign with victory over minnows Papua New Guinea on Saturday.
Watch England v Papua New Guinea live on Sky Sports 1 & HD1 from 4.30am on Saturday morning.
McNamara has made a total of seven changes to the line-up that started in last weekend's 34-14 defeat to Australia - a loss that spelt the end of their hopes in the competition.
Harlequins centre Tony Clubb and Warrington prop Garreth Carvell make their first appearances of the tour, while there are also four recalls as Leeds winger Ryan Hall, Huddersfield stand-off Kevin Brown, Melbourne full-back Gareth Widdop and Huddersfield prop Darrell Griffin are recalled.
Elsewhere, Wigan skipper Sean O'Loughlin switches from stand-off to loose forward to make room for an all-Huddersfield half-back pairing of Brown and Luke Robinson.
Winger Darrell Goulding and Joel Tomkins have been ruled out with knee and calf injuries respectively, while Ryan Atkins and Eorl Crabtree are the other players left out following the defeat by the Kangaroos.
Finish on a high
McNamara is determined to finish the tour on a positive note but his warned his players not to underestimate their opponents who pushed them close at the 2008 World Cup.
"We could have lost and it's in the memory of a couple of players who played in that game," stated the England supremo.
"They've spoken to the rest of the players about that game and we'll talk a bit more about it before we play this game.
"It's a different group this time around but we're certainly aware of the threats that Papua New Guinea can bring.
"It's a very important game, we all understand that. We've had some really positive stuff from this tournament and we've certainly got to make sure we finish strong this week.
"They are very intent, clear and focused about what we need to do to finish the tournament off in the right fashion in terms of the result and performance and make sure we set off back home with a spring in our steps."
One change for Gene
Kumuls coach Stanley Gene has made only one change to the side that was on the wrong end of a 76-12 pummelling by New Zealand last weekend.
David Loko replaces Johnson Kuike in the second row, while Gene has also included all five of his English-based players in his starting line-up.
Sheffield Eagles centre Menzie Yere will feature in the three-quarter line along with Wakefield-bound Jessie Joe Parker and Hunslet winger Michael Mark.
In the front row, Hunslet hooker Charlie Wabo will be joined by Halifax prop Makali Aizue for what is both side's final match in this year's competition.
England team: S Tomkins (Wigan); R Hall (Leeds), L Cudjoe (Huddersfield), T Clubb (Harlequins), T Briscoe (Hull); K Brown (Huddersfield), L Robinson (Huddersfield), J Graham (St Helens, capt), J Roby (St Helens), S Burgess (South Sydney), G Ellis (Wests Tigers), B Westwood (Warrington), S O'Loughlin (Wigan)
Replacements: D Griffin (Huddersfield), G Carvell (Warrington), B Harrison (Warrington), G Widdop (Melbourne)
Papua New Guinea team: Ryan Tongia; Michael Mark, Jessie Joe Parker; Menzie Yere; Elijah Riyong; Glen Nami, Dion Aiye; Makali Aizue, Charlie Wabo, James Nightingale, Rodney Griffin, David Loko, Paul Aiton (capt)
Replacements: Benjamin John, Rodney Pora, Pidi Tongap, Nickson Kolo, George Moni, Richard Kambo, Johnson Kuike
Related