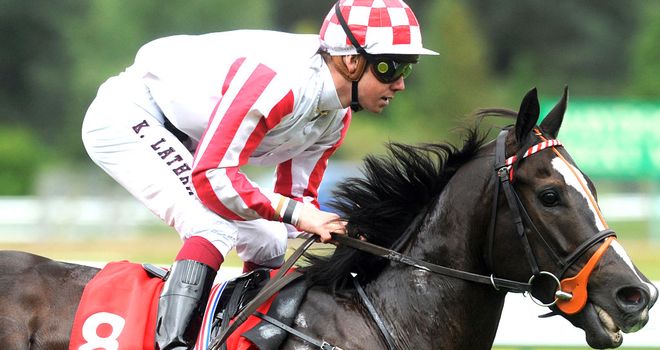 Sole Power: Showed an impressive turn of foot
Irish raider Sole Power produced a spectacular burst of speed to impressively land the Scarbrough Stakes at Doncaster.
Concerns that the ground had gone against Edward Lynam's star turned out to be unfounded as he proved his class in this Listed contest.
The 2010 Nunthorpe hero looked to have nowhere a go just over a furlong out, but Johnny Murtagh managed to steer a path through the field.
Once Sole Power saw daylight the 5-2 favourite cut through the pack to win cosily from Jwala with Excelette third.
Lynam said: "I don't think anyone could say he didn't deserve that. Anyone who was brave enough to back a Group One horse in a Listed race at 11-4 has done very well.
"He came back from York (this year's Nunthorpe) very buzzy for whatever reason. He got too much daylight that day and it didn't do him any good.
"It's a long time until the Abbaye and Hong Kong, so we wanted to get another run into him.
"He was quite keen today - Johnny said he was going to be very cool on him and he certainly was.
"The horse has a very good turn of foot and all going well he will go for the Abbaye if the ground is right, and then on to Hong Kong as Johnny thinks he will be perfect to race over there."