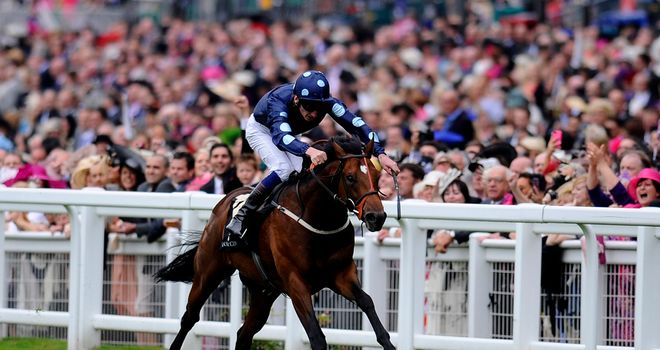 Reckless Abandon: Has 'bags of speed' and plenty of talent
Reckless Abandon won the Norfolk Stakes at Royal Ascot despite steering an erratic path.
The son of American stallion Exchange Rate, who had beaten the reopposing Annunciation on debut, hit the front in the five furlong contest travelling strongly only to veer markedly to the left.
Adam Kirby, however, managed to keep his colt's momentum going with the stand's side rail to help to claim a first Royal Ascot success.
Annunciation had taken the field through their early paces but Richard Hannon's runner was in trouble approaching halfway with challengers spread across the width of the track.
Favourite Cay Verde moved up ominously only to falter but Gale Force Ten, a rare runner in the race for Aidan O'Brien, came home strongly as did Ian's Dream and Morawij with the latter just missing out on the places.
The winner margin was three quarters of a length and the same and was a third Royal Ascot success for trainer Clive Cox.
Perfect World
Cox said: "He did it on his first start and in a perfect world, in a normal spring, he would have had a couple of runs (before running here).
"It's a great team effort to have the horse here in this kind of order and I'm delighted for the owners, who have been good supporters.
"He's very talented. Adam has done a grand job on him and I'm very proud.
"It's just greenness (that saw him hang to the rail) and I think most of my horses improve with racing. He knew his job to win first time, but he's just got that tendency."
Cox will now aim the winner at the Molecomb Stakes at Glorious Goodwood, saying: "He's got bags of speed."
Big Baby
Kirby said: "I had my stick in my left because I thought I'd bring him over to the right, away from the crowd on the left because when he won last time he just ran around. he's just a big baby.
"As soon as I went for him, he ran left straight away . He's very special."
Aidan O'Brien, trainer of Gale Force Ten, said: "I'm delighted with the run. We've often run a horse back in the Railway Stakes after this, so he would be a possible for that."
Jeremy Noseda said of Ian's Dream: "I think he would prefer faster ground, but considering that was the second start of his life you'd have to be delighted with him.
"I think we will go for a maiden now, and then something like the Richmond Stakes at Goodwood."
Sting In The Tale
It later transpired that Kirby had broken the whip rules during his victorious performance.
The stewards found he had used his whip above the permitted level, an offence which merits a suspension of between two and six days.
However, as it was Kirby's fifth offence in the last six months, he has been referred to the British Horseracing Authority.
Kirby is looking at a lengthy spell on the sidelines with the BHA confirming that the entry point for a fifth offence is 21 days.
The BHA tweeted: "The Stewards employed discretion owing to the horse hanging left, but found that Kirby had used the whip above the permitted level.
"As this was Kirby's 5th offence of 2-6 days in a 6 month period he has been referred to the BHA Disciplinary Panel.
"The date for the hearing is to be confirmed. The penalty range is from 14 - 60 days, with an entry level of 21 days."